Archive
Pop star Miley Cyrus is known for undergoing one of the most drastic transformations the music industry has ever seen – successfully altering her image from girly Disney sweetheart to edgy punk rocker – but there is one thing about Miley's style that hasn't changed one bit: her love for sheepskin. Miley Cyrus has always been a fan of warm and cozy sheepskin boots, pairing the popular footwear with everything from skinny jeans to daisy dukes, and the singer was just spotted in New York earlier this month holding an attractive beige sheepskin jacket in her arms as she stopped to pose for photos with fans. Unlike other fashion trends that have come and gone over the years (cargo pants and Crocs, anyone?), shearling boots and jackets are here to stay, at least if Miley Cyrus has anything to say about it!
Not only is Miley Cyrus one of today's most successful pop stars, thanks to her million-plus screaming tween fans, but she is also the face of Marc Jacob's Spring 2014 ad campaign, proving that there's more to the singer's maturing fashion sense then mouse leotards and foam fingers. As Miley Cyrus' style continues to evolve from the boho-chic look she rocked pre-pixie-cut to the high fashion clothing she now seems to favor, it's telling that the stylish singer seems to consider sheepskin a staple versatile enough to make the transition with her. During her recent trip to New York, for example, Miley was sporting an all-black ensemble complete with skinny jeans, Doc Marten-style boots and a beige beanie on her head that matched the sheepskin jacket she carried in her arms.
One of our favorite things about sheepskin is that the material is versatile enough to complement any outfit – casual or classy. The same shearling jacket you pair with skinny jeans and a graphic tee during the day can easily make the transition to nighttime, worn with black leggings and a feminine blouse or even your favorite little black dress. Plus, all of our shearling garments at The Sheepherder are custom-made to order, which means when you order one of our sheepskin jackets for women, you know that it will be the perfect fit based on your measurements. There are plenty of fashion-savvy celebrities out there, including Miley Cyrus, Julia Roberts, Sarah Jessica Parker and Gwen Stefani, who have discovered the benefits of sheepskin, so check out our wide selection of custom shearling garments at The Sheepherder for your very own sheepskin jacket today!
Season four of the beloved epic fantasy series "Game of Thrones" is set to air on April 6, and now you can dress like Jon Snow, Robb Stark, Ned Stark, Ygritte, or another favorite "GoT" character with genuine sheepskin jackets from The Sheepherder. Furs play a crucial role in the costumes worn by the "Game of Thrones" characters, especially those who reside in the North and north of the wall, where snows fall heavy and a frigid winter can last for years on end. As the Starks so famously say, "winter is coming," so check out our wide selection of shearling jackets and find a sheepskin coat just like your favorite "Game of Thrones" character.
Our first pick for a Game of Thrones-style sheepskin coat would be the Men's Cattleman Sheepskin Jacket, which features a generous shawl collar, flap pockets and 3" roll cuffs. The masculine style of this sheepskin coat – which you would order in Night's Watch black of course – will have you feeling like Jon Snow in no time, hopefully without the 700-foot wall though. A similar garment is our Men's Colorado Sheepskin Coat, which could pass for a modern version of the fur-lined cloak Robb and Bran sport when the Stark family finds the orphaned direwolf pups in the Wolfswood.
If you align yourself more with Ygritte, the tough-as-nails wildling who falls hard for Jon Snow even though he's considered the enemy, consider our Ladies Sheepskin Aviator Hat or Ladies Shearling Earband in colors like Gold Misty, Sahara or Ranch. Pair the soft, attractive bomber hat with our Ladies Cattleman Sheepskin Coat or Ladies Columbine Shearling Jacket, and they will keep you as warm as the hooded fur coat Ygritte wears while crossing the frozen tundra north of the wall. Complete the look with a pair of stylish sheepskin mittens and you'll wonder why your winter wear ever consisted of anything but luxurious shearling.
Everyone from die-hard fans to high-end designers are drawing fashion inspiration from the hit HBO television show, and fashion designer Helmut Lang even included several "Game of Thrones"-inspired pieces in their 2012 Fall Collection, combining hard and soft fabrics and a variety of textures to create minimalist designs with a modern medieval twist. No, we don't include any crow feathers or direwolf furs à la the Night's Watch and the Stark family sigil in our designs at The Sheepherder, but we do use genuine sheepskin to create all of our men's and women's shearling jackets. So, you are guaranteed to stay nice and toasty warm no matter how long winter lasts.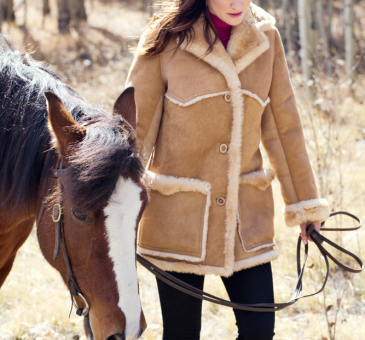 London Fashion Week has just completed its Autumn/Winter 2014 runway show and, as expected, sheepskin will play a major role in this year's fall and winter fashion trends. From Topshop to Burberry to Erdem, some of the most famous design houses featured luxurious sheepskin garments in their collections this year, paying particular attention to shearling jackets for women. Burberry really upped the ante with its hand-made, hand-painted sheepskin trench coats, which are now available for purchase on the label's website. Unfortunately, if you're just dying to have one of these custom sheepskin jackets straight off the runway, you can expect to shell out at least $10,000 for just one coat. Burberry's regular shearling jackets range in price from $2,795 to $3,000, so that's no minor purchase either.
Sheepskin-Inspired Outerwear
While Burberry incorporated sheepskin details into its signature trench coat for added warmth and texture this fall and winter, up-and-coming designer Erdem Moralioglu added a bit of edge to his aesthetic, showcasing an evening coat in white shearling with bold jewel embellishments. Other shearling-inspired designs featured during 2014 London Fashion Week included sheepskin flying jackets, coats with shearling collars and military-style sheepskin-lined outerwear.  According to Burberry's design chief Christopher Bailey, the label opted for cozy shearling and other warm, luxurious outerwear designs this year in an effort to convey romance and soft femininity, saying: "I wanted it to be very sophisticated, and with a slight nuance of sexiness."
Stylish, Versatile Sheepskin Jackets
Besides being sophisticated and attractive, one of the best things about sheepskin is that it's completely wearable, which simply isn't true about much of the clothing you see on fashion runways around the globe. Unlike some other popular trends adopted in the world's most famous fashion capitals, shearling is something you can wear on a daily basis without even the slightest bit of discomfort. Especially when your sheepskin garment is handmade specifically to fit you and only you. Some of our most popular designs at The Sheepherder are sheepskin jackets for women that are versatile enough to wear around town or out for the evening, including our Ladies Classic Sheepskin Coat and our Ladies Cattleman Sheepskin Coat.
Order Your Custom Shearling Garment Today
Plenty of people are saying that sheepskin is "back," judging by the designs featured in London Fashion Week, but the truth is, sheepskin never went away; it's been right here all along. Shearling jackets and slippers have always been coveted by people living in the colder parts of the world, because of the material's unparalleled warmth, but sheepskin is actually appropriate for warmer weather too, as the hollow fibers in the material help wick moisture away from the skin, keeping you cool in summer as well. So why not take a page from some of the fashion industry's most popular labels and choose a handmade item from our collection of custom shearling jackets today?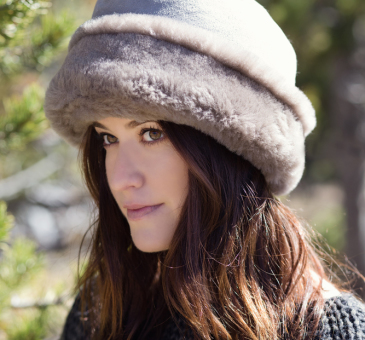 The opening ceremony at the Olympic Games has become one of the most highly-anticipated "fashion shows" in the athletic world, and the parade of nations during the 2014 Winter Olympics in Sochi, Russia certainly didn't disappoint. The athletes' ensembles were designed by BOSCO and reflected not only Russia's national pride, but the country's appreciation for traditional folklore as well. Sheepskin played a dominant role in the Russian athlete's uniforms, chosen as much for its recognizable style as its practical warmth in Russia's extreme cold. Genuine sheepskin has hollow fibers, which means the material naturally wicks away moisture from the body, keeping the wearer warm in even the coldest temperatures. And the temperatures in Sochi during the Olympics were cold indeed!
For their opening ceremony uniform, the Russian Olympic Team sported contemporary designs inspired by traditional Russian prints and motifs from the past, all rolled up into warm and comfortable wintertime gear. The female athletes wore toques – traditional European hats resembling knit caps – and long blue, white and red down coats trimmed in real fur, while the male athletes were garbed in double-breasted navy military coats trimmed in white sheepskin, and ushankas – the traditional sheepskin aviator hat Russia is famous for.
The Olympic athletes weren't the only ones in Sochi outfitted in sheepskin, though. Sheepskin hats in particular have been worn in Russia for centuries, and warm, cozy shearling remains the material of choice for Russian military and police forces today, as well as everyday citizens. Inspired by the style and warmth of this type of head wear, we have two Russian-style sheepskin hats available that are guaranteed to up your cool factor, regardless of the weather. Our sheepskin diplomat hat and shearling bomber hat are both custom-made to order using high-quality sheepskin, and are available in a variety of stylish colors, including brown, black, ivory and tan.
There's a reason everyone from Russian athletes to military and police forces choose ushankas, or luxurious sheepskin hats, over other types of head wear in the chilly winter weather. The thick, dense wool of sheepskin bomber hats not only protect the crown of your head from the elements, but also feature shearling flaps that keep your ears and chin toasty warm too. And sheepskin diplomat hats, also popular in Russia, are a cool take on the winter hat with a chic European twist. All in all, sheepskin aviator hats and diplomat hats offer warmth and protection from the weather that is far superior to other types of head wear, and we loved seeing them featured during the 2014 Sochi Olympics!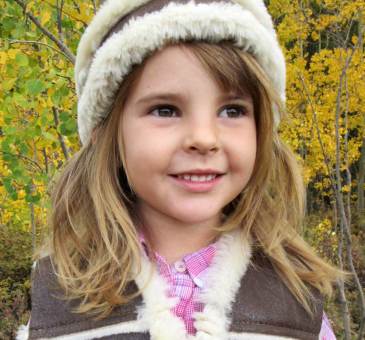 Every once in a while we like to remind returning customers and other consumers that all of our sheepskin products at The Sheepherder are made right here in the United States, from beginning to end. From the authentic sheepskin hides used to make jackets, slippers and mittens, to the unique buttons crafted from antlers shed naturally by deer and elk each year, we are proud to say that each and every product we offer on our website and in our store is 100% "Made in the USA." Why is this so important, you ask? It's simple.
Sheepskin Garments Made in the United States
When you order one of our shearling jackets, you know for a fact that your product will be hand-crafted by Diane Blessing, using the highest-quality sheepskin from domestic sheep raised right here in the Rocky Mountain states. No kidding! The shearling used in our garments actually comes from sheep that are raised commercially for their meat, and their hides are a valuable by-product tanned and processed…where? You got it, right here in the United States. This means that your sheepskin jacket will not be made in China, and it will certainly not be made with a wool lining sewn or glued to the suede. On the contrary, it will be carefully constructed using one piece of continuous natural hide for the utmost in comfort and quality. Another benefit of purchasing sheepskin products made in the USA is that you'll be supporting a local business, which is never a bad thing!
Minnetonka Moccasins and Slippers
In addition to offering our own products for sale, The Sheepherder is also an authorized Minnetonka retailer, and you can find a complete selection of Minnetonka boots, moccasins and slippers on our website. Minnetonka is based out of Minneapolis, Minnesota, and although all products created by the company are manufactured in the Dominican Republic they use leather and sheepskin produced in the USA. Check out our selection of Minnetonka footwear, and you'll see that there's no need to sacrifice quality and comfort for a pair of Minnetonka moccasins. Like Minnetonka, we believe that authenticity and quality craftsmanship are the most important characteristics of sheepskin slippers and other garments.
Authentic vs. Synthetic Sheepskin Products
We'll admit, it's probably faster and cheaper to get your hands on a pair of artificial "sheepskin" slippers, but when you buy synthetic, you never know where the product came from, the quality of its construction, or how long it will last. On the other hand, when you invest in a genuine sheepskin product from our shop, you know that it was made right here in the United States by Diane Blessing herself. Diane has been creating and designing custom shearling garments at her shop in Alma, Colorado for more than 20 years, and her extensive experience working with sheepskin ensures that your shearling product will be more than just comfortable or durable or stylish. It will be all these things and more!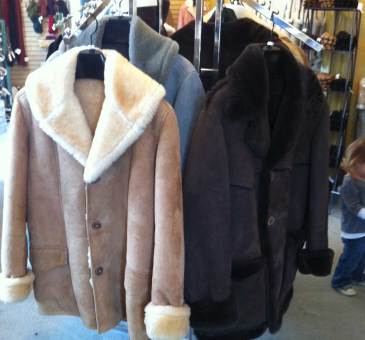 It is becoming more and more common for consumers to today rely on online reviews and testimonials when purchasing a new product or service, and many people trust the opinion of other customers as much as they would a recommendation from a friend or family member. For that reason, we are truly grateful for the shining reviews first-time and returning customers share with us on a regular basis, and we also see the value in sharing these testimonials with potential customers searching for genuine sheepskin jackets, slippers, hats, mittens and more. When it comes to the quality of our authentic, handmade sheepskin products and the strong emphasis we place on customer service, we think that our testimonials speak for themselves. So, here are a few of our most recent online reviews:
Thank you for the beautiful coat! We received it in time and the actor was very excited. Gorgeous!
-Crew of "Beautiful: The Carole King Musical" on Broadway (10/24/2013)
I received my jacket today and I wanted to write to thank you for an absolutely stunning garment. The coat exceeds my expectations entirely….it is truly beautiful! Also thank you so much for your customer service during the short wait for my jacket. I really don't know how you find the time to produce these unique coats and run the rest of the business…there does not seem to be enough hours in the day for that! Also the fit is absolutely spot on. Thank you so much for everything. I could not be any happier with the jacket…it's marvelous!
-Tim W., London UK (1/23/2014)
I received my hat yesterday, and it is a perfect fit. Thank  you so much for your help in this matter. This hat will be great to have up here in Northern Minnesota, as our winter temperature this year has predominately been in the -20's to -40's. I am sure that you will be receiving more requests for your hats, once my local friends and ice fishermen see this very well designed warm hat. Thanks again.
-Michael B., Pengilly, Minnesota (1/24/2014)
For more information about genuine sheepskin jackets and other products from The Sheepherder, check out our website, where you can find a variety of comfortable and stylish shearling garments, home goods and accessories made from the highest-quality sheepskin right here in the United States. All of our shearling products are also custom-made to order, which means you can look forward to a great fit every time!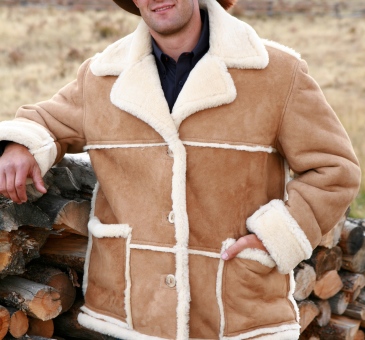 The highly-anticipated biographical musical about the life of music legend Carole King has finally made its debut on Broadway, and so has our Men's Sheepskin Riding Jacket, worn by both the lead actor in "Beautiful: The Carole King Musical" and his understudy. The lighthearted bio-musical opened on Broadway on January 12, 2014 at the Stephen Sondheim Theatre in New York City, and brought such A-list celebrities like Nathan Lane, Phil Collins and Clive Davis under the same roof on the East coast, while the majority of the entertainment industry gathered in Hollywood for the Golden Globes. We are proud to say that those high-profile names in music, and anyone else lucky enough to see "Beautiful" on Broadway in the coming months, will catch a glimpse of our handmade sheepskin jacket for men, worn by lead actor Jake Epstein.
About "Beautiful: The Carole King Musical"
"Beautiful: The Carole King Musical" tells the inspiring true story of Carole King fighting her way into the music business as a teenager, marrying the man of her dreams (Gerry Goffin), crafting a successful career writing hit songs for the biggest names in rock and roll, and then finally finding her true voice only as her personal life begins to fall apart. The Broadway musical stars Jessie Mueller as Carole King (known as Carol Klein during her teenage years) and Jake Epstein as Gerry Goffin – two parts of a hit songwriting team credited with "writing the soundtrack to a generation" in the early 1960s, before King became a successful solo singer-songwriter by her own right in the 70s.
Gerry Goffin, played by Jake Epstein was a notoriously troubled lyricist born in 1939 and inducted into the Rock and Roll Hall of Fame in 1990, along with his first wife and former songwriting partner, Carole King. King and Goffin were married in 1959 – when she was 17 and he was 20 – and the power duo went on to pursue a wildly successful songwriting career with breakthrough hits like "Will You Love Me Tomorrow" and "Pleasant Valley Sunday," before divorcing in 1968. Mueller has been widely praised by critics for her portrayal of Carole King and lead actor Jake Epstein also does a brilliant job of playing Gerry Goffin…and he looks great in our men's sheepskin jacket too!
Genuine Sheepskin Jackets at The Sheepherder
The Sheepherder shearling coat featured in the Broadway musical "Beautiful" is our men's riding jacket, a shorter length coat with wool-trimmed seams and attractive patch pockets. The handsome and versatile sheepskin jacket boasts a beautiful wool notched collar and three-inch roll cuffs guaranteed to offer protection from even the coldest and windiest weather. All of our shearling coats for men at The Sheepherder are custom-made to fit, which is why "Beautiful" required different jackets for Epstein and his understudy, and are crafted right here in the United States using the skins of domestic sheep raised in the Rocky Mountain states. Because they are made with genuine sheepskin, all of our shearling jackets for women and men are incredibly comfortable and durable, and naturally wick away moisture from the skin, keeping you cool in the summer and warm in the winter.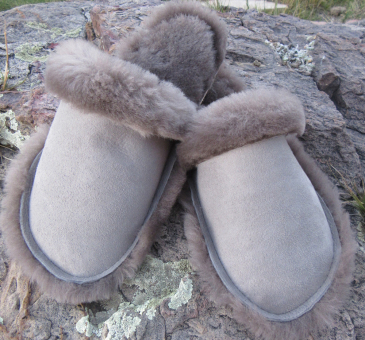 Another year has gone by, and, yet again, sheepskin slippers and jackets rang in as some of our best-selling products for 2013. From Christmas to birthdays, baby showers and anniversaries, we worked hard year-round to keep up with your orders for our custom-made sheepskin garments. Now that 2014 is in full swing, what better way to celebrate the end of a great year than to look back on some of our most popular products from 2013? For those fashion-savvy and budget-conscious shoppers interested in staying up on the latest trends in shearling, the following is a list of The Sheepherder's top five best-selling sheepskin products for 2013.
5. Sheepskin mittens – This winter brought record-breaking chills and significant amounts of snow to much of the United States, and our customers responded by purchasing a pair (or two) of cozy sheepskin mittens. Hand-crafted using high-quality hides, our shearling mittens feature soft, warm wool on the inside and durable suede on the outside to protect your hands from the cold winter weather. We also have sheepskin mittens for children and babies, so you can keep everyone's hands nice and warm this winter.
4. Shearling coats for men – If you thought sheepskin was just for women, think again. Ringing in at our fourth best-selling product, men's sheepskin jackets remained a popular purchase in 2013, and we have a feeling we know why. Our sheepskin coats are custom-made to order for a perfect fit and, unlike synthetic garments, they are made from the skins of domestic sheep raised in the Rocky Mountain states. It doesn't get much manlier than that, does it?
3. Kids' sheepskin slippers – You didn't forget about the kids, did you? There's nothing cuter than a child snuggled up in sheepskin, and our handcrafted kids' shearling slippers are the perfect addition to any kid's outfit, especially in winter. Our children's sheepskin slippers make a great gift for a birthday, baby shower or Christmas, and with a price tag of just $24, the stylish and affordable footwear came in at number three on our best-selling list.
2. Shearling hats – It makes perfect sense to pair your shearling mittens with a cozy sheepskin hat, right? Well, that's what many of our customers were probably thinking when they helped make our custom shearling hats the second-best-selling item for 2013. Our shop has stylish and affordable sheepskin headwear items for the whole family, including sheepskin aviator hats, earbands and more, in colors ranging from traditional sahara or ranch to adorable pink or grey.
1. Sheepskin slippers for men and women – Nothing keeps your feet warmer and more comfortable than a pair of genuine sheepskin slippers, and our customers apparently agreed, because shearling slippers were our number one best-selling product for 2013. With a number of durable footwear options for both men and women, including authentic Minnetonka moccasins (hardsole or softsole) and shearling mule slippers for women, our sheepskin slippers are likely to remain a popular purchase in 2014 as well!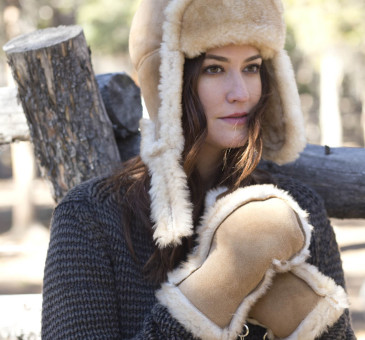 With a record-breaking Arctic chill blanketing much of the United States in snow and freezing temperatures this week, now is as good a time as any to invest in a warm, durable sheepskin hat and pair of mittens to keep you warm in the midst of what has been dubbed a "polar vortex." The snow and sub-zero temps have not only broken wintertime records, grounded thousands of flights and forced school closures nationwide; the freeze has also resulted in harsh and even dangerous conditions for residents throughout the country. Fortunately, with its naturally warm and durable properties, the authentic sheepskin used in our handcrafted mittens and hats can help protect you from the worst of the Arctic freeze, and keep you and your family comfortable and toasty for the rest of the winter.
The Midwest may finally be emerging from the arctic freeze that saw wind chills reach 50 degrees below zero, but temperatures across the South and East Coast continue to drop dramatically, with the temperature in New York City plummeting 50 degrees overnight. As the frigid air pushes across the United States, highs in parts of Georgia, Alabama and northern Florida are expected to be in the single-digits, and officials are encouraging everyone to stay inside whenever possible, or to bundle up in warm layers when heading outdoors. With the wind chill plummeting to 45 to 55 degrees below zero, Todd Heitkamp, a warning coordination meteorologist for the National Weather Service in South Dakota, warns that "exposed flesh can freeze in five minutes…if a person isn't dressed properly."
Nothing keeps your hands warmer in frigid weather than a pair of custom-made Sheepherder sheepskin mittens, constructed from the authentic hide of domestic sheep raised in the Rocky Mountain states. The sheep are raised commercially for their meat, and the skins are a valuable by-product tanned and processed right here in the United States. Our shearling mittens feature cozy sheepskin wool on the inside that uses your own body heat to keep your hands toasty warm, and durable suede on the outside that protects your hands from any chilling winds or snow. Pair your shearling mittens with a warm sheepskin hat or earband and you'll be all set to brave the Arctic freeze that has half the country hiding out indoors. Check out our shearling garments and accessories for men, women, children and babies at The Sheepherder, and you can keep the whole family warm in sheepskin this winter!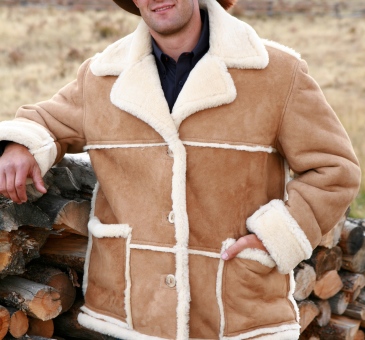 There's nothing like finding a comfortable and stylish sheepskin jacket that works with both dressy and casual outfits, and plenty of celebrity men out there are catching on to the trend. Gone are the days of trench coats and pea coats; more and more men are turning to authentic shearling for their winter outwear. Here at The Sheepherder, we pride ourselves on handcrafting beautiful and durable authentic sheepskin coats for women and men, that fit great and will last for years to come. Read on to learn about some of the most popular men's sheepskin jackets out there, and how you can get the look for less at The Sheepherder!
When The Dark Knight Rises hit theaters last year, everyone wanted to get their hands on a cool sheepskin jacket like the one the villain, Bane, wore in the film. Although the coat was made specifically for Bane (played by Tom Hardy), it's an almost identical match to a shearling jacket that cropped up on the runway of designer Ermenegildo Zegna's Fall 2012 collection that same year. Unfortunately, this particular coat will cost you around $4,000, unlike our Men's Long Classic sheepskin jacket, which can be yours for $1,200. This traditional town coat is cut to knee length, similar to Bane's jacket, and features oversized pockets and a generous shawl collar to keep you warm in the winter chill.
Actor and funnyman Russell Brand has an eclectic sense of style when it comes to clothing, but you can't argue with his choice to step out in a warm and stylish Rick Owens sheepskin jacket from the Fall 2010 collection. A men's shearling jacket identical to the one Brand is wearing would set you back between $2,000 and $3,000, but you can get a similar coat at The Sheepherder for far less. Take a look at our Men's Classic sheepskin coat, which is a shorter version of the jacket we mentioned above. Perfect for dress or casual wear, this shearling jacket features oversized pockets and a leather-trimmed collar and cuffs for a stylish and cozy finish.
Even British soccer star and international style icon David Beckham dons a sheepskin coat when the weather turns brisk. Back in December 2010, Becks was spotted at a match between Manchester United and Arsenal, and he was bundled up in, what else, a trendy leather coat with sheepskin lining and a large shawl collar. We can imagine that David Beckham paid a pretty penny for his sheepskin jacket, but if you'd like to get the look for less, check out our custom-made Men's Cattleman shearling coat at The Sheepherder. The prominent shawl collar on this jacket matches David Beckham's, and the finished seams and western yoke in the back give the garment a masculine, tailored look that any guy will love.