Sheepskin Coats & Shearling Vests Made in the USA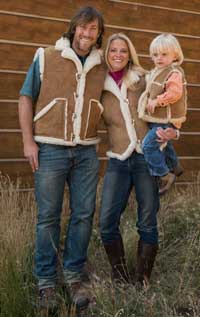 We are proud to say that all of our Sheepherder sheepskin products are 100% 'Made in the USA' from beginning to end.  Starting with the sheepskin hides, the shearling we use comes from domestic sheep raised in the Rocky Mountain States.  These sheep are raised commercially for their meat and the hides are a valuable by-product which is tanned and processed right here in the United States.  The buttons we use for our sheepskin vests and coats are made from antlers which are shed annually by deer and elk.  They are handmade and each set is truly one of a kind.
Then, each and every Sheepherder garment is hand-crafted by the owner of The Sheepherder, Diane Blessing, at her shop in Alma, Colorado.  Alma is located in the Colorado Rocky Mountains and Diane has been creating and designing sheepskin garments for over 30 years.  Her years of experience with this product ensure that you will get a sheepskin jacket,vest or shearling slippers that are just what you've been dreaming of.  Support local business and products made in the USA when you purchase from The Sheepherder.