Measuring for your Custom Sheepskin Garment
All of our sheepskin, elkskin and deerskin vests and jackets are made to fit, per your specifications.  This means that we will tailor the item to your size specifications.  Getting accurate measurements is key to fitting the garment appropriately.  Here are some pointers on measuring for a sheepskin jacket or shearling vest.
It is important to remember that sheepskin is a natural hide, hence your jacket will mold to your body over time.  However, it will not shrink or stretch like some other fabrics may.  If the jacket or vest feels stiff at first, you will notice a substantial change over the first two or three times you wear the sheepskin.
All of our products are made only from the most high quality shearling sheepskin, elkskin or deerskin hides.  We pride ourselves in working with hides that are the very best quality available.
It is very important that you read the measurement instructions below carefully so that we can ensure a perfect fit on your custom garment. Please call with any questions or concerns!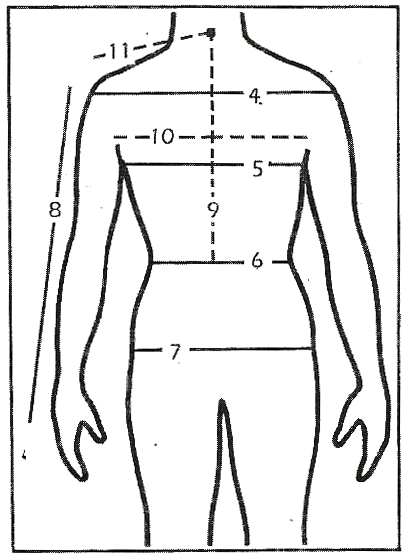 We need several measurements to make your sheepskin outerwear:
1. Height
2. Weight
3. Suit or Dress Size
4. Shoulders: Measure around your entire body, front and back at the fullest point of the shoulders with your arms relaxed at your sides.
5. Chest/Bust: Measure around the chest roughly at nipple level, under the armpits, and over your shoulder blades. You should only just be able to feel the tape on your chest. Do not over-inflate your chest but stand normally, you should be able to fit your index finger in between the tape and your chest.

6. Waist/Belly: Measure around your stomach at your natural waistline or around the fullest part of your belly. Allow some room for breathing/movement.

7. Hips: Measure at the fullest point of the lower torso (buttocks) while standing in a comfortable stance with feet slightly apart. Make sure to measure around the entire body.

8. Sleeve: Measure from the tip of your shoulder to the thumb and forefinger crease with your arm hanging at your side.
All of our sheepskin apparel, including our sheepskin slippers, are guaranteed for satisfaction with fit and construction.  If you are unsatisfied with your shearling garment, please return it within 30 days for a full refund.  For more information about service and refunds, visit our Returns and Exchanges page.
Video: How To Measure for a Custom Sheepskin Coat or Vest