Archive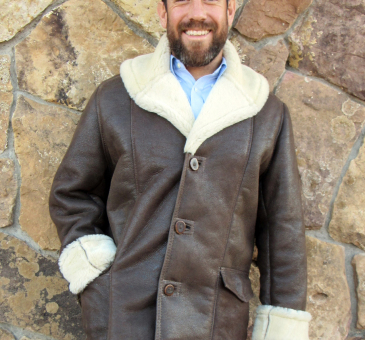 Sure, it's only September, and Christmas probably isn't even on your radar yet, but why wait for Black Friday and Christmas Eve crowds, when you can start your shopping now and take the time to find the gifts your loved ones will truly cherish? After all, there's nothing worse than waiting until the last minute to shop and being forced to hand out gift cards for Christmas, especially if you're the kind of person that prefers to give more personal presents. Lucky for you, we've got custom-made sheepskin slippers and other great Christmas gift ideas for 2014 right here at The Sheepherder!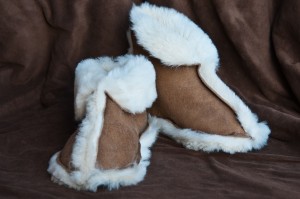 It's hard to believe, but September really is right around the corner, and while we still have some time before the brisk fall weather sets in, it's a great time to get ahead of the game and get your hands on some warm and cozy must-haves for this fall, including sheepskin slippers, shearling coats and more. With our wide selection of sheepskin garments and accessories at your fingertips, you can dress your best this season and incorporate a little luxurious sheepskin into your fashionable fall wardrobe!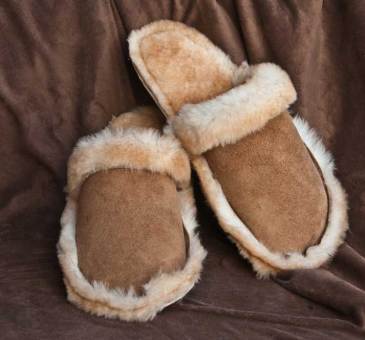 Sheepskin is a natural, durable fabric made to withstand the elements, which is why it is such a popular material for sheepskin slippers and other winter apparel. However, sheepskin is not naturally waterproof, and shearing garments can easily become soiled when worn outdoors. For this reason, it is extremely important to properly waterproof and protect the durability of your sheepskin slippers, in order to prevent long-lasting stains. Our sheepskin slippers at The Sheepherder are made to last, and we want to help our valued customers keep their sheepskin slippers looking as good as new for as long as possible. To that end, the following are six helpful tips to keep in mind when it comes to protecting, cleaning and caring for your genuine sheepskin slippers.
Actress, internet entrepreneur and newlywed Blake Lively covers the August edition of Vogue magazine, and in the cover shot, the 26-year-old manages to look casual but elegant (as always) in a red knit strapless dress and multicolored vintage sheepskin jacket. Blake also rocks sheepskin chic attire in the inside spread of the fashion magazine, where the blonde bombshell is photographed hanging out on a ranch, wearing an attractive fitted shearling vest over top a long-sleeve gray jersey dress. Blake Lively previously covered Vogue magazine in 2009 and 2010, when her Hollywood career was just taking off, but the actress has never looked as good as she does in sheepskin!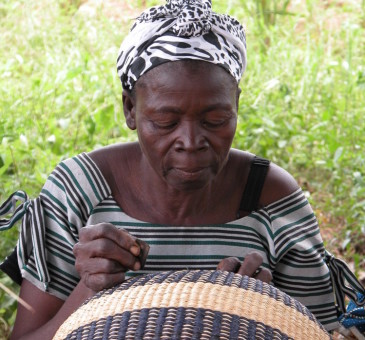 Nothing says summer like fresh fruits and vegetables from the farmer's market, and now you can shop for produce in style with one of our Ghana Market Bolgatanga baskets, which are handwoven from native African grasses into a colorful and unique design. These handmade baskets are fair-trade items, which means each time we sell a Ghana market basket at our store, a percentage of the proceeds goes towards providing healthcare, community buildings and school fees for the basket weavers and their families.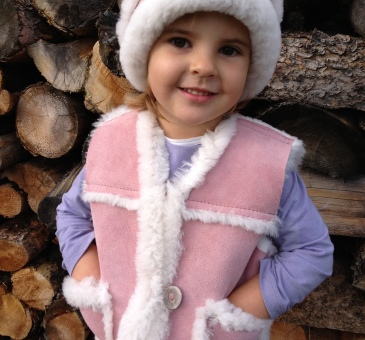 Sheepskin may seem like a material best fit for winter wear, but genuine sheepskin actually features hollow fibers that naturally wick away moisture from the body, keeping you just as cool in the summer as it does warm in the winter. That's why we only use authentic sheepskin and other natural materials, like cowhide, when creating our handcrafted jackets and vests for adults and children alike. Two of our top sheepskin products for the little ones in your life are our kids' Lakota cowboy vest and children's Buckaroo sheepskin vest – both great options for wear throughout the warm summer months.
Cara Delevingne is the hottest fashion model at the moment, and so it was a big deal when Burberry announced the 21-year-old Brit as the face of its Autumn/Winter 2014 ad campaign. Cara joins the likes of Suki Waterhouse and Malaika Firth in representing the world-renowned British fashion brand, and in the company's latest ad campaign, the models look snug yet elegant in a variety of colorful and cozy sheepskin jackets. If you want to dress like Cara and stay up-to-date on the latest fashion trends, take a look at our collection of handmade shearling coats for women at The Sheepherder, now available in colors ranging from classic tan to fun tones like grey, black, brown and even pink!
Sheepskin coats have been around for decades, dating back to the 1940s when pilots wore shearling bomber jackets to stay warm in the unpressurized cabins of their B-17 long-range bomber planes at altitudes of 30,000 feet. In the years since, shearling jackets have become increasingly popular garments for both men and women, as much for the warmth they offer as for the style statement they make. Today, well-respected fashion houses like Burberry are embracing sheepskin as the fashion staple it is, and incorporating the durable and stylish material into their 2014 autumn and winter collections.
In recent photos of Burberry's Autumn/Winter 2014 ad campaign, Cara Delevingne and her fellow British models sport a range of outerwear pieces, including beautiful sheepskin jackets for women, while their male counterparts model some of the company's rugged shearling coats for men. In one photo, Suki Waterhouse is wearing a shorter sheepskin jacket much like our own Ladies Columbine Sheepskin Coat, which features waist-hugging feminine lines, wool-out trim, three-inch rolled cuffs and a beautiful notched collar, while Cara sports a longer shearling jacket that is similar to our Ladies Classic Sheepskin Coat or Ladies Cattleman Sheepskin Coat.
One of the main reasons sheepskin has remained so incredibly popular over the past 70-plus years, especially for fall- and winter-wear, is because the material offers a warmth and coziness that is unparalleled by any other garment. Unlike other materials (including synthetic sheepskin) genuine shearling features hollow fibers that naturally retain heat and wick away moisture from the body, keeping you cool in the summer and warm in the winter. If you're looking for the perfect coat for 2014 – one that will keep you comfortable and also make a fashion statement – check out our selection of custom sheepskin jackets at The Sheepherder today.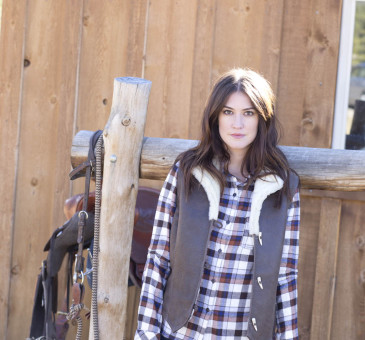 If you pay any attention to the fashion world, you've probably already noticed that one of this year's hottest trends is turning out to be fur or sheepskin vests for women. Paired with your favorite skinny jeans, a comfy sweater or tee, and ankle boots or heels, a sheepskin vest is the perfect addition to any outfit – casual or dressy – and is one of the most comfortable outerwear options as well. These lovely ladies we've listed below have donned a sheepskin vest more than once, and always manage to pull it off without a hitch. And while their favorite shearling vest may break the bank for you, here at The Sheepherder, you can get the look for less!
Sienna Miller is a model and fashion designer, so you know she means business when she steps out in a fabulous sheepskin vest. One of Sienna's favorite garments to pair with leggings or skinny jeans is a cropped leather sheepskin vest in brown, with a front zip and buckle closure. If you're dying to steal Sienna's style, check out our Ladies Blue Sky Deerskin Vest in brown or burnt cork. The fully-lined handcrafted vest with its simple, classic look offers a perfect fit and looks great with any outfit.
Pippa Middleton cemented her reputation as a fashion icon the day she stole the show at her older sister's wedding, so we've always got an eye on what the 30-year-old wears out and about. One particular garment of Pippa's that has caught our eye is the stunning rich brown sheepskin vest she once paired with skinny jeans and a red long sleeve shirt. To create a similar look for yourself, try our Ladies Wrangler Sheepskin Vest in ranch – a slim form-fitting vest with wool-out trim that adds a little feminine flair to your everyday wear.
Miley Cyrus may change her look more often than most people change their socks, but the fashion-forward singer knows when she's found a gem – like the tan sheepskin vest she often pairs with dark skinny jeans and a casual white tee. For a similar look, check out our Ladies Silverheels Sheepskin Vest in gold misty or sahara, which can easily be played down for daily errands or dressed up for a night on the town.
Custom Sheepskin Garments for Women
All of our sheepskin jackets and vests at The Sheepherder are custom made to order, which means your shearling garment will be handcrafted specifically for you, according to your measurements and color preferences. So, the next time you're considering trying something new in the area of fashion, polish off your look with one of our custom sheepskin vests for women and you'll be guaranteed to steal the show!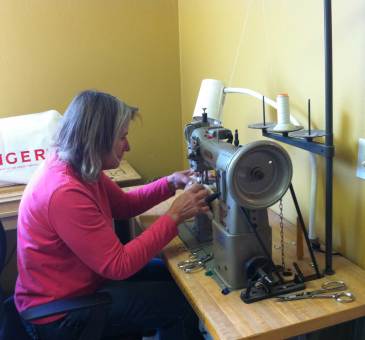 The Sheepherder and its owner Diane Blessing are recognized as a staple in Alma, Colorado, but the custom sheepskin shop didn't always call 112 North Main Street home. When The Sheepherder first opened, it was located in Breckenridge, Colorado, and Diane began working at the shop in 1978. When the business was sold in 1980, Diane decided to stay on and work for the new owners, using her carefully honed skills to create beautiful handmade sheepskin slippers, jackets and more. Less than ten years later, her decision paid off, and in 1989, with the help of a generous aunt and uncle, Diane bought the business she had invested so much of her time and energy in, building what is known today as one of the best sheepskin shops in Colorado.
Today, Diane creates custom-made sheepskin garments for a variety of customers around the world, from the United States to the UK, Germany and beyond, and her craftsmanship is second to none. In fact, Diane's Sheepskin Riding Jacket for Men has even made an appearance on Broadway, thanks to the keen eye of a costume designer involved in "Beautiful: The Carole King Musical," who ordered a custom sheepskin jacket each for the lead actor and his understudy. What makes The Sheepherder so special though, is that each and every shearling item – from the jackets to the vests, mittens and accessories – is handcrafted with the same attention to detail as if it would be appearing on Broadway in front of thousands of people.
Since moving from Breckenridge in 2001, the Sheepherder store has been located in downtown Alma, a scenic town nestled in the Rocky Mountains of Western Colorado, which you'll hit just before you head over the Hoosier Pass towards the Breckenridge Ski Area. If you stop by the shop, you can see Diane herself crafting the handmade shearling garments The Sheepherder is famous for, and you'll witness firsthand what close attention she pays to quality and detail when fulfilling custom orders for customers across the globe. If you don't have the the opportunity to visit the shop in person, check out The Sheepherder website, where you can find a wide selection of handcrafted sheepskin garments custom made to order.
It has been a whirlwind 25 years since Diane took over The Sheepherder in 1989, and the business remains incredibly successful, in large part because Diane still has the same passion for creating custom sheepskin garments as she did when she first began working at the shop more than 30 years ago. Help celebrate our 36 years in business by purchasing a handcrafted shearling jacket or a cozy pair of sheepskin slippers from The Sheepherder today!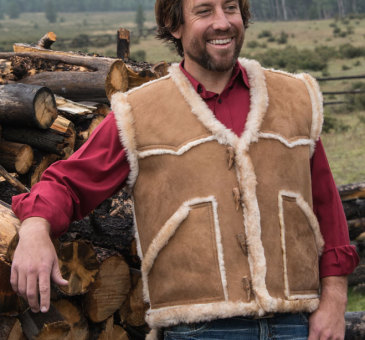 Now that we've survived the polar vortex, the arctic freeze and everything else this past winter had to throw at us, many people are looking forward to storing away their winter gear until next season, but don't box up your sheepskin slippers or vest just yet! All of our shearling boots and outerwear at The Sheepherder are handcrafted using genuine sheepskin, which features hollow fibers that help the material naturally wick away moisture from the body, keeping you warm in the winter and cool in the summer. Unlike all the synthetic sheepskin garments out there, our shearling slippers, coats and boots at The Sheepherder won't make you sweat in warmer weather, which means you can enjoy the comfort and style of sheepskin outerwear all year long, not just during winter.
Great Sheepskin Products for Summer
While some of our sheepskin jackets and accessories are more appropriate for winter weather, there are plenty of shearling garments to choose from that you can wear during summer too. The authentic Minnetonka sheepskin boots for sale on our website, for example, can be worn all year long, and so can the Minnetonka sheepskin slippers and moccasins we offer for both men and women. There's nothing better than stepping into a soft, cozy pair of shearling slippers first thing in the morning, even in the warm summer months, and with their easy slip-on, slip-off wear, our Minnetonka ankle-high shearling boots are perfect for running errands or enjoying a lunch out with friends, regardless of the weather. If sporting a full-on sheepskin coat during the summer seems like a little much, check out our beautiful custom-made sheepskin vests for men and women, which offer the utmost in year-round comfort and durability.
Caring for Your Shearling Garments
If you do decide to wear your sheepskin boots or jacket during the spring or summer, when things tend to get a little rainy and muddy, it's important that you use the right products to properly care for your garments. First, the outer suede portion of your sheepskin item should be sprayed with a rain and stain shield made specifically for suede or leather, which will help prevent soiling and protect the garment against water spotting. If you find yourself needing to touch up the wool portion of your shearling coat or boots, you can use a solution of Woolite and cold water, but be sure to avoid soaking through to the suede. Once the wool is nearly dry, you can brush it to fluff it back to its normal appearance. If your sheepskin garment becomes soiled enough to require the help of a professional, be sure to ask ahead of time if the dry cleaner is experienced with sheepskin and/or leather and suede products.