Archive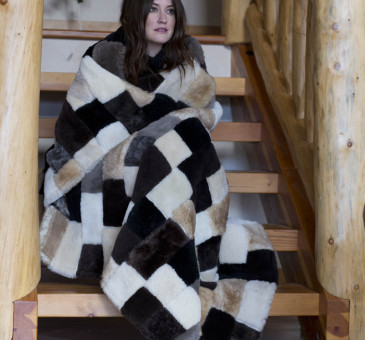 Sheepskin for the Home
The temperature outside is beginning to drop, but with our selection of cozy sheepskin quilts and pillows at The Sheepherder, there's no reason why your home can't be a place of ultimate warmth and comfort this fall and winter. Once this beautiful fall weather comes to an end and the temperature turns brisk, most of us will trade in our lightweight coats for something more substantial, like a luxurious sheepskin jacket. By incorporating just one shearling coat or a pair of sheepskin boots into your wardrobe, you can increase your warmth and comfort tenfold, so it makes sense to give your home the same wintertime treatment, right?
Warm and Cozy Shearling Home Goods
Besides adding an elegant but rustic element to your home décor, a sheepskin blanket, quilt or pillow can also provide some extra warmth, comfort, color and texture to any room. For living rooms with dark colors, hardwood floors and leather furniture, a thick sheepskin throw or set of shearling pillows incorporate a subtle softness to what may otherwise seem like a cold environment. All of our sheepskin home goods at The Sheepherder are handcrafted using authentic hides from domestic sheep raised commercially in the Rocky Mountain states. The wool skins are a valuable by-product, and are tanned and processed 100% in the United States.
Custom Sheepskin Accents for the Home
One of the great things about our shearling garments and home goods is that each product is one of a kind and can be custom-made based on your specifications. For example, take a look at our sheepskin pillows and you'll see a variety of color options to choose from, allowing you to coordinate them with your home décor as accent pieces. Like all of the products we offer at The Sheepherder, our pillows are made from 100% sheepskin, inside and out. One side of the pillow features fleecy shearling in a unique color pattern, while the other side features leather or suede, and inside is soft wool batting, making these pillows a comfy place to rest your head after a long day.
Add Some Chic to Your Sanctuary
Sheepskin is a durable, natural material that is easy to care for and is minimalistic in design while also being extremely stylish and luxurious. In short, shearling is really on-trend right now, so incorporating a few subtle elements of sheepskin to your home is a great way to instantly update certain aspects of your décor without transforming the overall feel of your space. Other options for a touch of warmth in the home include sheepskin rugs, throws and cushions. And for the kids' bedrooms, check out our adorable sheepskin bunnies and teddy bears, as always, made from authentic shearling.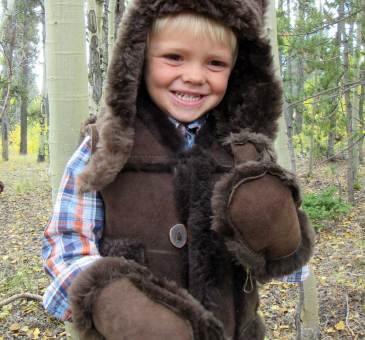 Celebrate Wool Week With the Best Sheepskin Garments and Footwear
October 14 marks the beginning of the UK's annual Wool Week event – a week-long national celebration of all things wool – and we thought this would be a great time to talk about the many benefits of a particular type of wool product – sheepskin. In the UK, Wool Week is hosted by The Campaign for Wool, a global endeavor initiated by the Prince of Wales in an effort to raise awareness about the unique, natural, sustainable benefits of wool garments and products. Here at The Sheepherder, we offer a variety of beautiful, durable sheepskin garments, footwear and accessories custom-made using genuine shearling hides, which feature smooth suede or leather on one side and soft, silky wool on the other.
The Campaign for Wool encourages collaboration between wool growers, fashion designers, manufacturers and retailers like The Sheepherder around the world, in order to help consumers see wool for what it really is: a beautiful, versatile product that is both renewable and biodegradable. According to the Campaign for Wool's website, "Wool is a protein fibre formed in the skin of sheep, and is thus one hundred percent natural, not man-made. Since the Stone Age, it has been appreciated as one of the most effective forms of all-weather protection known to man, and science is yet to produce a fibre which matches its unique properties."
At the end of its life, authentic wool is easily decomposed, whereas most synthetics degrade very slowly, and, because sheep produce a new fleece every year, wool is also considered to be renewable. In addition to these beneficial properties, wool is also a natural insulator, it is breathable, elastic and resilient, it is easily cared for and odor-resistant, and it is even appropriate for year-round wear, since wool constantly reacts to changes in body temperature and can maintain the wearer's comfort in both warm and cold weather. It is for these reasons that the Prince of Wales launched The Campaign for Wool and continues to promote the use of wool both in garments and in the home.
Since 2010, the Campaign for Wool and its annual Wool Week initiative have helped bring about a renewed demand for wool around the world, and have seen a three-fold increase in the price farmers receive for their wool. This, in turn, helps wool manufacturers and retailers like us bring you the highest-quality sheepskin slippers, shearing jackets and more, for a price that will have you ordering something for the whole family. Check out our shearling garments, home goods and accessories, and celebrate Wool Week with a custom, hand-crafted sheepskin product today!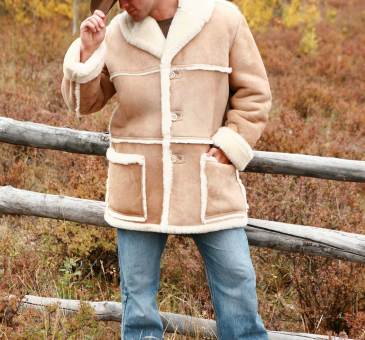 Top Five Sheepskin Jackets for Fall and Winter
The chilly weather we have had so far this month signals an end to summer and hints at a cold winter ahead. There's no better time than now to add a genuine sheepskin jacket to your wardrobe, and here at The Sheepherder, we have a wide selection of shearling coats to suit any style. All of our shearling products are made from genuine sheepskin and are handmade to order, which means you receive a beautiful garment tailored to your specific size and color specifications. To better prepare you for the brisk weather that is just around the corner, we have compiled a list of our top five picks for shearling coats during fall and winter:
Cattleman Sheepskin Coat for Men and Women
Our Men's Cattleman shearling jacket is a handsome coat custom-tailored for a masculine look and all-over protection from the winter chill. Our ladies' version is a beautiful and versatile coat, appropriate for a day on the ranch or about town, keeping you toasty warm in fall or winter weather alike. The shawl collar and 3" roll cuffs on both sheepskin jackets work double duty – stylish accents that keep you warm all day and night.
Men's and Ladies' Classic Shearling Coat
The more traditional Classic sheepskin jacket is designed to be worn for either dressy or casual occasions, with oversized pockets and a leather-trimmed collar on the men's version, and a shawl collar and 3" roll cuffs for the ladies. Our ladies' Classic sheepskin coat is slightly longer than our other designs, which makes it a good choice for taller women. The jackets are finished off with genuine deer antler buttons that give them a natural and stylish appearance.
Rancher Sheepskin Jacket for Men and Women
Attractive wool-out seams make our Rancher shearling coat a popular jacket for both men and women, and western accents in the front and back yokes complete the rugged outdoorsy look. The Rancher sheepskin jacket features patch pockets, a notched collar and 3" roll cuffs on both versions, which will keep you cozy and provide some serious protection from the fall and winter weather.
Men's Colorado Shearling Jacket
One of our favorite sheepskin jackets is the Colorado shearling coat for men, which features three panels on the front with wool-trimmed seams and genuine deer antler buttons for an attractive, natural look. Patch pockets, 3" roll cuffs and a shawl collar will keep you warm day and night, and, with a custom, hand-crafted design and a variety of color choices, the Colorado sheepskin jacket will be a perfect fit!
Columbine Sheepskin Coat for Women
Our Columbine shearling jacket for women boasts a feminine, waist-hugging design that makes the coat an elegant addition to any outfit. The sheepskin jacket features wool trim down the front and around the bottom, real deer antler buttons, and princess seams on the front and back, all of which add to the coat's style and authenticity. A notched collar and 3" roll cuffs complete the look and ensure that you will stay comfortable and warm throughout the fall and winter.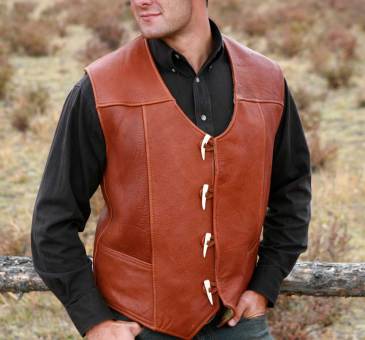 Leather Biker Vests From the Sheepherder
Summer is the best time of year for hopping on the back of a motorcycle and hitting the open road, but with September already in full swing, cool fall temperatures may convince many otherwise adventurous people to enjoy the warmth of their homes instead. Fortunately, here at The Sheepherder, we offer a wide selection of attractive leather biker vests and other cozy skeepskin products that will keep you warm, comfortable and stylish, whether you actually own a motorcycle or just want to look like you do!
Custom-Made Sheepskin Garments
Genuine sheepskin is naturally a warm and luxurious material, and we dedicate as much time and energy necessary to preserve these qualities in all of our handmade shearling products at The Sheepherder. Each sheepskin jacket, vest and pair of slippers is custom-made to order using the highest-quality sheepskin, which features silky wool on one side and smooth suede or leather on the other side. As opposed to imitation shearling garments, the shearling we use at The Sheepherder naturally wicks away moisture from the body, keeping you cool in hot temperatures and warm in cold weather. As a result, our custom shearling jackets can be worn year-round, and our leather and sheepskin vests are popular choices for everyone from ranchers to motorcycle riders.
Genuine Elkskin Vests for Men
Take our men's Rocky Mountain elkskin vest for example; its beautiful leather construction catches the eye, and its cotton fabric lining and attractive elk antler toggles with loop closures help keep the chill out, even on the back of a motorcycle in September. Pair this leather biker vest with your favorite jeans and a long-sleeve shirt and you're ready to ride off into the sunset. For a more classic garment, check out our men's Gambler leather vest with a sheepskin collar that adds plenty of extra warmth and a little pop of style as well. This sheepskin vest for men also features attractive antler buttons, and the small pockets sewn into the side seams are perfect for carrying a small wallet or set of keys when you've got your hands full.
Give the Gift of Sheepskin!
When it comes to warmth, style and durability, it's hard to beat a genuine elkskin or sheepskin vest handcrafted to fit your individual specifications for fit and color. Check out our collection of genuine shearling garments for the whole family, and don't forget, December is just a few months away, and our men's sheepskins jackets and vests make great Christmas gifts for that lucky man in your life!
SJP Digs Sheepskin Boots
Sarah Jessica Parker has been a global fashion icon since her days playing Carrie Bradshaw on Sex and the City, although her style in real life is far more refined than the wacky outfits she wore on the beloved television series. Today, the mother of three seems to favor casual jeans over cocktail dresses and definitely slips into comfortable and stylish sheepskin boots more often than Manolo Blahniks. Sarah Jessica Parker doesn't only treat herself to shearling boots though; her children are often spotted wearing the cozy and fashionable footwear as well, usually while walking around New York City with their mom. Before you know it, SJP's long-time husband Matthew Broderick may be the proud owner of his own pair of men's sheepskin boots as well!
For those of you who were devoted fans of Sex and the City, you may be shocked to learn that Sarah Jessica Parker has a favorite outfit that strays from the colorful and expensive high-fashion wardrobe she made famous on the show. Take a look at these photos of the actress and you'll see that, in most cases, SJP prefers putting on a pair of comfortable jeans, a cozy sweater and warm sheepskin boots, whether she is running errands in New York City or spending time with her family at their second home in Ireland. More often than not, when Sarah Jessica Parker is out on the town, she is accompanied by her son James, or twin daughters, Marion and Tabitha, who sport their own adorable sheepskin boots for kids.
In most of the photos of SJP wearing shearling boots, the footwear looks the same: simple and tan or brown, sometimes with a small heel and sometimes with a sheepskin flap encircling the top of the boot for added warmth and an attractive touch. Comfortable, durable and stylish footwear is not always easy to find, but Sarah Jessica Parker proves that a good pair of shearling boots can be your go-to footwear for any outfit, season and locale. Sheepskin is a luxurious material that naturally wicks away moisture from the body, so shearling boots will keep your feet warm in the winter and cool in the summer. While most people wouldn't be too quick to take fashion advice from Carrie Bradshaw when it comes to everyday wear, Sarah Jessica Parker definitely hit the target with her sheepskin boots!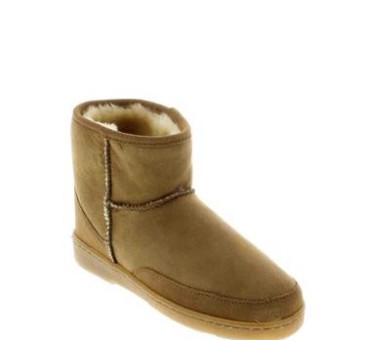 Many people associate sheepskin footwear with cold winter weather, but the truth is that there are plenty of shearling boots, slippers and moccasins out there that are perfect for the warm summer months as well. All of our sheepskin products at The Sheepherder are handcrafted from the skins of domestic sheep raised in the Rocky Mountain states and are processed right here in the United States. When sheepskin is processed correctly, the material's hollow fibers naturally wick away moisture from the body, keeping you cool even in hot weather. Shearling slippers and garments are also very comfortable and stylish, making them the perfect addition to any wardrobe throughout the year. The Sheepherder is an official Minnetonka retailer, and we offer a variety of sheepskin Minnetonka products for summer, including these favorites:
Minnetonka Mens Hardsole Sheepskin Moccasin – This attractive shearling slipper is constructed with 100% shearling wool, featuring dense, soft sheepskin on the inside and a hard rubber indoor/outdoor sole that provides durability and traction.
Minnetonka Ladies Shearling Mule Slipper – There's nothing more convenient and comfortable than slipping into a pair of Minnetonka sheepskin mules, featuring an open back for easy on and off. The women's shearling slippers are also constructed with a stylish band of sheepskin on the outside and a hard rubber slip-resistant bottom.
Minnetonka Mens Twin Gore Shearling Slippers – Whether you're walking around the house or around town, these sheepskin slippers for men will keep your feet comfortable and cool during the summer months. The footwear features elastic gores on either side so they are easier to get on and off, and also have a hard rubber indoor/outdoor sole.
Minnetonka Ladies Sheepskin Ankle Boot – Slip on a pair of skinny jeans or short shorts and finish off the look with these shearling ankle boots for women, which provide a comfortable and stylish alternative to sandals. The ladies sheepskin boot features an attractive folded-over flap and a slip-resistant hard rubber sole for indoor or outdoor wear.
Minnetonka Ladies Short Shearling Boot – Sheepskin boots are more popular than ever, and can be worn year-round for added warmth in the winter or cool, comfortable wear during the summer. These ladies shearling boots are attractive and stylish, and feature an indoor/outdoor rubber sole for traction and durability.
Quality Sheepskin Products at The Sheepherder
Minnetonka is one of the most trusted brands in sheepskin footwear, and we are proud to carry Minnetonka slippers, boots and moccasins among our own selection of fine shearling products. When you purchase a Minnetonka product from The Sheepherder, you can rest assured that you will receive a superior item constructed using only the highest-quality sheepskin available. Check out all of our sheepskin slippers and garments at The Sheepherder and treat yourself or a loved one to a genuine shearling product this summer!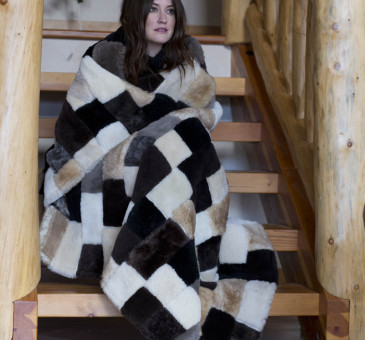 Kate Middleton Receives Sheepskin Blanket as Gift for New Baby Boy!
Among the influx of baby presents Prince William and Kate Middleton have likely received following the birth of their bouncing baby boy, one of the best has to be the faux sheepskin blanket the new parents recently received from PETA, which is apparently a traditional gift to give newborns in some parts of the UK. The present came at just the right time and who doesn't love a comfy, cozy sheepskin blanket? The only thing that could have made the baby gift better would be if the blanket was made from genuine sheepskin, like the shearling blankets and quilts handcrafted by our shop in Alma, Colorado. Not only is genuine sheepskin soft and cuddly, but it is also incredibly warm and extremely durable, making it the perfect gift for newborn babies and children of all ages.
Shearling Toys and Accessories for Kids
After pretty much constant anticipation since the couple announced their pregnancy in December 2012, Kate Middleton and Prince William welcomed their first child into the royal family on July 22, and we're guessing the proud parents have been inundated with all sorts of baby gifts since their son was born. Like any new parents, they'll want their little one to have everything he needs to be comfortable, warm and happy, and a genuine sheepskin blanket is a great start. Some of our most popular products at The Sheepherder are our children's items, including our beautiful patchwork shearling quilt, sheepskin teddy bears and shearling bunnies – all of which are made from the highest-quality sheepskin hides tanned and processed right here in the United States.
Children's Sheepskin Slippers and Outerwear
In addition to sheepskin blankets and children's toys, we also carry a variety of shearling outerwear options for kids at The Sheepherder, including warm sheepskin slippers, shearling vests appropriate for year-round wear, and sheepskin aviator hats and earbands for older children. Like our men's and women's garments, our shearling products for kids are custom-made to order, which is a way for us to ensure that you receive the item that you want, hand-crafted to your exact specifications. Sheepskin in any form makes a great gift for newborn babies and young children, so the next time you're shopping for a baby shower or birthday gift, follow the lead of Kate Middleton and Prince William and treat your little one to a luxurious sheepskin blanket!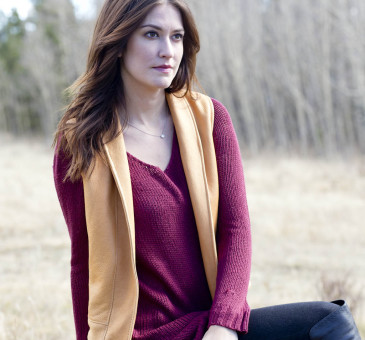 Warm-Weather Elkskin and Deerskin Vests
When the warm weather has you trading in your sheepskin boots for strappy sandals, consider giving your upper body the same treatment with one of The Sheepherder's attractive elkskin or deerskin vests for summer. All of our elkskin vests for men and women are handmade to order at our shop in Alma, Colorado, and we use only high-quality materials for a custom, comfortable fit and stylish appearance. All of the buttons on our deerskin outerwear, for example, are handmade from elk and deer antlers – a quality you'd be hard-pressed to find in most off-the-rack elkskin vests.
Men's Rocky Mountain Elkskin Vest
Our featured elkskin garment for men is the masculine Rocky Mountain elkskin vest, a comfortable and durable vest that can be worn for a day at work or a night out on the town. The unique Rocky Mountain elkskin vest features a full interior lining of cotton fabric, with genuine elk antler toggles and a loop closure for a secure and cozy fit. For an even more distinctive look, choose two different colors and we'll create an authentic two-tone elkskin vest just for you, with the body in one color and the yoke in the other. We recommend a Palomino yoke with a Black or Chocolate body for an attractive two-tone vest.
Ladies Blue Sky Deerskin Vest
Elkskin and deerskin hides make such high-quality vests and other garments, they shouldn't be reserved just for the guys! Here at The Sheepherder, we also offer the beautiful Blue Sky deerskin vest for women – a genuine deerskin vest with a classic look that goes well with virtually any outfit. The Blue Sky vest is handcrafted at our Colorado shop using soft, supple leather whose buttery texture is second to none. With a variety of colors, including Brown, Palomino, Black and Burnt Cork, this ladies deerskin vest is the perfect addition to any woman's wardrobe.
Deerskin Moccasins for Kids
Let's not forget about the little ones now! We also offer adorable children's moccasins, which are handcrafted using the finest deerskin available, and are durable enough to outlast most other kids' shoes. Our deerskin slippers for kids come in Brown, Saddle, Palomino, Rust, Black and Burnt Cork colors, and feature a soft flannel lining on the inside and elastic at the ankle to make sure they provide a secure fit for your little boy or girl. The next time you're trying to think of a unique birthday or holiday gift for a young child, consider purchasing a pair of our beautiful deerskin slippers for kids!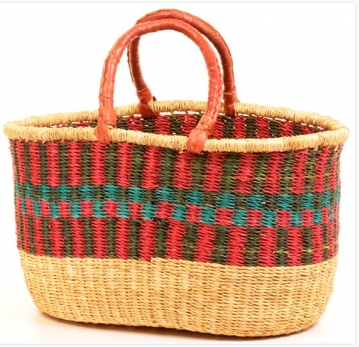 Ghana Market Baskets Make Great Summer Totes!
Many of us depend on a roomy tote bag to carry the go-to items we use on a daily basis – including a wallet, sunglasses, cell phone, etc. – and the authentic Ghana market baskets available on our website are this summer's perfect "carry-all." Woven from native African grasses into colorful and unique designs, the handmade baskets are attractive, durable and perfect for trips to the beach, the market, picnics, and even as a stylish storage space for toys and magazines in the home. Not only are the genuine African baskets handmade and one-of-a-kind, but they are incredibly strong and come in handy for a variety of uses. The baskets are also fair trade items, which means a percentage of the proceeds from the basket sales goes towards providing healthcare, community buildings and school fees for the weavers and their families in Ghana.
How the Ghana Market Baskets are Made
Also known as Bolga baskets, the unique Ghana market baskets are handwoven by artisans in the Bolgatanga region of Ghana, West Africa, and are traditionally used for carrying goods to and from the market. Bolgatanga is known as the crafts center of Northern Ghana, and weaving has been, for many generations, a traditional skill of the indigenous Gurune, or Frafra, people. Because the soil in that particular region of Ghana is not fertile enough for agricultural activities to flourish, basket weaving, pottery and leather work is often undertaken by the people of Bolgatanga to supplement their incomes. The Ghana market baskets are crafted using native veta vera grasses, which, when woven together, create an incredibly strong, useful product that is made to last. The baskets are particularly useful for toting fresh produce, because they are forgiving to fruits and vegetables that can be easily bruised.
Find the Perfect African Market Basket
Here at The Sheepherder, we have three different sizes of Ghana market baskets available – an oval tote basket that measures about 7" wide and 17" long, a round market basket that measures about 14-16" in diameter, and a mini basket that measures between 8" and 9" in diameter. Over time, the fair trade baskets may become misshapen from frequent use, but can be easily reshaped by soaking them in cold water for a few minutes and reforming them with the flat of your hand. Each African market basket features a unique color scheme and attractive handles wrapped in leather so the basket is more comfortable to carry. If you have a specific preference for size or color, we will do our best to accommodate the request as closely as possible. With a variety of size and color options, you're sure to find the Ghana market basket that suits your individual needs!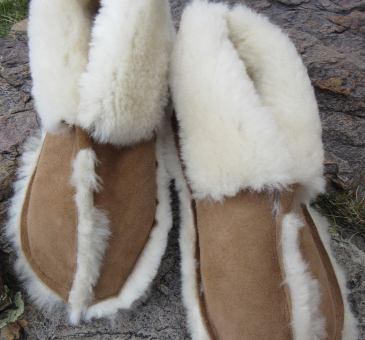 Celebrities in Slippers: A Hot New Fashion Trend
Sporting slippers as outdoor footwear isn't just for grandma and grandpa anymore; it has emerged in the past couple of years as a hot fashion trend for male celebrities like Ryan Gosling, Brad Pitt and even Kanye West. Slippers in general are comfortable and convenient, and when paired with a fashionable suit or casual wear, the right kind of slipper can add a little pop of style that will help you stand out in a crowd. Unfortunately, many of the slippers worn by our favorite celebrities cost upwards of $400, which is probably a little out of the target price range for those of us without a fortune at our fingertips. Lucky for you, here at The Sheepherder, we have high-quality sheepskin slippers that will keep you cozy and stylish at the same time, and the price is definitely right.
Men's Indoor/Outdoor Sheepskin Slippers
Once a simple bedroom staple, sheepskin and other types of slippers have evolved recently into an international fashion statement, coveted by the most fashion-conscious celebrities, both male and female. For men, one of our more popular shearling slipper styles is the Minnetonka twin gore sheepskin slipper, an easy slip-on shoe with a hard rubber indoor/outdoor sole that can be worn any time of year. The inside of the Minnetonka slipper is shearling wool, a naturally insulating material that keeps your feet warm in cold weather but wicks away moisture in warmer temperatures to keep your feet from sweating. The outer portion of the sheepskin slipper is a natural, durable hide that adds a classic accent to any man's outfit.
Ladies' Shearling Slippers and Ankle Boots
Two of our most popular sheepskin slippers for women are the mule slipper and the ankle boot, both of which are made by Minnetonka, a staple of American style since the 1940s. The ladies mule slipper features a convenient open-back style so it can be easily slipped on and off, and a hard slip-resistant sole for extra durability and traction indoors and out. The ladies ankle boot is a stylish slip-on boot that boasts a warm, cozy sheepskin interior and a hide exterior that offers both a classic look and a durable construction. The shearling slipper can be worn any time of year, and features a sheepskin flap that folds up around your ankles for added warmth in cold weather.
Sheepskin Slippers for Men, Women and Kids
Keeping up with the latest fashion statement isn't always easy, but our custom-made shearling slippers at The Sheepherder can help you get an edge up on the trend this time around. All of our sheepskin products are constructed by hand using the highest quality materials, which means they are made with comfort and durability in mind. With their attractive design and quality construction, our shearling footwear is the perfect complement to any outfit, whether you're just running errands or going out on the town. Our sheepskin slippers have a classic appearance, which makes them a versatile addition to any wardrobe, and we have options for men, women and even children, so you can outfit the entire family in sheepskin this summer!