Archive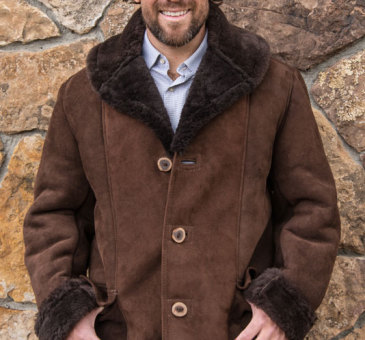 The Sheepherder, of Alma Colorado, has been designing and creating one-of-a-kind custom-made shearling outerwear and sheepskin slippers in Colorado since 1989. Every sheepskin item created by The Sheepherder is handmade by owner Diane Blessing, providing customers with unique shearling apparel and genuine sheepskin slippers, among other quality sheepskin products. Located in the Rocky Mountains of Western Colorado, The Sheepherder store devotes custom, personal attention to each and every product, ensuring that sheepskin items are handcrafted to fits customers' specifications for fit, color and style.
Unlike chains and third-party retailers, The Sheepherder creates all of its apparel and sheepskin slippers from genuine sheepskin, or "shearling," which refers to the natural hide and wool of the sheep. The hide has silky wool on one side and smooth suede on the other side. Unlike imitation sheepskin products, the high quality shearling used in Sheepherder products is one piece of continuous natural hide, which means the wool is not mended, sewn or glued to the suede. The Sheepherder also creates deerskin vests for women, elkskin vests for men and deerskin booties for infants and children. These Sheepherder garments are made from authentic hides and have an additional cloth lining on the inside for optimum comfort and warmth.
Sheepskin Outerwear and Shearling Garments
Sheepskin outwear garments created by The Sheepherder feature top quality sheepskin for the body of the garment, with natural deer and elk antlers that the animals shed annually for the truly unique buttons. These attractive and durable items are created by hand with premium products to ensure comfort and flexibility. Unlike chain or big-box sheepskin items, Sheepherder products are custom-made to the specific requirements of the customer, which means your product will be specifically tailored to fit you and no one else.
The shearling garments created by The Sheepherder are made from the skins of domestic sheep from the Rocky Mountain states. They are raised commercially for their meat, and the hides are a precious by-product which is tanned and processed right here in the United States. It's important to know where your sheepskin product comes from to ensure that you're getting the high-quality product that you expect from sheepskin garments. The full process of creating quality sheepskin used to make Sheepherder sheepskin jackets, sheepskin slippers, vests and headwear takes twenty-one days. The end product is a hide that naturally wicks away moisture from the body and remains cool even in hot temperatures. Unlike synthetic sheepskin garments, Sheepherder products keep you warm and comfortable, but will not make you sweat.
Custom-Made Sheepherder Sheepskin Slippers
Sheepskin slippers are one of the most popular products designed and created by The Sheepherder, and since they are handmade according to your specifications at the time of your order, you can own a one-of-a-kind item tailored to fit your exact measurements. In fact, if you need an especially large or small item, The Sheepherder can accommodate almost any size request. Sheepskin is known for its natural comfort, durability and warmth, which is why sheepskin slippers and Ugg-style sheepskin boots are so popular for winter apparel. Sheepskin is a natural, sturdy fabric and, with proper care, Sheepherder sheepskin slippers can withstand the elements and last nearly a lifetime.
Buying Quality Sheepskin Products from The Sheepherder
When purchasing a shearling jacket, sheepskin slippers, sheepskin mittens or gloves, or an elkskin or deerskin vest, it is important to make sure the product is up to par. Diane Blessing of The Sheepherder in Colorado has been designing and creating quality sheepskin products for over twenty years, and can ensure that you receive a comfortable custom-made product suited to your every need. Buying sheepskin products from chains or third-party retailers can be risky if you don't know exactly what you're going to get. By contacting and ordering from The Sheepherder of Alma, Colorado, you can feel confident that your custom-made sheepskin product will be handmade with the highest-quality products and impeccable attention to detail.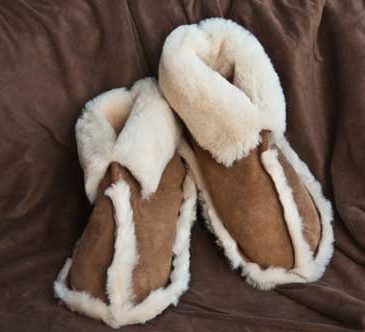 Sheepskin slippers are only one of the custom, hand-made sheepskin products designed and produced by The Sheepherder of Alma, Colorado. The shearling used by The Sheepherder to make sheepskin slippers comes from domestic sheep raised in the Rocky Mountain states, whose hides are tanned and processed in the United States. Every Sheepherder product, including the sheepskin slippers, is personally designed and crafted by owner Diane Blessing, who has been creating sheepskin garments at her Alma shop for more than twenty years. Each sheepskin slipper product crafted by The Sheepherder is produced over the course of twenty-one days, in order to create a hide that naturally wicks away moisture from the body and remains cool even in warm temperatures. Handcrafted sheepskin slippers by The Sheepherder are tailored to suit customers' specifications for fit, style and color, and require specific attention to proper care in order to maintain the quality and integrity of the sheepskin product.
Proper Cleaning for Sheepskin Slippers
Cleaning sheepskin slippers properly requires special techniques, due to the vulnerable nature of the suede, wool and other materials used in sheepskin slippers. Sheepherder sheepskin slippers should be hand-washed or spot-cleaned, as machine washing can tear the slippers apart or tint them with colors or lint from other fabrics. If your sheepskin slippers become stained, it is important to try to clean the spot immediately, rather than allowing the stain to set. A special suede sponge or brush should be used on the suede areas of your sheepskin slippers, brushing against the nap. Regular sponges and rags should never be used to clean sheepskin, as they can cause spots or tearing. If your sheepskin slippers become overly soiled, take them to a professional dry cleaner who has experience in cleaning leather, furs or sheepskin.
Sheepskin Slippers for Winter
Avoid spending another winter with cold feet, and treat yourself to the most comfortable custom-made sheepskin slippers by The Sheepherder. All of Sheepherder's sheepskin slippers are made of genuine sheepskin, also called shearling, which consists of one piece of continuous natural hide. Imitation sheepskin slippers are often made of wool that is glued or sewn to the suede as a separate lining. Sheepherder sheepskin slippers, on the other hand, use the natural hide and wool of the sheep, which has silky wool on one side and smooth suede on the other, providing sheepskin slippers that are of higher quality and comfort than imitation products. In addition to comfort, sheepskin slippers provide a natural warmth without making you sweat like lower quality synthetic fabrics have a tendency to do.
Extending the Life of your Sheepskin Slippers
One of the most important components of properly caring for your Sheepherder sheepskin slippers includes spraying them with non-silicone water repellant to avoid water spotting. If your sheepskin slippers ever become considerably wet, they should be dried slowly without being subjected to direct heat. Once the slippers are dry, water spots can be removed with a suede brush or sponge. Taking good care of your sheepskin slippers will help maintain the natural comfort and warmth of these custom products, which is especially important during the cold winter months. Sheepskin is naturally a durable fabric that is made to hold up to everyday wear and tear. If properly cared for, Sheepherder sheepskin slippers will look better and last longer.