Archive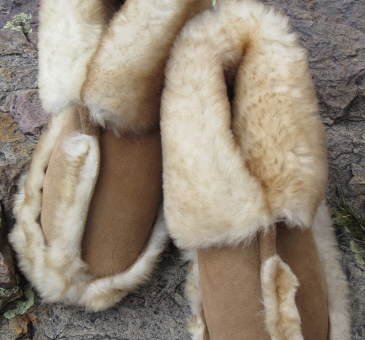 Every year, people around the country look forward to finding out what Oprah Winfrey has included on her "Favorite Things" list, and this year, the coveted collection of products Oprah has deemed the perfect holiday gifts features both sheepskin slippers and shearling gloves, just in time for winter. "I tasted. I tested. I sniffed. I touched," says Oprah about the rigorous process she used to determine her favorite products for 2014. "I lotioned. I potioned. I snuggled. I brewed. I steeped. I read. I dared, and then I did it all again…and again…and again." And apparently, after all that product testing, Oprah just couldn't resist the feel of soft, warm shearling on her skin, choosing two sheepskin products that will make the perfect Christmas gifts for 2014.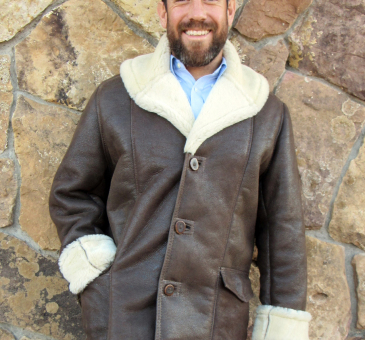 Sure, it's only September, and Christmas probably isn't even on your radar yet, but why wait for Black Friday and Christmas Eve crowds, when you can start your shopping now and take the time to find the gifts your loved ones will truly cherish? After all, there's nothing worse than waiting until the last minute to shop and being forced to hand out gift cards for Christmas, especially if you're the kind of person that prefers to give more personal presents. Lucky for you, we've got custom-made sheepskin slippers and other great Christmas gift ideas for 2014 right here at The Sheepherder!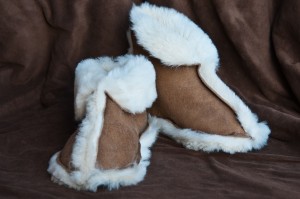 It's hard to believe, but September really is right around the corner, and while we still have some time before the brisk fall weather sets in, it's a great time to get ahead of the game and get your hands on some warm and cozy must-haves for this fall, including sheepskin slippers, shearling coats and more. With our wide selection of sheepskin garments and accessories at your fingertips, you can dress your best this season and incorporate a little luxurious sheepskin into your fashionable fall wardrobe!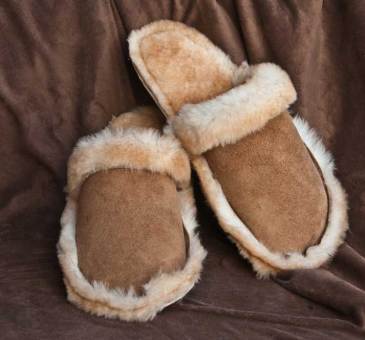 Sheepskin is a natural, durable fabric made to withstand the elements, which is why it is such a popular material for sheepskin slippers and other winter apparel. However, sheepskin is not naturally waterproof, and shearing garments can easily become soiled when worn outdoors. For this reason, it is extremely important to properly waterproof and protect the durability of your sheepskin slippers, in order to prevent long-lasting stains. Our sheepskin slippers at The Sheepherder are made to last, and we want to help our valued customers keep their sheepskin slippers looking as good as new for as long as possible. To that end, the following are six helpful tips to keep in mind when it comes to protecting, cleaning and caring for your genuine sheepskin slippers.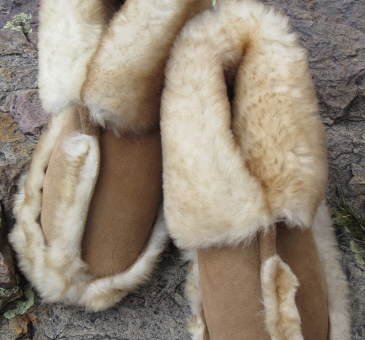 Shearling is a unique natural product.  Shearling, or sheepskin by definition is a sheep's hide that has been tanned for a specific use.  In all cases, the sheep has been shorn several times for it's wool, that is why these hides are referred to as as shearling.  All sheep are raised for the meat (mutton, lamb, lamb chops, etc.)  So the hides are only a by-product of the primary purpose of this animal.
Shearling and Sheepskin Facts
The tanning process for sheep is different from other animals.  These sheepskin hides are tanned in natural salts and alkaloids so the pollution factor is minimal as these are all natural products.  The hairs and hair follices themselves are hollow so that the wool portion of the hides performs two vital functions.:
* First of all, it wicks all excess moisture away from the skin.
* Secondly, it allows the skin to breathe.  This is why shearling slippers are such an ideal product for both summer and winter because it keeps the skin warm in the winter and cool in the summer.
We offer many different styles of sheepskin slippers gauranteed to satisfy everyone's personal needs.  The scuff sheeepskin slipper is always a good choice for warmer weather areas that use air conditioning in the summer.  They take the chill off those tile floors while letting your feet bathe in the plush comfort of all natural shearling.
Cared for properly our shearling styles last for years.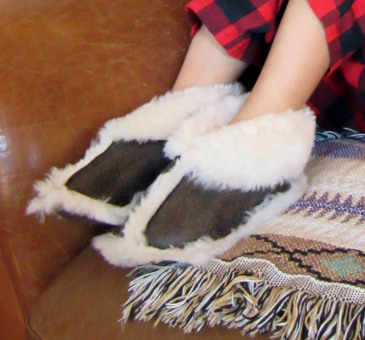 When it comes to sheepskin coats and other shearling products, the key to purchasing the most comfortable garments made with the highest-quality materials is finding an individual or shop that makes sheepskin slippers and apparel by hand. If you buy sheepskin products from a chain or factory, you never really know what you're going to get. On the other hand, by visiting (in person or online) authentic sheepskin shops like The Sheepherder in Alma, Colorado, you can ensure that you are going to get what you paid for: a comfortable, warm shearling jacket, coat, pair of slippers or vest, hand-crafted to fit your specific fit, style and color preferences. What's more, custom-made sheepskin slippers and shearling jackets from authentic sheepskin shops like The Sheepherder can craft quality and comfortable custom shearling slippers for men, women and even children!
Ladies Footwear and Sheepskin Slippers
By creating quality sheepskin slippers made from genuine shearling, and hand-crafted to order, sheepskin shops like The Sheepherder can offer customers a variety of sheepskin slipper options made from the most comfortable and highest-quality materials. One of The Sheepherder's most popular options for shearling slippers is the Ladies Adult Sheepskin Slipper, a classic scuff-style shearling slipper. With its easy slip-on wear and naturally insulating, breathable and moisture-resistant sheepskin, this ladies shearling slipper is perfect for year-round wear. If you're looking for a more traditional shearling slipper for women, check out The Sheepherder's Ladies Sheepskin Slipper, a luxurious shearling slipper choice providing customers the utmost in warmth and style. Crafted from genuine sheepskin, the natural, soft wool keeps your feet cozy, while the authentic sheepskin hide allows your feet to breathe comfortably. The Sheepherder's traditional sheepskin slipper features wool-out seams for style and a tough cowhide sole for durability unsurpassed by imitation sheepskin slippers.
Mens Shearling Slippers and Sheepskin Footwear
Most men look for exceptional comfort and durability in their sheepskin slippers as well, which is why The Sheepherder also offers the traditional Mens Sheepskin Slipper and scuff-style shearling slipper, crafted specifically for men. Offered in a variety of colors and custom-made to order, these two styles of mens sheepskin slippers offer unrivaled durability and comfort in a stylish shearling slipper. And, since The Sheepherder is an authorized Minnetonka retailer, other popular options for mens sheepskin slippers by The Sheepherder include the Mens Ugg-style Sheepskin Boot and mens Minnetonka sheepskin slippers and moccasins. Made in the USA and crafted from naturally durable, breathable and moisture-resistant sheepskin hide, these mens shearling slippers offer comfort and function for wear in both the winter and summer. The Ugg-style sheepskin boot is 9" high and comes with a non-slip, hard rubber sole for the best grip in winter weather. The mens moccasins feature thick, dense and luxurious sheepskin wool on the inside, with 100% shearling hide on the outside, and an indoor/outdoor hard rubber sole on the bottom to keep your sheepskin moccasins lasting longer than ever.
Sheepskin Slippers and Footwear for Children
When purchasing your ladies and mens sheepskin slippers this year, don't forget about the kids! The Sheepherder keeps function, comfort and warmth in mind when crafting childrens sheepskin slippers, offering a diverse selection of shearling footwear options perfect for any season. Check out the traditional Kids Sheepskin Slipper and find that The Sheepherder offers these traditional adult slippers in a smaller size without sacrificing quality or durability. Keep your childrens' feet comfy and cozy in these sheepskin slippers, and you may find you have a hard time getting them off their feet! Sheepskin's natural hollow fibers wick away moisture and will keep your kids' feet warm in the winter and cool in the summer, unlike imitation shearling slippers. And with The Sheepherder's great prices on kids sheepskin slippers, you'll have a hard time saying no to this great sheepskin slipper purchase!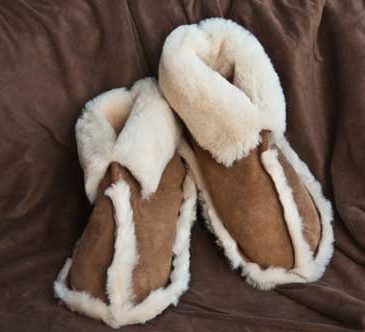 Sheepskin slippers are only one of the custom, hand-made sheepskin products designed and produced by The Sheepherder of Alma, Colorado. The shearling used by The Sheepherder to make sheepskin slippers comes from domestic sheep raised in the Rocky Mountain states, whose hides are tanned and processed in the United States. Every Sheepherder product, including the sheepskin slippers, is personally designed and crafted by owner Diane Blessing, who has been creating sheepskin garments at her Alma shop for more than twenty years. Each sheepskin slipper product crafted by The Sheepherder is produced over the course of twenty-one days, in order to create a hide that naturally wicks away moisture from the body and remains cool even in warm temperatures. Handcrafted sheepskin slippers by The Sheepherder are tailored to suit customers' specifications for fit, style and color, and require specific attention to proper care in order to maintain the quality and integrity of the sheepskin product.
Proper Cleaning for Sheepskin Slippers
Cleaning sheepskin slippers properly requires special techniques, due to the vulnerable nature of the suede, wool and other materials used in sheepskin slippers. Sheepherder sheepskin slippers should be hand-washed or spot-cleaned, as machine washing can tear the slippers apart or tint them with colors or lint from other fabrics. If your sheepskin slippers become stained, it is important to try to clean the spot immediately, rather than allowing the stain to set. A special suede sponge or brush should be used on the suede areas of your sheepskin slippers, brushing against the nap. Regular sponges and rags should never be used to clean sheepskin, as they can cause spots or tearing. If your sheepskin slippers become overly soiled, take them to a professional dry cleaner who has experience in cleaning leather, furs or sheepskin.
Sheepskin Slippers for Winter
Avoid spending another winter with cold feet, and treat yourself to the most comfortable custom-made sheepskin slippers by The Sheepherder. All of Sheepherder's sheepskin slippers are made of genuine sheepskin, also called shearling, which consists of one piece of continuous natural hide. Imitation sheepskin slippers are often made of wool that is glued or sewn to the suede as a separate lining. Sheepherder sheepskin slippers, on the other hand, use the natural hide and wool of the sheep, which has silky wool on one side and smooth suede on the other, providing sheepskin slippers that are of higher quality and comfort than imitation products. In addition to comfort, sheepskin slippers provide a natural warmth without making you sweat like lower quality synthetic fabrics have a tendency to do.
Extending the Life of your Sheepskin Slippers
One of the most important components of properly caring for your Sheepherder sheepskin slippers includes spraying them with non-silicone water repellant to avoid water spotting. If your sheepskin slippers ever become considerably wet, they should be dried slowly without being subjected to direct heat. Once the slippers are dry, water spots can be removed with a suede brush or sponge. Taking good care of your sheepskin slippers will help maintain the natural comfort and warmth of these custom products, which is especially important during the cold winter months. Sheepskin is naturally a durable fabric that is made to hold up to everyday wear and tear. If properly cared for, Sheepherder sheepskin slippers will look better and last longer.