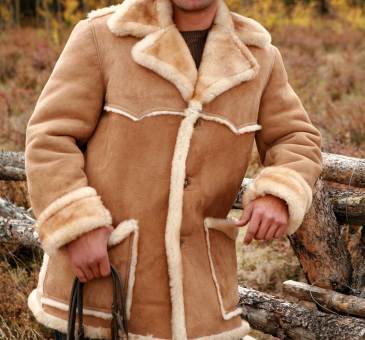 Shop Sheepskin Now!
Five Weeks 'Till Christmas – Shop Sheepskin Now!
There are only five Fridays (five!) until Christmas, so if you haven't started your holiday shopping yet, now is the time to start checking items off your gift list. With a wide variety of fine sheepskin apparel and accessories for men, women and children, plus unique shearling toys and cozy sheepskin home goods, we have something for everyone this holiday season, which is a good thing, considering many of you probably have *everyone* to shop for still. We know what it's like to sit down with a long list of people to shop for and feel overwhelmed by a sudden lack of inspiration, so we've compiled for you a handy list of some of our favorite sheepskin Christmas gifts!
Sheepskin Christmas Gifts for Men
For that notoriously-hard-to-shop-for guy on your list, we have a variety of masculine sheepskin items to choose from, including rugged and durable men's sheepskin jackets, handcrafted from genuine sheepskin and guaranteed to last years longer than his regular old winter coat. If a custom shearling jacket is over your budget, our men's sheepskin slippers are just as cozy, and, even better, are extremely affordable. Still not satisfied? How about a beautiful, handmade sheepskin aviator hat or a pair of incredibly warm and sleek shearling gloves he can wear all winter long?
Ladies Shearling Gift Ideas
Where do we even begin? We have quite a few stylish sheepskin garments and accessories for women, including handcrafted shearling jackets, if you're looking for something that will really impress her, or, if you had a smaller gift in mind, luxurious, genuine sheepskin slippers that she can slip her feet into morning after morning. We also have beautiful shearling vests for women, sheepskin earbands to keep her ears warm on those chilly winter days, and impossibly comfortable and cozy ladies sheepskin mittens.
Handmade Sheepskin Items for Children
Finding a unique Christmas gift for a child may seem like an impossible challenge these days, but toddler to teenager, we have some great garments and accessories that are sure to please this holiday season. Love dressing your little guy up just like his daddy? Check out our sheepskin aviator hats for kids, or our children's sheepskin vests that he can get use out of all year long. Our shearling slippers are also a great gift idea for children, and young kids absolutely love our handmade sheepskin stuffed animals. If the child on your shopping list is older, why not surprise him with a sheepskin iPhone case for his new smartphone, or a shearling steering wheel cover for that new (used) car of his?
Get Your Sheepskin Shopping On!
The great thing about sheepskin is that it works for men, women and children of all ages, and there's also something extra special about giving a gift that has been handcrafted by an actual person in an actual store, rather than standing in an ridiculously long line at the mall to preorder whatever hot new toy is all the rage this year. We've compiled a list for you here of some of our favorite sheepskin gift ideas for this Christmas season, but we have so much more to offer on our website. Head on over to CustomSheepskinJackets.com now, to check out our full selection of genuine shearling garments and accessories for the whole family!