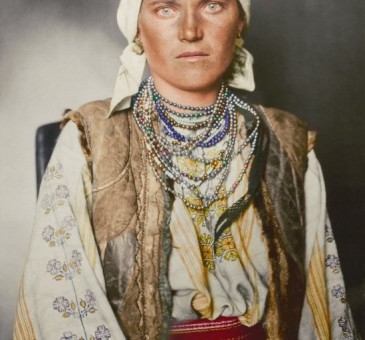 100-Year-Old Portraits Show Sheepskin Was the Garment of Choice for Ellis Island Immigrants
In the early 1900s, at a time when millions of immigrants were passing through Ellis Island in hopes of finding a permanent home in the United States, amateur photographer Augustus Francis Sherman, who served as chief registry clerk for Ellis Island until 1917, was there to capture their photographs. According to the New York Public Library, which houses a collection of Sherman's work, the subjects of his photographs had likely been detained at Ellis Island for one reason or another, and, clothed in their national dress or best holiday finery, were asked to pose for his camera while waiting for whatever they needed to leave the island. These stunning Ellis Island portraits, now more than 100 years old, were recently colorized, using historical research for accuracy, and the result is a collection of photographs of immigrants from all over the world, garbed in traditional dress, which, for many of them, included genuine sheepskin.
In one of the portraits, a woman from the kingdom of Rus, which spanned modern-day Slavic-speaking countries, wears a shirt and underskirt made from linen embroidered with traditional floral patterns, and a sleeveless jacket made from panels of sheepskin sewn together.