Last-Minute Gift Ideas for Everyone on Your Shopping List
You've probably got the majority of your holiday shopping done by now, but if you need a last-minute idea for a great stocking stuffer or small gift, check out our selection of genuine sheepskin accessories, home goods, car supplies and other handcrafted shearling items from The Sheepherder. No matter who's left on your shopping list, you'll find plenty of great sheepskin gifts on our website that your friends and family members are sure to love. Search our website for unique Christmas gifts this holiday season, or place a custom order for a handcrafted sheepskin garment you'll cherish for years to come. The following are our top picks for simple, last-minute holiday gifts for everyone on your shopping list:
Shearling iPhone/Eyeglass Case
You can't go wrong with a luxurious, durable shearling smartphone case as a stocking stuffer, grab-bag gift, or last-minute add-on gift. The case is made from 100% genuine sheepskin that softly cradles any iPhone or smartphone, protecting it from scratches and other damage in a purse or bookbag. And the best part is, it plays double duty as an eyeglass or sunglass case!
Sheepskin Steering Wheel or Seat Belt Cover
Not only do steering wheels get freezing cold in the winter, but they also tend to be scorching hot in the summer. You can solve both problems with a sheepskin steering wheel cover, which will keep your hands warm and cozy, no matter what type of weather you're driving in. Complete the set with a matching authentic shearling seat belt cover.
Soft and Cuddly Sheepskin Bunny
Little kids loved stuffed animals that they can snuggle up to at night, and our sheepskin bunnies are about as soft and loveable as you can get, stuffed with shearling shavings for an unmatched cuddle factor. If you have a little one left on your shopping list, order one of our adorable shearling bunnies, made by hand with child-safe materials and no plastic parts. Choose from a variety of colors for a truly one-of-a-kind shearling gift.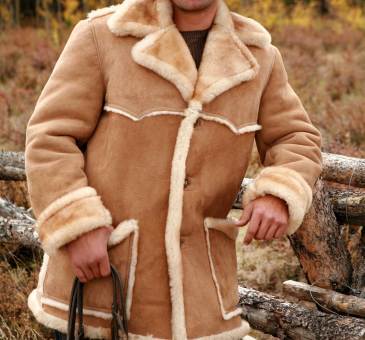 Five Weeks 'Till Christmas – Shop Sheepskin Now!
There are only five Fridays (five!) until Christmas, so if you haven't started your holiday shopping yet, now is the time to start checking items off your gift list. With a wide variety of fine sheepskin apparel and accessories for men, women and children, plus unique shearling toys and cozy sheepskin home goods, we have something for everyone this holiday season, which is a good thing, considering many of you probably have *everyone* to shop for still. We know what it's like to sit down with a long list of people to shop for and feel overwhelmed by a sudden lack of inspiration, so we've compiled for you a handy list of some of our favorite sheepskin Christmas gifts!
Sheepskin Christmas Gifts for Men
For that notoriously-hard-to-shop-for guy on your list, we have a variety of masculine sheepskin items to choose from, including rugged and durable men's sheepskin jackets, handcrafted from genuine sheepskin and guaranteed to last years longer than his regular old winter coat. If a custom shearling jacket is over your budget, our men's sheepskin slippers are just as cozy, and, even better, are extremely affordable. Still not satisfied? How about a beautiful, handmade sheepskin aviator hat or a pair of incredibly warm and sleek shearling gloves he can wear all winter long?
Ladies Shearling Gift Ideas
Where do we even begin? We have quite a few stylish sheepskin garments and accessories for women, including handcrafted shearling jackets, if you're looking for something that will really impress her, or, if you had a smaller gift in mind, luxurious, genuine sheepskin slippers that she can slip her feet into morning after morning. We also have beautiful shearling vests for women, sheepskin earbands to keep her ears warm on those chilly winter days, and impossibly comfortable and cozy ladies sheepskin mittens.
Handmade Sheepskin Items for Children
Finding a unique Christmas gift for a child may seem like an impossible challenge these days, but toddler to teenager, we have some great garments and accessories that are sure to please this holiday season. Love dressing your little guy up just like his daddy? Check out our sheepskin aviator hats for kids, or our children's sheepskin vests that he can get use out of all year long. Our shearling slippers are also a great gift idea for children, and young kids absolutely love our handmade sheepskin stuffed animals. If the child on your shopping list is older, why not surprise him with a sheepskin iPhone case for his new smartphone, or a shearling steering wheel cover for that new (used) car of his?
Get Your Sheepskin Shopping On!
The great thing about sheepskin is that it works for men, women and children of all ages, and there's also something extra special about giving a gift that has been handcrafted by an actual person in an actual store, rather than standing in an ridiculously long line at the mall to preorder whatever hot new toy is all the rage this year. We've compiled a list for you here of some of our favorite sheepskin gift ideas for this Christmas season, but we have so much more to offer on our website. Head on over to CustomSheepskinJackets.com now, to check out our full selection of genuine shearling garments and accessories for the whole family!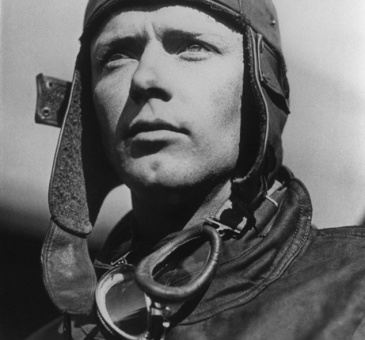 Get Your Own Sheepskin Aviator Hat Like Charles Lindbergh's
On November 16, the sheepskin hat aviation pioneer Charles Lindbergh lost while flying loop-the-loops over Paris after becoming the first person to fly solo across the Atlantic Ocean will be auctioned in the French capital, and the piece is expected to fetch upwards of 80,000 euros ($88,000). The cherished flying hat, a soft brown helmet-style piece with durable leather on the outside and warm sheepskin on the inside, was worn by Lindbergh during his record-setting New York to Paris flight in May 1927, which cemented the 25-year-old pilot's status as "The Lone Eagle."
According to reports, Charles Lindbergh lost his leather and sheepskin aviator hat twice in the span of just one week, the first time being when he was welcomed by a giant crowd at Paris-Le Bourget airport in 1927, after he completed the first solo non-stop transatlantic flight in his monoplane, the Spirit of St. Louis. A mechanic turned the hat over to the U.S. embassy that evening, but Lindbergh lost it again just seven days later, when he was given permission to perform aerobatic feats over Paris in a borrowed French fighter plane. The sheepskin aviator hat was found in a vegetable patch the following morning, and has remained in the possession of the same family ever since.
It wasn't until 1969, just five years before his death in 1974, that the sheepskin and leather aviator hat reappeared and was identified as Charles Lindbergh's, thanks to a famous French television show, and the hat will now be auctioned off at the Hotel Drouot auction house in Paris on November 16. Unless you have $80,000 or so burning a hole in your pocket, you probably won't get your hands on Charles Lindbergh's actual flying hat, but you can get your own genuine sheepskin aviator-style hat from The Sheepherder, a one-stop-shop for fine shearling garments in downtown Alma, Colorado.
Similar to the design of Lindbergh's historic flying hat and the aviator hats made famous by pilots of long ago, our shearling bomber hat for men and women features a stylish suede on the outside that will protect you from the cold weather and wind, and authentic sheepskin on the inside, that will keep your ears warm no matter how chilly it gets. Our handcrafted aviator hat also includes a cozy sheepskin chin strap with Velcro, so you can fold the earflaps up or down, for a versatile winter-weather look. Find our genuine shearling aviator hats and other handmade sheepskin garments and accessories now at CustomSheepskinJackets.com.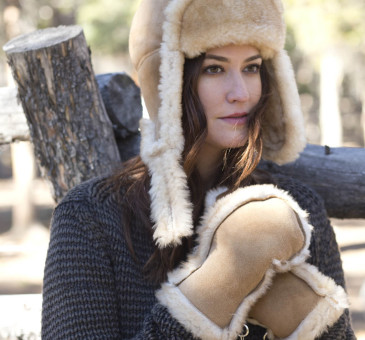 Get Your Holiday Shopping Started with Handmade Sheepskin Gifts
If you're one of those people who likes to beat the Christmas crowds and get your holiday shopping started early, your first stop should be The Sheepherder, a one-stop-shop for custom sheepskin outerwear and accessories, all of which are made by hand in a little shop in downtown Alma, Colorado, not in a factory or big-box retail store. All of our handcrafted sheepskin garments at The Sheepherder are 100% made in the USA, using the skins of sheep raised domestically for their meat in the western United States, and are custom-tailored to your exact specifications for color, style and size, so you can guarantee a great fit with every purchase.
Whether you're shopping for a parent, friend, coworker, child or sibling, The Sheepherder has just the unique holiday gifts you're looking for, crafted by hand with impeccable quality and attention to detail. Our authentic sheepskin coats, for example, are a great choice for men who have an eye for fashion, and can be paired with dress or casual wear, for a night on the town or weekend work on the ranch. For that lucky lady on your list, check out our wide selection of shearling slippers and boots for women, from traditional slippers to cozy scuff slippers and Minnetonka-brand sheepskin boots. We also have plenty of custom shearling items for children, including adorable sheepskin vests, hats, gloves, slippers and shearling stuffed animals.
When it comes to checking all the items off your shopping list, the most difficult gifts are usually the ones you have to buy for a coworker, an acquaintance, or the teenage family member who already has it all. At The Sheepherder, we work hard to make unique shearling garments and accessories for the whole family, and whether you stop by our shop in Alma, Colorado, or click through our website, we think you'll something for everyone on your list.
For the homebody who would rather curl up on the couch than head out on the town with friends, for example, our handcrafted sheepskin pillows are the best gift they could ask for, a one-of-a-kind accent for any room, made with luxurious sheepskin on one side, durable suede or leather on the other, and stuffed with soft wool batting. For the coworker whose smartphone always seems to be attached to her hand, the perfect gift could be as simple as a stylish sheepskin iPhone case, one she can throw in her purse and trust to protect her phone's screen throughout the day. And for the teen driver whose most valuable possession is his new (to him) car, a durable sheepskin steering wheel cover will protect his hands from the heat of summer and the chill of winter.
Lucky for you, we have a wide range of fine shearling garments, footwear, home goods and accessories that make the perfect gift for even the hardest-to-shop-for people on your list. With a bit of free time, a well-organized shopping list and a little help from our design studio, you may just be able to get all your holiday shopping done in one place!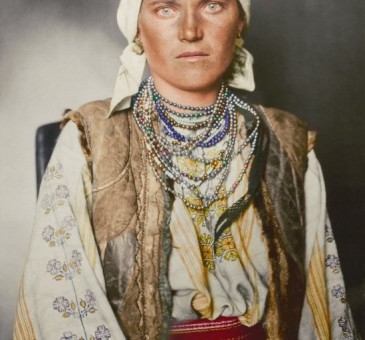 100-Year-Old Portraits Show Sheepskin Was the Garment of Choice for Ellis Island Immigrants
In the early 1900s, at a time when millions of immigrants were passing through Ellis Island in hopes of finding a permanent home in the United States, amateur photographer Augustus Francis Sherman, who served as chief registry clerk for Ellis Island until 1917, was there to capture their photographs. According to the New York Public Library, which houses a collection of Sherman's work, the subjects of his photographs had likely been detained at Ellis Island for one reason or another, and, clothed in their national dress or best holiday finery, were asked to pose for his camera while waiting for whatever they needed to leave the island. These stunning Ellis Island portraits, now more than 100 years old, were recently colorized, using historical research for accuracy, and the result is a collection of photographs of immigrants from all over the world, garbed in traditional dress, which, for many of them, included genuine sheepskin.
In one of the portraits, a woman from the kingdom of Rus, which spanned modern-day Slavic-speaking countries, wears a shirt and underskirt made from linen embroidered with traditional floral patterns, and a sleeveless jacket made from panels of sheepskin sewn together.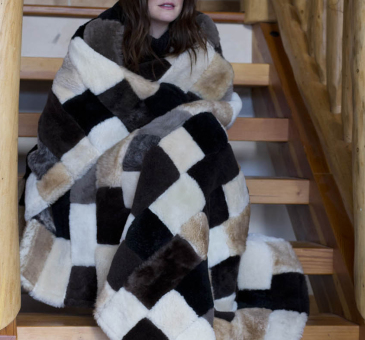 How to Make Your Home Ultra Cozy for Fall
When we think of fall, we picture flannel shirts, cute boots and a cool-weather coziness at home that only a crackling fire, hot apple cider and a sheepskin throw can bring. Another thing that makes fall an ultra-cozy season is layering, both in the home and in your wardrobe, and texture, which can be achieved by incorporating a variety of materials into your home decor, such as a mix of polished or rough-hewn wood, woven surfaces and natural fabrics, like sheepskin.
Your wardrobe and home décor are essentially both extensions of your own personal style. And as New York City-based style expert Katrina Szish says, "Layering remains one of the hottest fashion trends, and it's no different for your home." You can give your favorite chair a chic, fall upgrade, for example, by tossing a sheepskin throw over it, or consider bringing some warmth and texture to your hardwood floors with a plush shearling rug positioned in front of the hearth, in the baby's nursery, or at the foot of your bed.
At the Sheepherder, we have a selection of handmade sheepskin patchwork quilts and shearling pillows that will add warmth and texture to your home. Inspired by the early sheepherders in the Rocky Mountains, who relied on cozy shearling hides to keep them warm at night, our sheepskin patchwork quilts and other home goods are the perfect cool-weather accent to any room. And the best part is, sheepskin works with virtually any design scheme, whether your home's style is industrial, bohemian, rustic or mid-century modern.
So where are the best places to incorporate sheepskin and other textures into your home? "If you have a headboard, hang a small blanket over it with a large, bright pattern and comfy texture," recommends Upper West Side-based designer, Polina Gorokhovskaya. And don't forget to wrap yourself in a warm and cozy blanket, too. "Investing in an oversized […] throw will be the best gift you can get yourself this fall season," says Betsy Helmuth, an interior designer based in Westchester, New York.
Made from genuine sheepskin cut into varying sizes for an authentic patchwork look, and available in a variety of sizes, our versatile shearling blankets feature a durable, suede hide on one side and a beautiful, natural wool on the other. Whether you prefer to use it on the couch, as a throw to keep you warm on chilly evenings, or in the bedroom, as a luxurious quilt, you can't go wrong with an authentic shearling blanket. Find more sheepskin home goods and fine shearling apparel for fall now at CustomSheepskinJackets.com!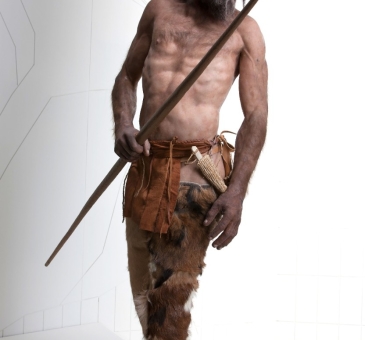 Otzi the Iceman Was Wearing Sheepskin When He Died 5,300 Years Ago
Since "Otzi the Iceman" was discovered by a pair of hikers in the Italian Alps in 1991, scientists have learned a great deal about Europe's oldest known natural human mummy – that he most likely spent his life farming and herding, that he may have also hunted and trapped wild animals in his alpine environment, and that he was wearing sheepskin when he died 5,300 years ago. Sheepskin is a natural material known for its warmth, durability and comfort, and the fact that Otzi chose shearling as part of his alpine attire only further demonstrates the many benefits of genuine sheepskin.
When Otzi's mummified remains were first discovered in a European glacier more than 20 years ago, he was accompanied by an assortment of clothing, including a hide coat, a fur hat, skin leggings and shoes stuffed with hay, but, because the leather and fur had decomposed over the thousands of years Otzi was in the ice, it was impossible for researchers at the time to determine what animals the clothing had come from. However, thanks to modern DNA testing, the results of which were published this month in the journal Scientific Reports, scientists from the Institute for Mummies and the Iceman at the European Research Academy in Bolzano, Italy, have been able to identify the various animals that made up Otzi the Iceman's ensemble.
The scientists involved in the Otzi the Iceman study were able to capture ancient DNA markers in nine samples of fur and leather from different articles of the mummy's clothing, and, according to their results, Otzi's choice of dress was both selective and practical, given his environment and lifestyle. In addition to a coat and leggings made from goat hide, a fur hat made from a brown bear, a quiver made from deer leather, and shoelaces made from wild cows, Otzi the Iceman also wore a loincloth stitched together from sheepskin, a finding already reported in previous studies. However, the researchers in this latest study were able to determine that the loincloth was fashioned from the skins of a species of sheep that is more closely related to modern, domestic European sheep, rather than their wild cousins.
The Scientific Reports study also indicated that, while Otzi's coat was primarily goatskin, the garment was actually stitched together with the hides of several other animals, a finding that suggested that the coat was likely repaired with any hides that were available at the time, and that led researchers to believe that the Iceman may have hunted and trapped wild animals in his alpine environment, in addition to farming and herding. So, what does all this mean for you? Well, if Otzi the Iceman felt that sheepskin offered him the highest level of comfort and warmth, and the best protection against the elements while he was living in the Italian Alps around 3,300 BCE, imagine what it can do for you!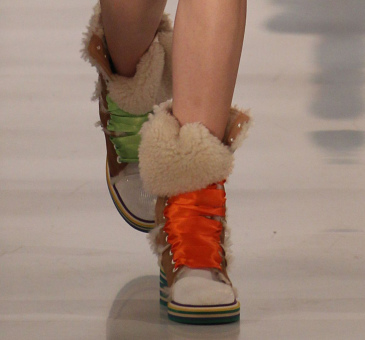 Fur, Feather and Sheepskin the Top Shoe Trends for Fall 2016
When the models hit the runway for the Fall 2016 fashion shows in New York, Paris, Milan and London this past spring, they were sporting a variety of fur, feather and sheepskin footwear, and now that fall is finally almost here, it's the perfect opportunity to score your own stylish shearling shoes to keep you warm in the cooler weather. From traditional sheepskin boots to fashionable Minnetonka fringe boots and handmade shearling slippers, The Sheepherder has everything you need to keep your feet comfortable and warm this fall and winter.
Sheepskin Shoes on the Runway
As far as the fall fashion shows were concerned, the shearling-accented footwear included Miu Miu's colored sheepskin slides embellished with crystals and Maison Margiela's hiking boot featuring ribbon laces and a shearling tongue. Even the men's runway shows featured fashionable footwear with sheepskin accents, including shearling clogs and simple suede or leather high-tops with sheepskin tongues, Coach's answer to the kangaroo-lined loafers Gucci debuted in January.
Handmade Women's Shearling Boots
These may seem like an extravagant purchase for most of us, but even for those of us who aren't walking the runway on a daily basis, there are plenty of sheepskin footwear options out there that are both practical and stylish. For women looking for a warm, comfortable shoe that can be worn inside and out, check out our Minnetonka Ladies Ankle Boot, a beautiful boot made with genuine sheepskin, a slip-resistant indoor/outdoor sole, and a versatile flap that can be folded up around the ankle for added warmth.
Sheepskin Slippers for Men and Kids
We also have authentic sheepskin slippers and boots for men, one of our most popular being the Men's Minnetonka Hardsole Slippers, a moccasin-style shoe lined with 100% sheepskin wool to help keep your feet warm in the cooler fall and winter months. The shearling slippers also feature a durable suede construction and a hard rubber sole for indoor/outdoor wear. If you're looking for genuine shearling footwear for the little ones as well, check out our Children's Sheepskin Slippers, handcrafted using genuine shearling sheepskin.
Order Your Shearling Slippers Today
At The Sheepherder, all of our sheepskin garments are handmade to order using the highest quality shearling, which means your sheepskin slippers, jacket or gloves will be the perfect fit every time, and will surely hold up against the elements. So, get a jump-start on your fall shopping, and treat yourself to a pair of authentic, durable shearling boots or slippers, guaranteed to last you for many falls and winters to come.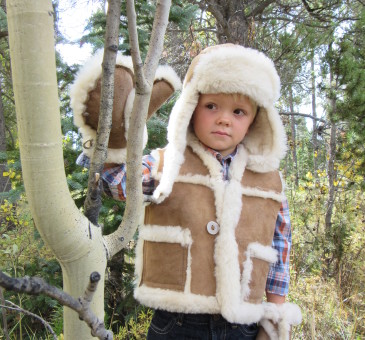 Hot or Not? Sheepskin and Other Clothing Items That Should Never Be Placed in the Dryer
A clothes dryer can be a lifesaver when it comes to doing laundry, but there are certain materials and clothing items that should be kept as far as possible from the high heat and rough tumbling of a clothes dryer, including sheepskin. Authentic sheepskin hides, like the ones we use in our shearling coats, slippers and other garments, are tanned and processed in such a way that they remain durable over time, can withstand the elements, and naturally wick away moisture from the skin. However, if you don't use the proper technique to wash or dry your sheepskin garment, it can lose it shape, color or texture, and may even become ruined.
How the Dryer Can Ruin Your Sheepskin Garment
The first thing you should do after purchasing a genuine sheepskin garment, is apply a rain and stain shield to the suede or leather outer, to protect the natural material from water-spotting and excessive soiling. If your go-to sheepskin slippers or boots do become soiled over time, it may be tempting to wash them and then toss them into the dryer for a quick cycle, so you don't have to go even one day without wearing them, but shearling can actually become discolored or take on a different texture in the washer, and may shrink and lose its shape in the dryer's high heat, leaving your favorite boots looking misshapen and worse for wear.
How to Properly Clean and Care for Sheepskin
If the wool interior of your sheepskin garment becomes soiled or water-spotted, the best way to go about cleaning it is to hand-blot the affected area with a rag, cold water and mild detergent, being careful not to soak through to the suede. Carefully rinse and hand-blot the excess moisture from the boots using a clean, dry towel, and, rather than using a clothes dryer, set the shearling garment out in the sun or on a towel so it can gradually air dry. If the suede or leather of your shearling garment becomes overly soiled, you should take it to a professional dry cleaner that specializes in removing stains from leather and/or furs.
Other Materials Sensitive to the Dryer's High Heat
Sheepskin boots are one of the most popular types of footwear out there, and, over time, they can become soiled and grimy from everyday wear. One of the most important things to keep in mind when it comes to properly cleaning and caring for authentic sheepskin, is to treat the spot or stain as soon as possible, rather than letting it set and become more difficult to remove. Like sheepskin, there are certain other materials and clothing items that should never be placed in the dryer, including bras, chiffon, embellished items, running shoes, bathing suits and pantyhose. If possible, these items should be hand-washed with a mild detergent and then air-dried, or taken to a dry cleaner for professional care.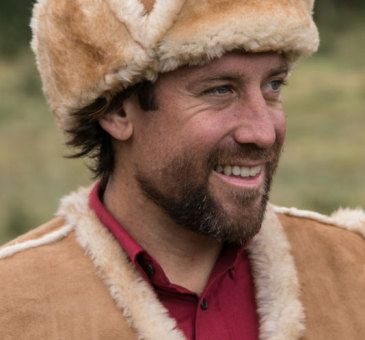 Need a Unique "Christmas in July" Gift? Sheepskin Will Do Just Fine!
For the United States and Canada, there are no national holidays that fall between the first week of July (Canada Day on July 1 in Canada and Independence Day on July 4 in the United States) and Labor Day on the first Monday in September, leaving a stretch of about two months without any holidays. So, many people like to celebrate "Christmas in July," to break up that dry period and have a little midsummer holiday fun. If your friends or family like to get into the Christmas spirit in July, and you need a fun and unique Christmas in July gift, check out our wide selection of handmade sheepskin garments and accessories for the entire family!
Christmas in July first came about because the holiday in the Southern Hemisphere is celebrated during the summertime months, and residents of Australia, New Zealand, Argentina, and other countries south of the equator began hosting Christmas-themed events in the month of July, which, for them, is the peak of the winter season. Retailers in the U.S. and Canada followed suit and began holding large sales for Christmas in July, seeing it as an opportunity for merchandising, following the peak of summer product sales in June and early July. The "holiday" took off, and many people now look forward to getting in the Christmas spirit in the middle of July, while still celebrating the actual holiday on December 25.
Traditionally, Christmas in July is celebrated on various weekends throughout the month of July, and in the Northern Hemisphere, the holiday is deliberately ironic, occurring during a month that is typically hot and sunny, rather than cold and snowy. Still, some people go the whole nine yards for Christmas in July, throwing a holiday party, putting up an artificial Christmas tree, hanging their stockings from the mantle, and exchanging gifts with friends, family members and coworkers. For some people, Christmas only comes once a year. But for those who celebrate Christmas in July, you have two opportunities to get in the holiday spirit and give an awesome gift.
If you're looking for a unique gift idea for Christmas in July, check out our selection of fine sheepskin apparel and accessories for men, women and children, many of which can be enjoyed year-round. For the tech-savvy teen, consider gifting a handcrafted shearling iPhone case that doubles as a padded, durable cover for eyeglasses or sunglasses. A pair of genuine sheepskin slippers is the ultimate gift for anyone who likes to shuffle around the house with a cup of coffee in the morning, and a soft and cuddly sheepskin bunny rabbit or teddy bear makes for a perfect Christmas in July gift for kids.
Christmas in July definitely isn't a holiday that everyone celebrates, but it's a fun way to get in the holiday spirit during the warm summer months. So head on over to the Sheepherder website at CustomSheepskinJackets.com now to find the perfect Christmas in July gift for everyone on your shopping list!