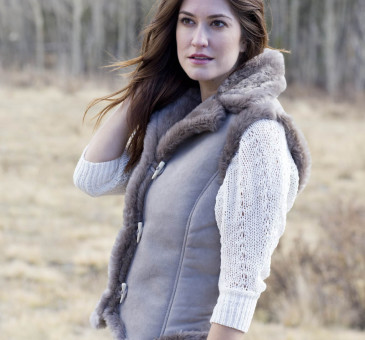 Sheepskin for Fall
The sticky summer heat has finally given way to crisp autumn weather, and we are getting plenty of requests for sheepskin coats and shearling slippers from customers looking for ways to stay warm this fall and winter.  October is just around the corner, and whether  you live in the mountains or at the beach, a comfortable shearling vest or a patchwork sheepskin blanket could offer the ultimate warmth for those chilly mornings and cool evenings that are sure to come.  If you're researching the best sheepskin products for fall, look no further.  At The Sheepherder, our sheepskin coats, vests, slippers, and shearling accessories are all handmade in the USA , and we use only the highest-quality materials in our products,  so you know you are getting the very best!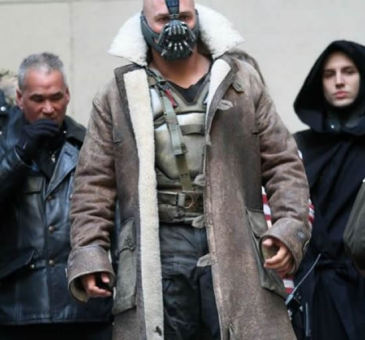 With the popularity of the Dark Knight Rises, sheepskin jackets have gotten a unexpectedly new cool.  Although I must admit I haven't seen the movie yet, a phone call from a potential client the other day got me interested.  He was asking if we could custom make him a jacket like the sheepskin coat the main character in the Batman movie wears.  Well, I thought, why not?  We searched some images of Bane, the lead character, to check out what his sheepskin outerwear looked like.
If you haven't seen the movie, here's a pretty good picture of the villian, Bane:
Now that we have the image, the next question is: can we make you a sheepskin coat like the Batman movie?  Well, we've decided we can come pretty close.  The coat that Bane wears in the Dark Knight Rises is not too far off from our Men's Classic Coat in a 3/4 length.  We could make it full length if you wanted (there are always extra charges if we add on length).  We can match the collar, the sleeves and the general look and feel. The pockets on Bane's sheepskin coat are a little difficult and we might not be able to match those exactly, but we can put on a pocket that will compliment the jacket in general. The loops on this mens sheepskin coat buttons can be copied as well.
The one curiosity on this Batman movie coat is that it looks like this coat is made from one long piece of shearling, rather than having a yoke – or separate piece for the shoulders.  I don't know that we could get one full piece of shearling long enough to make the coat seamless, but we can surely do a yoke that is not too noticable.
The client that called about the Batman shearling coat asked if we could do wool seams and lining for a little different look.  We can always customize your sheepskin coat with small details like that, if you would like.  Same goes for the color – despite the worn and dirty look of the anarchist in the picture, if I had to guess I would say the coat is a grey on white color. We do have grey on grey or tan on white, but we don't have that exact color combo.  However, we have tons of other sheepskin colors that would look great with this look.
It's always nice when an item that is as underestimated like sheepskin gets an unexpected boost from a big Hollywood movie!  Well, we'll see if sheepskin jackets become the next big rage – they've always been a solid classic. Don't forget, the The Sheepherder also makes top quality shearling vests for women, children and men, as well as ladies sheepskin coats and great cozy sheepskin slippers for the whole family.  And it's all made by hand in the USA!
Now, the scary Hannibal Lector mask… we'll leave that up to you.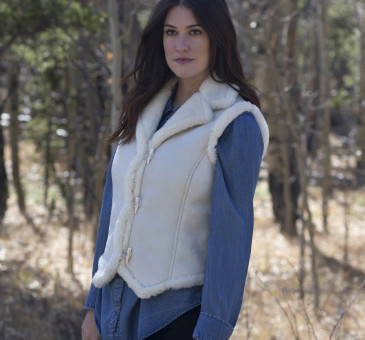 Shearling Vests
Whether you live in the mountains or in the "flatlands" as we call them here in the mountains, a shearling vest is always a a good choice.  A Wrangler shearling vest for women or a Mountaineer shearling vest for men will see you through those chilly mornings and evenings no matter where you live, summer or winter.  They give you comfort and style all in one package.  Sheepskin vests keep the core insulated, while allowing greater freedom of movement.
Each sheepskin vest is custom made by Diane at her shop high in the Rocky Mountain town of Alma, Colorado.  If you are traveling in the area for a summer trip, plan on a stop there to view her full line of shearling coats, vests and accessories for men, women and children at The Sheepherder store.  Take the time and get personally measured for your custom shearling to assure the perfect fit.  Diane is always at the store to help with your decisions on any type of shearling product.
As always "Made in the USA"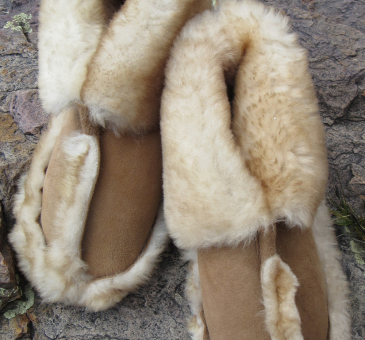 Shearling is a unique natural product.  Shearling, or sheepskin by definition is a sheep's hide that has been tanned for a specific use.  In all cases, the sheep has been shorn several times for it's wool, that is why these hides are referred to as as shearling.  All sheep are raised for the meat (mutton, lamb, lamb chops, etc.)  So the hides are only a by-product of the primary purpose of this animal.
Shearling and Sheepskin Facts
The tanning process for sheep is different from other animals.  These sheepskin hides are tanned in natural salts and alkaloids so the pollution factor is minimal as these are all natural products.  The hairs and hair follices themselves are hollow so that the wool portion of the hides performs two vital functions.:
* First of all, it wicks all excess moisture away from the skin.
* Secondly, it allows the skin to breathe.  This is why shearling slippers are such an ideal product for both summer and winter because it keeps the skin warm in the winter and cool in the summer.
We offer many different styles of sheepskin slippers gauranteed to satisfy everyone's personal needs.  The scuff sheeepskin slipper is always a good choice for warmer weather areas that use air conditioning in the summer.  They take the chill off those tile floors while letting your feet bathe in the plush comfort of all natural shearling.
Cared for properly our shearling styles last for years.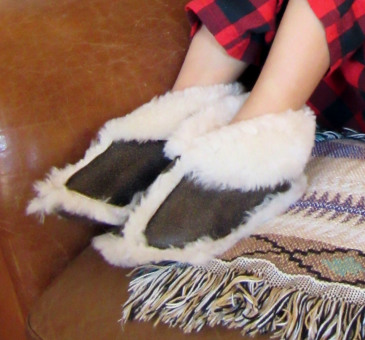 When it comes to sheepskin coats and other shearling products, the key to purchasing the most comfortable garments made with the highest-quality materials is finding an individual or shop that makes sheepskin slippers and apparel by hand. If you buy sheepskin products from a chain or factory, you never really know what you're going to get. On the other hand, by visiting (in person or online) authentic sheepskin shops like The Sheepherder in Alma, Colorado, you can ensure that you are going to get what you paid for: a comfortable, warm shearling jacket, coat, pair of slippers or vest, hand-crafted to fit your specific fit, style and color preferences. What's more, custom-made sheepskin slippers and shearling jackets from authentic sheepskin shops like The Sheepherder can craft quality and comfortable custom shearling slippers for men, women and even children!
Ladies Footwear and Sheepskin Slippers
By creating quality sheepskin slippers made from genuine shearling, and hand-crafted to order, sheepskin shops like The Sheepherder can offer customers a variety of sheepskin slipper options made from the most comfortable and highest-quality materials. One of The Sheepherder's most popular options for shearling slippers is the Ladies Adult Sheepskin Slipper, a classic scuff-style shearling slipper. With its easy slip-on wear and naturally insulating, breathable and moisture-resistant sheepskin, this ladies shearling slipper is perfect for year-round wear. If you're looking for a more traditional shearling slipper for women, check out The Sheepherder's Ladies Sheepskin Slipper, a luxurious shearling slipper choice providing customers the utmost in warmth and style. Crafted from genuine sheepskin, the natural, soft wool keeps your feet cozy, while the authentic sheepskin hide allows your feet to breathe comfortably. The Sheepherder's traditional sheepskin slipper features wool-out seams for style and a tough cowhide sole for durability unsurpassed by imitation sheepskin slippers.
Mens Shearling Slippers and Sheepskin Footwear
Most men look for exceptional comfort and durability in their sheepskin slippers as well, which is why The Sheepherder also offers the traditional Mens Sheepskin Slipper and scuff-style shearling slipper, crafted specifically for men. Offered in a variety of colors and custom-made to order, these two styles of mens sheepskin slippers offer unrivaled durability and comfort in a stylish shearling slipper. And, since The Sheepherder is an authorized Minnetonka retailer, other popular options for mens sheepskin slippers by The Sheepherder include the Mens Ugg-style Sheepskin Boot and mens Minnetonka sheepskin slippers and moccasins. Made in the USA and crafted from naturally durable, breathable and moisture-resistant sheepskin hide, these mens shearling slippers offer comfort and function for wear in both the winter and summer. The Ugg-style sheepskin boot is 9" high and comes with a non-slip, hard rubber sole for the best grip in winter weather. The mens moccasins feature thick, dense and luxurious sheepskin wool on the inside, with 100% shearling hide on the outside, and an indoor/outdoor hard rubber sole on the bottom to keep your sheepskin moccasins lasting longer than ever.
Sheepskin Slippers and Footwear for Children
When purchasing your ladies and mens sheepskin slippers this year, don't forget about the kids! The Sheepherder keeps function, comfort and warmth in mind when crafting childrens sheepskin slippers, offering a diverse selection of shearling footwear options perfect for any season. Check out the traditional Kids Sheepskin Slipper and find that The Sheepherder offers these traditional adult slippers in a smaller size without sacrificing quality or durability. Keep your childrens' feet comfy and cozy in these sheepskin slippers, and you may find you have a hard time getting them off their feet! Sheepskin's natural hollow fibers wick away moisture and will keep your kids' feet warm in the winter and cool in the summer, unlike imitation shearling slippers. And with The Sheepherder's great prices on kids sheepskin slippers, you'll have a hard time saying no to this great sheepskin slipper purchase!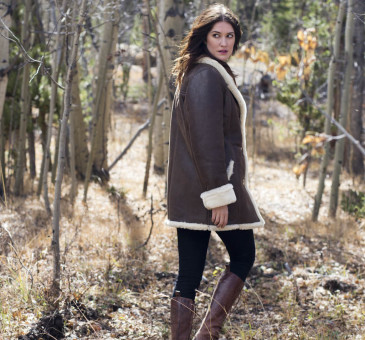 Imitation shearling products may resemble authentic sheepskin in appearance, but the comfort, fit and durability of The Sheepherder's sheepskin garments and accessories are unmatched by any imitation or synthetic items. Sheepskin slippers, jackets, blankets and shearling winter wear are some of the most sought-after products on the market, due to their reputation as high-quality, comfortable and durable garments. Although there are a number of sheepskin chains and retailers offering imitation sheepskin products in the U.S., The Sheepherder of Alma, Colorado is one of the few establishments offering customers genuine sheepskin products that are custom-fit and made by hand specific to its customers' needs.
Benefits of True Shearling Outerwear
Sheepskin, also called lambskin or shearling, is the hide of a sheep, and is tanned with the fleece intact in order to make quality and comfortable sheepskin products. Sheepskin is used to produce sheepskin leather products and a variety of soft wool-lined clothing items, including hats, gloves, jackets, boots, and Ugg-style sheepskin boots. The fleece of sheepskin has exceptional insulating properties, and is also resistant to flame and static electricity. The wool of the sheepskin used by the Sheepherder is also extremely dense, which gives these sheepskin products unmatched cushioning capability for extreme comfort and durability.
Custom-Made Sheepskin Slippers and Shearling Garments
The high-quality shearling used by the Sheepherder in making sheepskin products is one piece of continuous natural hide, which means the wool is not sewn or glued to the suede, as it may be in imitation sheepskin products. All Sheepherder sheepskin garments and items are handmade at the time of the order for a custom fit tailored to consumers' specifications for color, style and size. The Sheepherder has been using premium products to create handcrafted sheepskin products for over twenty years, ensuring that all Sheepherder customers receive a one-of-a-kind item made with impeccable quality and attention to detail.
Shearling slippers have been a favorite for centuries, due to the unrivaled comfort and durability these products offer, compared to regular slippers. Purchasing sheepskin slippers is a great way to keep your feet comfortable, dry and warm during the winter season, and they are even ideal for the summer months as well, as the insulating qualities of sheepskin keep your feet cool even in high temperatures. Sheepskin's durability is unsurpassed by other natural fibers and woven wool alternatives, which is why the Sheepherder uses genuine sheepskin for all its products. Sheepherder sheepskin slippers are renowned for their comfort and quality, but it is the fine craftsmanship that the Sheepherder devotes to each and every sheepskin product that sets these sheepskin items apart from those offered by competitors.
Creating Durable Sheepskin Products
The Sheepherder uses only the finest sheepskin, sheared from the skins of domestic sheep from the Rocky Mountain states. The sheep, deer and elk used for Sheepherder skins are not endangered species. The sheep are raised commercially for their meat, and their hides are tanned and processed in the United States to create high-quality Sheepherder sheepskin products. The intricate process of creating this authentic sheepskin takes twenty-one days and results in a hide that naturally wicks away moisture from the body. Sheepherder products feature top-grade lambskins for the body of the garment, with natural elk and deer antler for the buttons, and sturdy nylon thread to keep it all together. The Sheepherder uses the softest and most supple skins for jacket sleeves and collars to ensure the greatest comfort and flexibility.
One of the most valuable characteristics of sheepskin is its durability. Because sheepskin is so durable, women's and men's sheepskin slippers and other sheepskin products are not subject to the normal wear and tear that eventually ruin other synthetic products. Taking proper care of your sheepskin product, which includes using the recommended cleaning products, can help make it last nearly a lifetime. The Sheepherder recommends that customers use a rain and stain shield to protect the suede or leather, and a suede conditioner/cleaner should be used to remove most spotting. If sheepskin slippers or another shearling product becomes overly soiled, it should be taken to a professional dry cleaner experienced in cleaning suede and/or leather and sheepskin.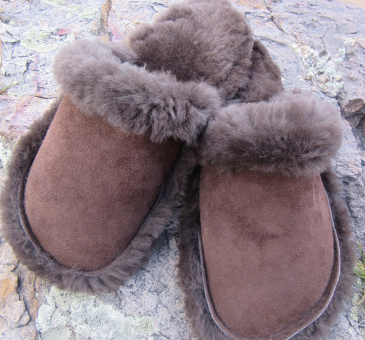 Shearling Slippers Made in the USA
As winter temperatures dip below freezing, don't sacrifice the warmth and comfort of your family's feet this holiday season. Keep your toes toasty this winter with our custom sheepskin slippers, which are made of genuine shearling from the skins of domestic sheep raised right in the Rocky Mountain states. These shearling slippers happen to make perfect stocking stuffers for both adults and children, and are guaranteed to bring a smile to your child's face. When you order from us, you know that you're getting exactly what you pay for: quality, comfort and durability in a stylish, authentic sheepskin slipper. Place your order today and get Sheepherder shearling slippers for the whole family in time for Christmas.
Sheepskin Slippers for Everyone!
Sheepherder shearling slippers come in two styles: a traditional sheepskin slipper and a scuff, slip-on sheepskin slipper, both of which are available in men's and women's sizes. We also have a children's traditional sheepskin slipper design, which comes in a variety of colors that are perfect for both boys and girls. Plus, our sheepskin slippers are custom-designed and hand-sewn to suit each individual wearer, based on individual size and color specifications, which means each and every product is unique and made especially for you. Our men's and women's sheepskin slippers are one of our best-selling items, so don't wait to order yours!
Ugg-Style Sheepskin Slippers
One of our most popular types of winter wear is the Ugg-style sheepskin slipper, which is known for its unbeatable warmth and durability. Choose from our Minnetonka sheepskin boot in short or tall and keep your feet, ankles and legs warm even in freezing temperatures and the snow. Short or tall, all Sheepherder Ugg-style slippers have non-slip, hard rubber soles that provide a great grip even in winter weather. Sheepskin is the ultimate material for Ugg-style boots; there is nothing that matches the warmth and comfort provided by genuine shearling sheepskin. And shearling's unique natural fibers wick away moisture, keeping your feet warm in the winter and even cool in the summer!
Shop The Sheepherder
Whether you're shopping for family, friends, or even yourself, Sheepherder sheepskin slippers make the perfect holiday gift. These custom-made items wrap your feet in 100% shearling, providing unmatched comfort, durability and warmth during the coldest of days. Slip into authentic sheepskin slippers first thing in the morning, or relax in Ugg-style shearling slippers on crisp evenings; these unique slippers are perfect for any time of year. Let us help you give the gift of warmth and comfort this Christmas, with Sheepherder sheepskin slippers!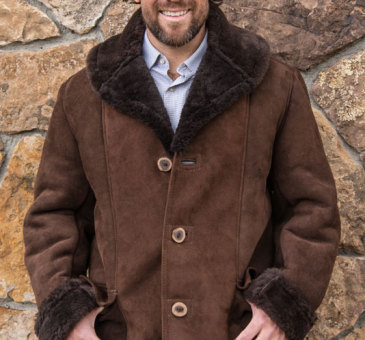 The Sheepherder, of Alma Colorado, has been designing and creating one-of-a-kind custom-made shearling outerwear and sheepskin slippers in Colorado since 1989. Every sheepskin item created by The Sheepherder is handmade by owner Diane Blessing, providing customers with unique shearling apparel and genuine sheepskin slippers, among other quality sheepskin products. Located in the Rocky Mountains of Western Colorado, The Sheepherder store devotes custom, personal attention to each and every product, ensuring that sheepskin items are handcrafted to fits customers' specifications for fit, color and style.
Unlike chains and third-party retailers, The Sheepherder creates all of its apparel and sheepskin slippers from genuine sheepskin, or "shearling," which refers to the natural hide and wool of the sheep. The hide has silky wool on one side and smooth suede on the other side. Unlike imitation sheepskin products, the high quality shearling used in Sheepherder products is one piece of continuous natural hide, which means the wool is not mended, sewn or glued to the suede. The Sheepherder also creates deerskin vests for women, elkskin vests for men and deerskin booties for infants and children. These Sheepherder garments are made from authentic hides and have an additional cloth lining on the inside for optimum comfort and warmth.
Sheepskin Outerwear and Shearling Garments
Sheepskin outwear garments created by The Sheepherder feature top quality sheepskin for the body of the garment, with natural deer and elk antlers that the animals shed annually for the truly unique buttons. These attractive and durable items are created by hand with premium products to ensure comfort and flexibility. Unlike chain or big-box sheepskin items, Sheepherder products are custom-made to the specific requirements of the customer, which means your product will be specifically tailored to fit you and no one else.
The shearling garments created by The Sheepherder are made from the skins of domestic sheep from the Rocky Mountain states. They are raised commercially for their meat, and the hides are a precious by-product which is tanned and processed right here in the United States. It's important to know where your sheepskin product comes from to ensure that you're getting the high-quality product that you expect from sheepskin garments. The full process of creating quality sheepskin used to make Sheepherder sheepskin jackets, sheepskin slippers, vests and headwear takes twenty-one days. The end product is a hide that naturally wicks away moisture from the body and remains cool even in hot temperatures. Unlike synthetic sheepskin garments, Sheepherder products keep you warm and comfortable, but will not make you sweat.
Custom-Made Sheepherder Sheepskin Slippers
Sheepskin slippers are one of the most popular products designed and created by The Sheepherder, and since they are handmade according to your specifications at the time of your order, you can own a one-of-a-kind item tailored to fit your exact measurements. In fact, if you need an especially large or small item, The Sheepherder can accommodate almost any size request. Sheepskin is known for its natural comfort, durability and warmth, which is why sheepskin slippers and Ugg-style sheepskin boots are so popular for winter apparel. Sheepskin is a natural, sturdy fabric and, with proper care, Sheepherder sheepskin slippers can withstand the elements and last nearly a lifetime.
Buying Quality Sheepskin Products from The Sheepherder
When purchasing a shearling jacket, sheepskin slippers, sheepskin mittens or gloves, or an elkskin or deerskin vest, it is important to make sure the product is up to par. Diane Blessing of The Sheepherder in Colorado has been designing and creating quality sheepskin products for over twenty years, and can ensure that you receive a comfortable custom-made product suited to your every need. Buying sheepskin products from chains or third-party retailers can be risky if you don't know exactly what you're going to get. By contacting and ordering from The Sheepherder of Alma, Colorado, you can feel confident that your custom-made sheepskin product will be handmade with the highest-quality products and impeccable attention to detail.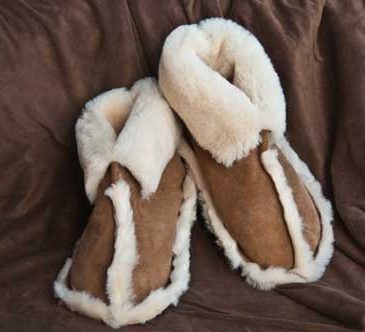 Sheepskin slippers are only one of the custom, hand-made sheepskin products designed and produced by The Sheepherder of Alma, Colorado. The shearling used by The Sheepherder to make sheepskin slippers comes from domestic sheep raised in the Rocky Mountain states, whose hides are tanned and processed in the United States. Every Sheepherder product, including the sheepskin slippers, is personally designed and crafted by owner Diane Blessing, who has been creating sheepskin garments at her Alma shop for more than twenty years. Each sheepskin slipper product crafted by The Sheepherder is produced over the course of twenty-one days, in order to create a hide that naturally wicks away moisture from the body and remains cool even in warm temperatures. Handcrafted sheepskin slippers by The Sheepherder are tailored to suit customers' specifications for fit, style and color, and require specific attention to proper care in order to maintain the quality and integrity of the sheepskin product.
Proper Cleaning for Sheepskin Slippers
Cleaning sheepskin slippers properly requires special techniques, due to the vulnerable nature of the suede, wool and other materials used in sheepskin slippers. Sheepherder sheepskin slippers should be hand-washed or spot-cleaned, as machine washing can tear the slippers apart or tint them with colors or lint from other fabrics. If your sheepskin slippers become stained, it is important to try to clean the spot immediately, rather than allowing the stain to set. A special suede sponge or brush should be used on the suede areas of your sheepskin slippers, brushing against the nap. Regular sponges and rags should never be used to clean sheepskin, as they can cause spots or tearing. If your sheepskin slippers become overly soiled, take them to a professional dry cleaner who has experience in cleaning leather, furs or sheepskin.
Sheepskin Slippers for Winter
Avoid spending another winter with cold feet, and treat yourself to the most comfortable custom-made sheepskin slippers by The Sheepherder. All of Sheepherder's sheepskin slippers are made of genuine sheepskin, also called shearling, which consists of one piece of continuous natural hide. Imitation sheepskin slippers are often made of wool that is glued or sewn to the suede as a separate lining. Sheepherder sheepskin slippers, on the other hand, use the natural hide and wool of the sheep, which has silky wool on one side and smooth suede on the other, providing sheepskin slippers that are of higher quality and comfort than imitation products. In addition to comfort, sheepskin slippers provide a natural warmth without making you sweat like lower quality synthetic fabrics have a tendency to do.
Extending the Life of your Sheepskin Slippers
One of the most important components of properly caring for your Sheepherder sheepskin slippers includes spraying them with non-silicone water repellant to avoid water spotting. If your sheepskin slippers ever become considerably wet, they should be dried slowly without being subjected to direct heat. Once the slippers are dry, water spots can be removed with a suede brush or sponge. Taking good care of your sheepskin slippers will help maintain the natural comfort and warmth of these custom products, which is especially important during the cold winter months. Sheepskin is naturally a durable fabric that is made to hold up to everyday wear and tear. If properly cared for, Sheepherder sheepskin slippers will look better and last longer.