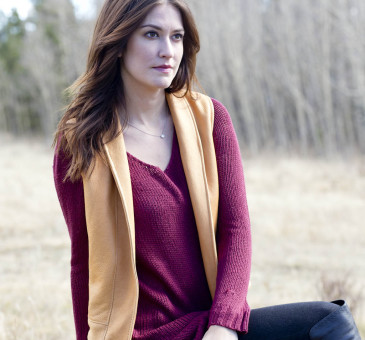 Warm-Weather Elkskin and Deerskin Vests
When the warm weather has you trading in your sheepskin boots for strappy sandals, consider giving your upper body the same treatment with one of The Sheepherder's attractive elkskin or deerskin vests for summer. All of our elkskin vests for men and women are handmade to order at our shop in Alma, Colorado, and we use only high-quality materials for a custom, comfortable fit and stylish appearance. All of the buttons on our deerskin outerwear, for example, are handmade from elk and deer antlers – a quality you'd be hard-pressed to find in most off-the-rack elkskin vests.
Men's Rocky Mountain Elkskin Vest
Our featured elkskin garment for men is the masculine Rocky Mountain elkskin vest, a comfortable and durable vest that can be worn for a day at work or a night out on the town. The unique Rocky Mountain elkskin vest features a full interior lining of cotton fabric, with genuine elk antler toggles and a loop closure for a secure and cozy fit. For an even more distinctive look, choose two different colors and we'll create an authentic two-tone elkskin vest just for you, with the body in one color and the yoke in the other. We recommend a Palomino yoke with a Black or Chocolate body for an attractive two-tone vest.
Ladies Blue Sky Deerskin Vest
Elkskin and deerskin hides make such high-quality vests and other garments, they shouldn't be reserved just for the guys! Here at The Sheepherder, we also offer the beautiful Blue Sky deerskin vest for women – a genuine deerskin vest with a classic look that goes well with virtually any outfit. The Blue Sky vest is handcrafted at our Colorado shop using soft, supple leather whose buttery texture is second to none. With a variety of colors, including Brown, Palomino, Black and Burnt Cork, this ladies deerskin vest is the perfect addition to any woman's wardrobe.
Deerskin Moccasins for Kids
Let's not forget about the little ones now! We also offer adorable children's moccasins, which are handcrafted using the finest deerskin available, and are durable enough to outlast most other kids' shoes. Our deerskin slippers for kids come in Brown, Saddle, Palomino, Rust, Black and Burnt Cork colors, and feature a soft flannel lining on the inside and elastic at the ankle to make sure they provide a secure fit for your little boy or girl. The next time you're trying to think of a unique birthday or holiday gift for a young child, consider purchasing a pair of our beautiful deerskin slippers for kids!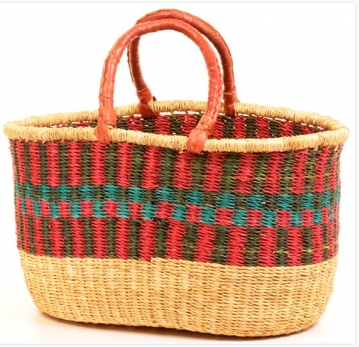 Ghana Market Baskets Make Great Summer Totes!
Many of us depend on a roomy tote bag to carry the go-to items we use on a daily basis – including a wallet, sunglasses, cell phone, etc. – and the authentic Ghana market baskets available on our website are this summer's perfect "carry-all." Woven from native African grasses into colorful and unique designs, the handmade baskets are attractive, durable and perfect for trips to the beach, the market, picnics, and even as a stylish storage space for toys and magazines in the home. Not only are the genuine African baskets handmade and one-of-a-kind, but they are incredibly strong and come in handy for a variety of uses. The baskets are also fair trade items, which means a percentage of the proceeds from the basket sales goes towards providing healthcare, community buildings and school fees for the weavers and their families in Ghana.
How the Ghana Market Baskets are Made
Also known as Bolga baskets, the unique Ghana market baskets are handwoven by artisans in the Bolgatanga region of Ghana, West Africa, and are traditionally used for carrying goods to and from the market. Bolgatanga is known as the crafts center of Northern Ghana, and weaving has been, for many generations, a traditional skill of the indigenous Gurune, or Frafra, people. Because the soil in that particular region of Ghana is not fertile enough for agricultural activities to flourish, basket weaving, pottery and leather work is often undertaken by the people of Bolgatanga to supplement their incomes. The Ghana market baskets are crafted using native veta vera grasses, which, when woven together, create an incredibly strong, useful product that is made to last. The baskets are particularly useful for toting fresh produce, because they are forgiving to fruits and vegetables that can be easily bruised.
Find the Perfect African Market Basket
Here at The Sheepherder, we have three different sizes of Ghana market baskets available – an oval tote basket that measures about 7" wide and 17" long, a round market basket that measures about 14-16" in diameter, and a mini basket that measures between 8" and 9" in diameter. Over time, the fair trade baskets may become misshapen from frequent use, but can be easily reshaped by soaking them in cold water for a few minutes and reforming them with the flat of your hand. Each African market basket features a unique color scheme and attractive handles wrapped in leather so the basket is more comfortable to carry. If you have a specific preference for size or color, we will do our best to accommodate the request as closely as possible. With a variety of size and color options, you're sure to find the Ghana market basket that suits your individual needs!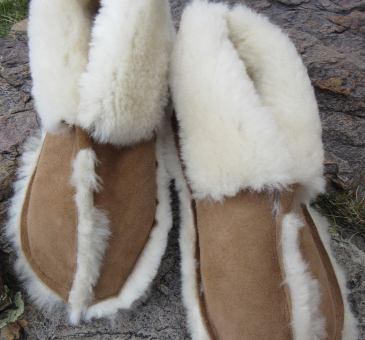 Celebrities in Slippers: A Hot New Fashion Trend
Sporting slippers as outdoor footwear isn't just for grandma and grandpa anymore; it has emerged in the past couple of years as a hot fashion trend for male celebrities like Ryan Gosling, Brad Pitt and even Kanye West. Slippers in general are comfortable and convenient, and when paired with a fashionable suit or casual wear, the right kind of slipper can add a little pop of style that will help you stand out in a crowd. Unfortunately, many of the slippers worn by our favorite celebrities cost upwards of $400, which is probably a little out of the target price range for those of us without a fortune at our fingertips. Lucky for you, here at The Sheepherder, we have high-quality sheepskin slippers that will keep you cozy and stylish at the same time, and the price is definitely right.
Men's Indoor/Outdoor Sheepskin Slippers
Once a simple bedroom staple, sheepskin and other types of slippers have evolved recently into an international fashion statement, coveted by the most fashion-conscious celebrities, both male and female. For men, one of our more popular shearling slipper styles is the Minnetonka twin gore sheepskin slipper, an easy slip-on shoe with a hard rubber indoor/outdoor sole that can be worn any time of year. The inside of the Minnetonka slipper is shearling wool, a naturally insulating material that keeps your feet warm in cold weather but wicks away moisture in warmer temperatures to keep your feet from sweating. The outer portion of the sheepskin slipper is a natural, durable hide that adds a classic accent to any man's outfit.
Ladies' Shearling Slippers and Ankle Boots
Two of our most popular sheepskin slippers for women are the mule slipper and the ankle boot, both of which are made by Minnetonka, a staple of American style since the 1940s. The ladies mule slipper features a convenient open-back style so it can be easily slipped on and off, and a hard slip-resistant sole for extra durability and traction indoors and out. The ladies ankle boot is a stylish slip-on boot that boasts a warm, cozy sheepskin interior and a hide exterior that offers both a classic look and a durable construction. The shearling slipper can be worn any time of year, and features a sheepskin flap that folds up around your ankles for added warmth in cold weather.
Sheepskin Slippers for Men, Women and Kids
Keeping up with the latest fashion statement isn't always easy, but our custom-made shearling slippers at The Sheepherder can help you get an edge up on the trend this time around. All of our sheepskin products are constructed by hand using the highest quality materials, which means they are made with comfort and durability in mind. With their attractive design and quality construction, our shearling footwear is the perfect complement to any outfit, whether you're just running errands or going out on the town. Our sheepskin slippers have a classic appearance, which makes them a versatile addition to any wardrobe, and we have options for men, women and even children, so you can outfit the entire family in sheepskin this summer!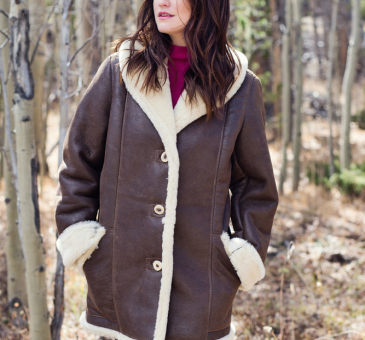 Best Sheepskin Products for Camping
One of the best family activities to take part in during the summer months is camping, and whether you prefer to camp riverside, in the mountains or on the beach, there are plenty of great sheepskin garments out there to keep you warm or cool, depending on the weather. The thing about genuine sheepskin that makes the material so valuable is that it naturally wicks away moisture from the body, keeping you toasty warm in cold weather and cool in hotter temperatures. For this reason and more, our sheepskin jackets and vests are the perfect garments to bring along on any camping trip – spring, summer, winter or fall.
When it comes to camping in cold weather, there is no material better suited to keep you warm and comfortable than genuine sheepskin, which is used in the creation of all of our products here at The Sheepherder. Two of our best-selling sheepskin jackets for men are the Cattleman and Colorado shearling coats, which feature two very different designs but are perfect equals when it comes to their durability and quality of construction. For women, two great garments for cold-weather camping are the Aspen and Rancher sheepskin jackets, which pair a classic style with a sophisticated but feminine touch.
For camping in warmer weather, the men's Gambler sheepskin vest is a clear favorite. With its classic style, tailored lines and handmade antler buttons, the shearling vest stands out as a perfect addition to any camping attire. Another great option for camping outwear is the men's Mountaineer sheepskin vest, which features a no-sleeve design to allow for easy maneuvering at the campsite, and wool-out seams and side-entry pockets to keep you warm during those cool evenings. For women, some great warm-weather shearling garments for camping are the Wrangler and Silverheels sheepskin vests, which pair a versatile, form-fitting design with an elegant, feminine style.
The masculine design of our men's garments is complemented by the coziness of genuine sheepskin, making the shearling jackets perfect for virtually any outdoor excursion, whether you're camping out, hitting the trail on horseback, or going out on the town. On the flip side, our women's outerwear is equally as warm and comfortable, but the garments have a unique style that makes them more feminine and elegant. Overall, we take special care when creating our custom sheepskin jackets to ensure that each garment is made with the highest-quality materials, and all of our products are custom-made to order, which means you can count on a perfect fit every time!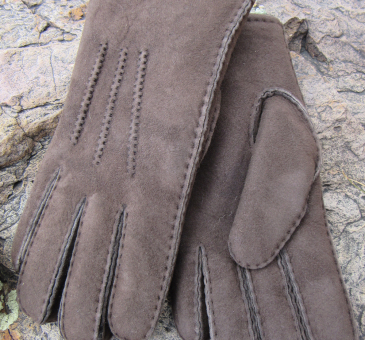 How to Care for Your Sheepskin Garments
All of our shearling garments at The Sheepherder are hand-made with authentic sheepskin hides, which means they will last for a long time, but taking proper care of the sheepskin is an essential component of the material's durability and appearance. This means that certain commercial products should be used to protect the suede or leather from water spotting and soiling, while others can be used to safely remove spots without damaging the supple material. The two most important things to remember when caring for sheepskin garments are to avoid setting by cleaning the stain or spot as soon as it occurs, and to use the following preventative care techniques to protect your shearling from stains that may be tough to remove without having it professionally cleaned. Sheepskin is a naturally durable product, and our high-quality shearling garments are made to last. With the following care and cleaning methods, you can make sure yours does!
Protecting Sheepskin from Light Spots and Stains
Because most sheepskin slippers, jackets and other shearling garments are made to be worn outside, we recommend two products that can be used to protect and care for your sheepskin outerwear. First, the outer shearling hide – which is called suede or "Brisa" leather – should be sprayed with a non-silicone rain and stain guard made especially for leather or suede. This product will shield the sheepskin hide against water spotting and will also help the garment resist soiling. Second, a suede conditioner or cleaner can be used to remove spotting in most cases, although when shearling products become significantly soiled, it is often best to bring them to a professional dry cleaner that specializes in leather or furs. The inner wool of any sheepskin garment can be touched up with a combination of water and Woolite, although it's important to remember that you should never soak through to the suede when cleaning shearling. When it's nearly dry, brush the wool to fluff it up.
Cleaning Tough Stains on Shearling Garments
For tougher stains on your shearling garment, such as liquid or grease spots, you can try applying a layer of cornstarch directly to the stain and allowing it to sit for one or two days, or longer. Once the liquid or stain has been absorbed, vacuum up the cornstarch with a handheld vacuum or with a brush attachment on a regular vacuum cleaner. If you ever wear your sheepskin coat or slippers outside and they become significantly wet from rain or snow, be sure to dry the garment slowly without using direct heat. Once the product is completely dry, you can remove water spots with a suede sponge or brush, which you can find at your local leather store. When using a suede brush or sponge, always brush in the reverse of the nap, to avoid damaging the material, and never use a regular sponge or rag to clean your sheepskin jacket, as this can cause tearing or spots.
Nicole Kidman Dons Sheepskin Boots to Film Latest Movie
There's no doubt that taking a stroll in the British countryside in early April must have been pretty chilly, but Nicole Kidman kept her cool and stayed warm with the help of some cozy sheepskin boots while shooting her latest movie, Before I Go to Sleep. The filming, which took place just outside London, required Kidman to spend long periods of time out in the chilly weather, trekking up some steep hillsides, which she did with ease thanks to her warm, flat sheepskin footwear. Not only are sheepskin boots and slippers practical and incredibly comfortable, but high-profile celebrities like Nicole Kidman, who is known as one of the most fashionable women in Hollywood, continue to prove that shearling footwear can be equally as stylish.
Quality Sheepskin Footwear
While shooting her latest project, a psychological thriller about a woman with amnesia who loses her memory every time she goes to sleep, the Australian actress braved the cold by pairing a long gray wool coat and rose-colored scarf with black tights and a set of casual but warm sheepskin boots. The shearling boots featured snow-white wool-out seams with brown suede on the outside, and silky, warm wool on the inside for the utmost in warmth and comfort. Nicole Kidman's elegant shearling boots also boasted hard, slip-resistant rubber soles, making them the perfect type of footwear for filming outdoors in the hilly British countryside.
Celebrities Who Wear Sheepskin
Nicole Kidman may be bringing sheepskin boots to the big screen with her latest film, but the 45-year-old actress isn't the only celebrity to recognize the numerous benefits of sheepskin footwear and other shearling garments. A-list stars like Hayden Panettiere and Kate Hudson regularly pair sheepskin coats and boots with dressy or casual wear throughout the year, and many celebrities, including Nicole Kidman herself, dress their children in cozy sheepskin garments for kids. In fact, Kidman's daughter with husband Keith Urban, Sunday Rose, has been photographed wearing her own pair of sheepskin boots, following in the footsteps of her famous mom.
Shearling Garments at The Sheepherder
While it would certainly be nice to have the wardrobe of Nicole Kidman, Kate Hudson or Hayden Panettiere, owning a great, go-to shearling garment or two doesn't have to be only a pipe dream. Keeping comfort, quality and style in mind, our goal at The Sheepherder is to create custom sheepskin products that look and feel great, and can be purchased without an A-lister's salary. Handcrafted at our shop in Alma, Colorado, all of our sheepskin products are made from authentic hides, unlike the imitation sheepskin products sold by many chains. Check out our handmade shearling jackets, slippers and accessories at The Sheepherder, and get your hands on that classic sheepskin garment that makes you look and feel like a star!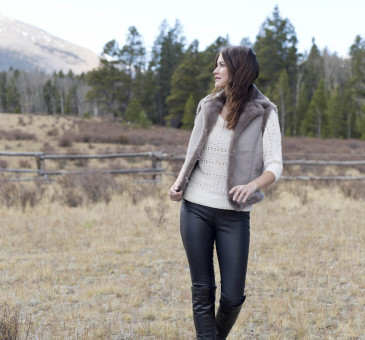 Quality Sheepskin Products for Summer Wear
Spring is just around the corner, and although sheepskin slippers and jackets are typically favored as cold weather accessories, authentic shearling products like those we create at The Sheepherder are actually designed to be worn comfortably year-round. As opposed to other traditional winter garments that are typically packed away once the weather starts its upward climb, our sheepskin outerwear is designed in such a way that it keeps you warm and cozy in cold weather, while allowing your skin to breathe and stay cool during the summer. Start the summer off right this year with our shearling slippers, vests and accessories here at The Sheepherder.
Shearling Garments Can Keep You Cool
All of the sheepskin garments hand-crafted at The Sheepherder are made using genuine sheepskin hides, which have silky wool on one side and smooth suede on the other. Our garments are made using the skins of domestic sheep raised commercially for their meat in the Rocky Mountain states, and the hides are a valuable by-product that are tanned and processed in the United States. When processed correctly, using an intricate 21-day system, the result is a sheepskin product that naturally wicks away moisture from the body. This means that our sheepskin slippers, vest and jackets at The Sheepherder will keep you cool even in warm weather, and won't make you sweat like most synthetic materials do.
We Use Authentic Sheepskin Hides
Unlike lower quality, imitation sheepskin, the shearling we use to create our garments is one piece of continuous natural hide. This means that the wool you see in your sheepskin jacket or slippers is not a separate lining glued or sewn to the suede. Our dedication to comfort, style and quality puts our shearling garments a step above most of the sheepskin products you find at a typical retail chain or big box factory. Here at The Sheepherder, we also offer deerskin vests for men and women, and elkskin booties for children, which are also made from authentic hides and are great for the transition from spring to summer and fall.
Custom Order Your Sheepskin Garment Today
All of our sheepskin products are handmade by Diane Blessing at The Sheepherder shop in Alma, Colorado, where Diane has been hand-crafting custom shearling slippers, jackets and other high-quality products for more than 30 years. In fact, all of our sheepskin garments are made to order and can be tailored to fit your specific preferences for color, fit and style. If you love sheepskin for its comfort and elegance, don't go an entire summer without stepping into cozy shearling slippers or accessorizing with a classic shearling vest. Check out the variety of sheepskin garments we offer at The Sheepherder, and stay cool and stylish all summer long!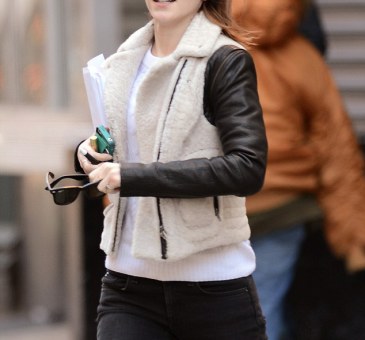 Emma Watson Favors Edgy Leather and Sheepskin Jacket On the Go
Ever wonder what types of clothing the rich and famous rely on when they are busy filming movies, traveling from coast to coast, and otherwise keeping up with their insanely busy lives? Up-and-coming British actress and star of the Harry Potter films, Emma Watson, is one celebrity who somehow effortlessly combines comfort and class to create some of the most casual yet stylish travel wardrobes out there. And judging by recent photos of Miss Emma Watson departing from LAX airport and dashing around New York, the 22-year-old star has at least one go-to item in her impressive wardrobe: an edgy leather and sheepskin jacket.
Plenty of celebrities are on board with the sheepskin look, sporting sheepskin jackets, boots and other shearling clothing in a variety of colors and designs. And why not? Not only is sheepskin incredibly warm and comfortable, but it's also a product that matches practically any outfit and never seems to go out of style, making it one no-brainer of an investment. When it comes to long flights, shooting films and honing her multi-tasking skills, Emma Watson seems to rely on the same sheepskin jacket to keep her warm and comfortable on the go. The actress' favorite jacket features a cream-colored sheepskin body with edgy black leather sleeves that appear to be removable, making the coat perfect for year-round wear.
While passing through LAX, Emma Watson donned her shearling coat and completed her travel wear with a cozy watercolor sweater over top a long gray jersey top, a blue knit scarf, black leggings, blue ankle boots and Ray Ban sunglasses. On her trip to New York, Emma paired the same comfortable sheepskin jacket with a white sweater, black skinny jeans, Balenciaga low-top trainers and her stylish black Ray Bans. Because sheepskin functions as both a comfortable and fashionable apparel, whether she is off-duty or on, Emma Watson's shearling jacket complements virtually any outfit she chooses to wear.
The fact that shearling products are favored by men, women and children of all ages, regardless of their celebrity status (or lack there of), is proof that sheepskin slippers, coats and boots are the perfect go-to accessory to add a little something extra to casual and dressy outfits alike. And while the always-stylish Emma Watson prefers to match her shearling jacket with a sweater, black leggings or skinny jeans and trainers, the look would be just as complete with a black dress and heels or tights and black boots for dressier events, making it the perfect addition to any wardrobe, celebrity or not!
Step Out in Minnetonka Sheepskin Slippers, Boots and Moccasins
The Minnetonka brand has been a staple of American comfort and style since 1946, and the company's unwavering dedication to quality materials and superb craftsmanship has remained a constant throughout the past six decades. As an official retailer of Minnetonka-brand products, we offer a variety of stylish and luxurious sheepskin slippers, moccasins and boots at The Sheepherder that are perfect for indoor or outdoor wear. The durability and versatility of sheepskin footwear makes Minnetonka boots, moccasins and slippers a practical purchase for men, women and children of all ages. And, as with any product carrying the Minnetonka label, you can feel confident in the caliber of our shearling footwear.
Softsole Moccasin Slippers
Traditional softsole moccasins are perfect for lounging around the house on chilly evenings, or for stepping out of bed and into warmth first thing in the morning. The stitched-on suede soles are soft and flexible, and the snug, slip-on design is the perfect answer to a long day's work. Imagine relaxing into the comfort of shearling after spending the day on your feet, and it will be hard to pass up these Minnetonka sheepskin slippers. Made with 100% sheepskin, rich suede footwear like the Minnetonka Men's Softsole slippers can be worn any time of year and are made to last far longer than your typical house slipper.
Convenient Mule Sheepskin Slip-Ons
If you dread leaving your shearling footwear behind in the mornings, take your cozy slippers outdoors and check out Minnetonka's footwear constructed with a hard rubber sole. One of the most popular Minnetonka products we carry at The Sheepherder is the Ladies' Mule Sheepskin Slipper, an attractive open-back slipper that is easily slipped on or off for comfy but convenient wear. With a slip-resistant, hard rubber sole, this durable Minnetonka slipper is suitable to be worn either indoors or outdoors, and its soft sheepskin construction will keep your feet cozy in cold and warm weather alike.
Warm and Cozy Shearling Boots
Another popular shearling item for outdoor wear is the Minnetonka sheepskin boot, a luxurious,warm product suitable for men, women and even children. Because of its natural hollow fibers, shearling wicks away moisture from the skin, keeping your feet cool in the summer and warm in the winter, which makes the sheepskin boots a great purchase, especially for kids. Not only are shearling boots comfortable and practical, but they have exploded as a global trend in recent years. With a choice between the tall or short Sheepskin Pug Boot made by Minnetonka, you can ward off the winter chill in style this season.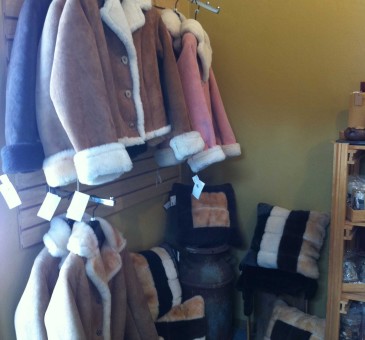 Sheepskin Garments Hit the Runway in Europe
Two thousand and twelve was a big year for sheepskin, and the much-loved material graced everything from the wardrobe of the everyday American to the shoulders of runway models in fashion capitals like Milan and Paris. Sheepskin jackets in particular were featured among the best of the collections coming down the runway in Europe during men's fashion week, pegging shearling garments as a must-have for this fall and winter. With its versatility and durability, sheepskin has proven itself to be a favorite trend for this winter and upcoming spring, and is sure to offer some great inspiration to start upgrading your own wardrobe now.
Slip into a Sheepskin Coat this New Year's Eve
With its warm and cozy embrace, a sheepskin coat is the perfect complement to a cute, slim-line outfit to be worn underneath, especially during the winter. If you're heading out to celebrate New Year's Eve, for example, you don't have to sacrifice the elegance of your outfit to stay warm. From satin evening dresses to lightweight sweaters, shearling jackets provide all the warmth without forfeiting a bit of style. So borrow a look from Milan's fashion week and pair our men's Colorado sheepskin coat with a sleek suit or our ladies' Cattleman sheepskin coat with a chic and sexy dress to ring in the New Year.
Shearling Boots: From Surfer to Chic
Perhaps even more popular than sheepskin jackets though, is the shearling boot or slipper. Initially a trademark of the Australian surfing culture in the 1960s, the utilitarian sheepskin boots are now simultaneously coveted as a fashion symbol by runway models in Milan and Paris, celebrities like Jessica Simpson and the average American man, woman and even child. The fact that shearling slippers and boots have morphed from a "surfer dude" staple to the latest European trend proves that, dressy or casual, shearling is the perfect companion to any outfit.
Add Sheepskin Garments to Your Wardrobe
Although sheepskin is by no means a new look, its recent reemergence on the runway in Europe has piqued the interest of consumers looking for a stylish way to stay warm this winter. Shearling isn't just for winter though; sheepskin hides are processed in such a way that they actually wick away moisture and naturally keep you cool in warm weather as well, making them suitable for year-round wear. Crafted by hand using only the highest-quality shearling, our sheepskin coats, slippers and vests at the Sheepherder are some of the best shearling products on the market. And with their chic appeal and careful construction, our sheepskin garments are the perfect addition to any wardrobe.