Archive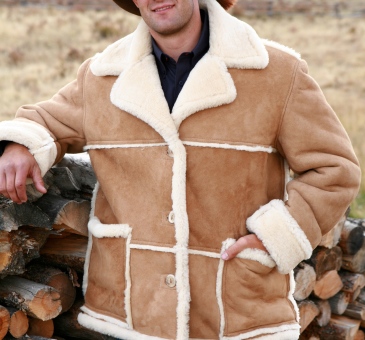 The highly-anticipated biographical musical about the life of music legend Carole King has finally made its debut on Broadway, and so has our Men's Sheepskin Riding Jacket, worn by both the lead actor in "Beautiful: The Carole King Musical" and his understudy. The lighthearted bio-musical opened on Broadway on January 12, 2014 at the Stephen Sondheim Theatre in New York City, and brought such A-list celebrities like Nathan Lane, Phil Collins and Clive Davis under the same roof on the East coast, while the majority of the entertainment industry gathered in Hollywood for the Golden Globes. We are proud to say that those high-profile names in music, and anyone else lucky enough to see "Beautiful" on Broadway in the coming months, will catch a glimpse of our handmade sheepskin jacket for men, worn by lead actor Jake Epstein.
About "Beautiful: The Carole King Musical"
"Beautiful: The Carole King Musical" tells the inspiring true story of Carole King fighting her way into the music business as a teenager, marrying the man of her dreams (Gerry Goffin), crafting a successful career writing hit songs for the biggest names in rock and roll, and then finally finding her true voice only as her personal life begins to fall apart. The Broadway musical stars Jessie Mueller as Carole King (known as Carol Klein during her teenage years) and Jake Epstein as Gerry Goffin – two parts of a hit songwriting team credited with "writing the soundtrack to a generation" in the early 1960s, before King became a successful solo singer-songwriter by her own right in the 70s.
Gerry Goffin, played by Jake Epstein was a notoriously troubled lyricist born in 1939 and inducted into the Rock and Roll Hall of Fame in 1990, along with his first wife and former songwriting partner, Carole King. King and Goffin were married in 1959 – when she was 17 and he was 20 – and the power duo went on to pursue a wildly successful songwriting career with breakthrough hits like "Will You Love Me Tomorrow" and "Pleasant Valley Sunday," before divorcing in 1968. Mueller has been widely praised by critics for her portrayal of Carole King and lead actor Jake Epstein also does a brilliant job of playing Gerry Goffin…and he looks great in our men's sheepskin jacket too!
Genuine Sheepskin Jackets at The Sheepherder
The Sheepherder shearling coat featured in the Broadway musical "Beautiful" is our men's riding jacket, a shorter length coat with wool-trimmed seams and attractive patch pockets. The handsome and versatile sheepskin jacket boasts a beautiful wool notched collar and three-inch roll cuffs guaranteed to offer protection from even the coldest and windiest weather. All of our shearling coats for men at The Sheepherder are custom-made to fit, which is why "Beautiful" required different jackets for Epstein and his understudy, and are crafted right here in the United States using the skins of domestic sheep raised in the Rocky Mountain states. Because they are made with genuine sheepskin, all of our shearling jackets for women and men are incredibly comfortable and durable, and naturally wick away moisture from the skin, keeping you cool in the summer and warm in the winter.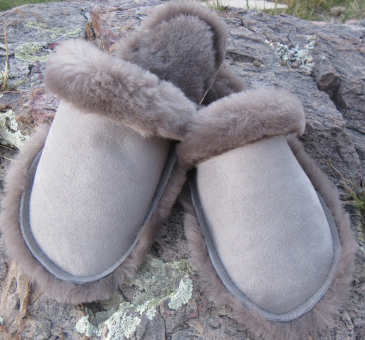 Another year has gone by, and, yet again, sheepskin slippers and jackets rang in as some of our best-selling products for 2013. From Christmas to birthdays, baby showers and anniversaries, we worked hard year-round to keep up with your orders for our custom-made sheepskin garments. Now that 2014 is in full swing, what better way to celebrate the end of a great year than to look back on some of our most popular products from 2013? For those fashion-savvy and budget-conscious shoppers interested in staying up on the latest trends in shearling, the following is a list of The Sheepherder's top five best-selling sheepskin products for 2013.
5. Sheepskin mittens – This winter brought record-breaking chills and significant amounts of snow to much of the United States, and our customers responded by purchasing a pair (or two) of cozy sheepskin mittens. Hand-crafted using high-quality hides, our shearling mittens feature soft, warm wool on the inside and durable suede on the outside to protect your hands from the cold winter weather. We also have sheepskin mittens for children and babies, so you can keep everyone's hands nice and warm this winter.
4. Shearling coats for men – If you thought sheepskin was just for women, think again. Ringing in at our fourth best-selling product, men's sheepskin jackets remained a popular purchase in 2013, and we have a feeling we know why. Our sheepskin coats are custom-made to order for a perfect fit and, unlike synthetic garments, they are made from the skins of domestic sheep raised in the Rocky Mountain states. It doesn't get much manlier than that, does it?
3. Kids' sheepskin slippers – You didn't forget about the kids, did you? There's nothing cuter than a child snuggled up in sheepskin, and our handcrafted kids' shearling slippers are the perfect addition to any kid's outfit, especially in winter. Our children's sheepskin slippers make a great gift for a birthday, baby shower or Christmas, and with a price tag of just $24, the stylish and affordable footwear came in at number three on our best-selling list.
2. Shearling hats – It makes perfect sense to pair your shearling mittens with a cozy sheepskin hat, right? Well, that's what many of our customers were probably thinking when they helped make our custom shearling hats the second-best-selling item for 2013. Our shop has stylish and affordable sheepskin headwear items for the whole family, including sheepskin aviator hats, earbands and more, in colors ranging from traditional sahara or ranch to adorable pink or grey.
1. Sheepskin slippers for men and women – Nothing keeps your feet warmer and more comfortable than a pair of genuine sheepskin slippers, and our customers apparently agreed, because shearling slippers were our number one best-selling product for 2013. With a number of durable footwear options for both men and women, including authentic Minnetonka moccasins (hardsole or softsole) and shearling mule slippers for women, our sheepskin slippers are likely to remain a popular purchase in 2014 as well!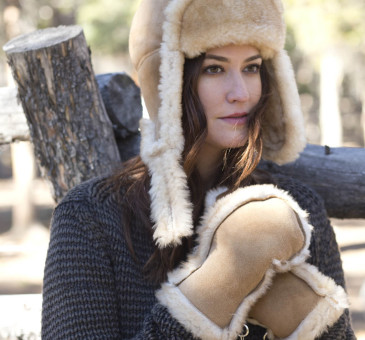 With a record-breaking Arctic chill blanketing much of the United States in snow and freezing temperatures this week, now is as good a time as any to invest in a warm, durable sheepskin hat and pair of mittens to keep you warm in the midst of what has been dubbed a "polar vortex." The snow and sub-zero temps have not only broken wintertime records, grounded thousands of flights and forced school closures nationwide; the freeze has also resulted in harsh and even dangerous conditions for residents throughout the country. Fortunately, with its naturally warm and durable properties, the authentic sheepskin used in our handcrafted mittens and hats can help protect you from the worst of the Arctic freeze, and keep you and your family comfortable and toasty for the rest of the winter.
The Midwest may finally be emerging from the arctic freeze that saw wind chills reach 50 degrees below zero, but temperatures across the South and East Coast continue to drop dramatically, with the temperature in New York City plummeting 50 degrees overnight. As the frigid air pushes across the United States, highs in parts of Georgia, Alabama and northern Florida are expected to be in the single-digits, and officials are encouraging everyone to stay inside whenever possible, or to bundle up in warm layers when heading outdoors. With the wind chill plummeting to 45 to 55 degrees below zero, Todd Heitkamp, a warning coordination meteorologist for the National Weather Service in South Dakota, warns that "exposed flesh can freeze in five minutes…if a person isn't dressed properly."
Nothing keeps your hands warmer in frigid weather than a pair of custom-made Sheepherder sheepskin mittens, constructed from the authentic hide of domestic sheep raised in the Rocky Mountain states. The sheep are raised commercially for their meat, and the skins are a valuable by-product tanned and processed right here in the United States. Our shearling mittens feature cozy sheepskin wool on the inside that uses your own body heat to keep your hands toasty warm, and durable suede on the outside that protects your hands from any chilling winds or snow. Pair your shearling mittens with a warm sheepskin hat or earband and you'll be all set to brave the Arctic freeze that has half the country hiding out indoors. Check out our shearling garments and accessories for men, women, children and babies at The Sheepherder, and you can keep the whole family warm in sheepskin this winter!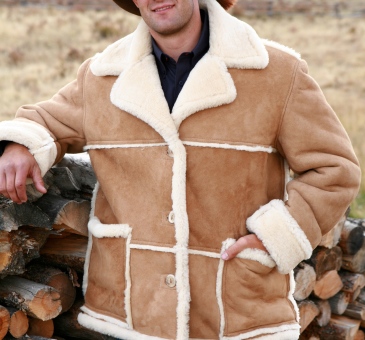 There's nothing like finding a comfortable and stylish sheepskin jacket that works with both dressy and casual outfits, and plenty of celebrity men out there are catching on to the trend. Gone are the days of trench coats and pea coats; more and more men are turning to authentic shearling for their winter outwear. Here at The Sheepherder, we pride ourselves on handcrafting beautiful and durable authentic sheepskin coats for women and men, that fit great and will last for years to come. Read on to learn about some of the most popular men's sheepskin jackets out there, and how you can get the look for less at The Sheepherder!
When The Dark Knight Rises hit theaters last year, everyone wanted to get their hands on a cool sheepskin jacket like the one the villain, Bane, wore in the film. Although the coat was made specifically for Bane (played by Tom Hardy), it's an almost identical match to a shearling jacket that cropped up on the runway of designer Ermenegildo Zegna's Fall 2012 collection that same year. Unfortunately, this particular coat will cost you around $4,000, unlike our Men's Long Classic sheepskin jacket, which can be yours for $1,200. This traditional town coat is cut to knee length, similar to Bane's jacket, and features oversized pockets and a generous shawl collar to keep you warm in the winter chill.
Actor and funnyman Russell Brand has an eclectic sense of style when it comes to clothing, but you can't argue with his choice to step out in a warm and stylish Rick Owens sheepskin jacket from the Fall 2010 collection. A men's shearling jacket identical to the one Brand is wearing would set you back between $2,000 and $3,000, but you can get a similar coat at The Sheepherder for far less. Take a look at our Men's Classic sheepskin coat, which is a shorter version of the jacket we mentioned above. Perfect for dress or casual wear, this shearling jacket features oversized pockets and a leather-trimmed collar and cuffs for a stylish and cozy finish.
Even British soccer star and international style icon David Beckham dons a sheepskin coat when the weather turns brisk. Back in December 2010, Becks was spotted at a match between Manchester United and Arsenal, and he was bundled up in, what else, a trendy leather coat with sheepskin lining and a large shawl collar. We can imagine that David Beckham paid a pretty penny for his sheepskin jacket, but if you'd like to get the look for less, check out our custom-made Men's Cattleman shearling coat at The Sheepherder. The prominent shawl collar on this jacket matches David Beckham's, and the finished seams and western yoke in the back give the garment a masculine, tailored look that any guy will love.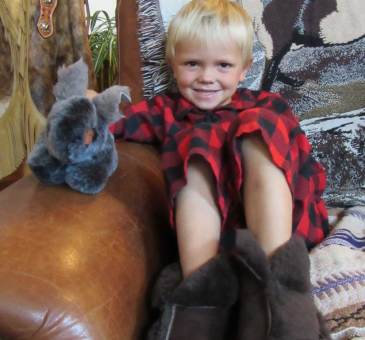 Okay, so it's just a few days until Christmas and you still haven't found the perfect gift for your co-worker, or an affordable stocking stuffer your teenager won't think is lame. Have no fear! We have a great selection of authentic sheepskin gifts at The Sheepherder that will fit the bill but won't break the bank. Here are some great ideas for last-minute Christmas gifts ringing in at just $25 or less.
1. Genuine sheepskin bunnies – Surprise your little one with an authentic sheepskin bunny that is both adorable and incredibly soft. Our stuffed animals feature genuine sheepskin on the outside and are filled with soft shearling shavings, so they make the coziest of friends. Even better, they include no plastic parts, which means they are completely safe and kid-friendly. At just $25, a sweet sheepskin bunny will make the perfect Christmas gift for a child, grandchild, niece or nephew.
2. Sheepskin steering wheel and seat belt covers – For the new driver in the family, give the gift of warmth this Christmas with a genuine sheepskin seat belt cover or steering wheel cover. At just $20, our shearling steering wheel covers will make any wintertime drive a treat, and at just $16, a cool seat belt cover is a great way to encourage your teen driver to buckle up behind the wheel!
3. Shearling baby mittens – Keep your little one's hands warm this winter with a pair of sweet sheepskin mittens for babies. Handmade with soft, toasty sheepskin on the inside and durable suede on the outside, these shearling mittens are the perfect baby gift to put under the Christmas tree. They feature no thumbs, so they are easier to get on and off, velcro closures keep them securely fastened, and a connected cord prevents them from getting lost. Plus, they ring in at only $23!
4. Children's shearling earband – Match your child's winter jacket and mittens with this adorable sheepskin earband that will keep their ears nice and warm without messing up their hair. At just $20, our shearling earband is a great last-minute gift for both girls and boys, and is custom-made to order, so you can choose from a variety of colors to match their personality, like pink, black, ivory, grey or tan.
5. Shearling eyeglass or iPhone cases – They say if you can't beat 'em, join 'em. So if you're having a hard time getting your teenager to put down that new iPhone, you can at least keep the phone free from scratches with a sheepskin phone case, which also doubles as an eyeglass case. Our shearling iPhone cases are only $8.50 and make a great stocking stuffer for any tech-savvy teen (or adult, for that matter), so buy one or buy a few and check some names off your list this Christmas.
6. Children's sheepskin slippers – There is nothing cuter than sheepskin slippers for kids, and authentic shearling, unlike synthetic materials, naturally wicks moisture away from the skin, which means our slippers will keep your child's feet warm in the winter and cool in the summer too. At just $24 for a gift that comes in handy year-round, these children's sheepskin slippers are a steal!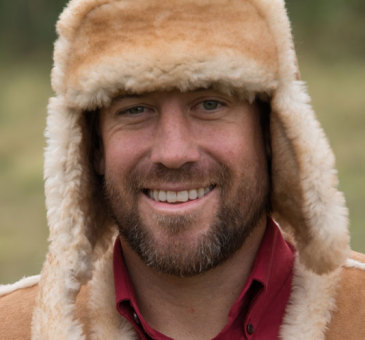 Wondering what to get that special someone in your life this holiday season? The answer is sheepskin! Whether the person at the top of your Christmas list is a family member, friend or co-worker, sheepskin is one of the best Christmas gifts you can give this year. From sheepskin slippers to shearling boots, jackets and hats, there are plenty of options out there for sheepskin gifts this holiday season, no matter who you're shopping for. Not only are sheepskin boots and other shearling products completely practical, they are very comfortable, durable and stylish as well, and there are plenty of great options that fall well within the typical Christmas gift budget. Here are our picks for the top five sheepskin Christmas gifts for 2013:
Minnetonka Men's Soft- or Hard-Sole Moccasins – Does dear old Dad spend a typical Sunday morning lounging by the fire with a cup of coffee in hand? Add to the mix a cozy pair of sheepskin slippers and you'll definitely make his day. Our men's Minnetonka moccasins are made with 100% sheepskin wool to keep his feet warm in the winter and cool in the summer, making these shearling slippers the gift that keeps on giving all year-round!
Ladies' Sheepskin Mittens or Designer Gloves – If there's a lady in your life who spends a lot of time outdoors in the winter or has a long commute to work, our ladies' sheepskin mittens or designer shearling gloves make great Christmas gifts. The mittens have toasty warm sheepskin on the inside and durable suede on the outside that keeps away the wintertime chill, while the designer gloves make even long drives in the cold winter weather a breeze.
Children's Shearling or Deerskin Slippers – Don't forget that brand-new little niece or nephew! Besides being incredibly adorable, our children's sheepskin and deerskin slippers are warm and comfortable, and will help protect that little one's feet from the cold winter weather. Check out our children's shearling mittens and aviator hat for a perfect match!
Ladies' Sheepskin Vest – A winter coat is a great Christmas gift idea, but try changing it up this year with a handcrafted ladies' Silverheels or Wrangler sheepskin vest. Both of our shearling vests are feminine, sleek and versatile garments that can be worn with either dressy or casual outfits, which makes them a go-to option for fall or winter wear. All of our vests feature genuine antler toggles for closure and are custom-made to order for a perfect fit.
Men's Shearling Aviator Hat – Let's face it, what guy wouldn't love a genuine sheepskin aviator hat under the Christmas tree? Our classic men's bomber hat features an incredibly soft and warm sheepskin interior with durable suede on the outside to keep the heat in and the cold out. Secure the velcro on the chin strap to stay extra warm, or velcro the straps on the top of the hat to keep them out of the way. Either way, this unique gift is guaranteed to put a smile on his face this Christmas!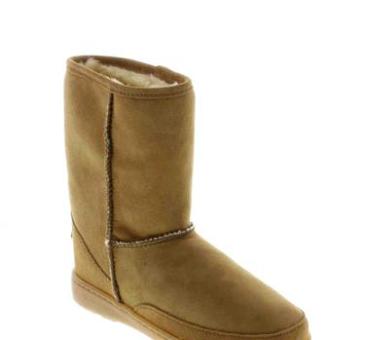 Sheepskin Boots Topped Black Friday Online Searches for Fashion Items
Whether you look forward to or absolutely dread the annual holiday shopping event that is Black Friday, you probably couldn't resist hopping online the day after Thanksgiving to see what sort of crazy deals were out there. And if you happened to search for "sheepskin boots" while perusing the web, you were among the group of savvy shoppers who helped launch the item to the top spot for Black Friday shopping searches for fashion items. That's right, tried-and-true sheepskin boots beat out other long-time fashion favorites for Black Friday and Christmas shopping in general, like North Face jackets and Nike Air Jordan sneakers, and even must-haves in the electronics department, like computer tablets and video game consoles.
Women's Sheepskin Boots and Slippers
UGG sheepskin boots in particular were the most searched-for fashion item on Black Friday, but with prices ranging from $130 to $700 for a pair of UGG-brand shearling boots, the cozy footwear is simply out of reach for the average shopper. That's where we come in. Here at The Sheepherder, we offer a wide range of comfortable and durable sheepskin boots and slippers at incredibly affordable prices. On Black Friday, sheepskin boots were the most popular product in the "Women's Shopping" category, and were also ranked third in the "Best Gifts for Adults" category. We have a number of different styles of shearling boots for women, including the classic Minnetonka Ladies Pug boot, the Ladies Tramper shearling boot and the Ankle Hi Pug boot for women.
Shearling Boots for Men and Children
Sheepskin boots aren't just for women though. Since the footwear exploded on the fashion scene more than a decade ago, they have been hailed as one of the best Christmas gifts for men and children too. If you're looking for a pair of shearling boots for men, check out our Men's Short Pug boot by Minnetonka, or our large selection of sheepskin slippers and moccasins for men and children. The Men's hardsole shearling slipper is one of our most popular items, with its classic design and an indoor/outdoor rubber sole providing excellent traction and durability, and our children's shearling slippers are simply adorable.
Best Christmas Gifts for 2013
Our sheepskin slippers and boots come in all sizes and styles, making them a great gift idea for the whole family. If you're looking for a comfortable, warm and affordable pair of sheepskin footwear for yourself or a loved one this holiday season, check out our authentic Minnetonka sheepskin boots and shearling slippers at The Sheepherder, and you won't be disappointed!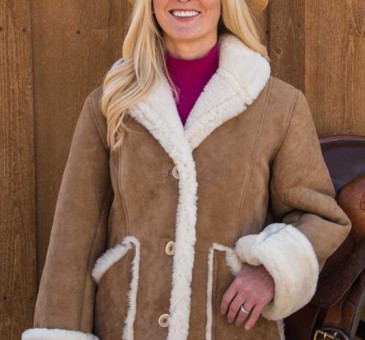 Pick a Style: How to Choose the Right Sheepskin Jacket
A winter coat is the biggest purchase of the year for most people in cooler climates, and now is the time to start looking for that perfect jacket, before the weather gets any colder and the best items sell out. On the other hand, it's important to spend some time deciding exactly what you're looking for before you make the purchase. That way, you don't end up with a floor-length velvet coat that is beautiful but completely impractical for picking up groceries and traveling to and from work. When it comes to purchasing a men's or women's sheepskin coat, there are a number of factors you must consider before you make your choice, including the color, size and style of the jacket. Consider the following suggestions to find the coat that's right for you:
Color
It may be tempting to splurge on a brightly-colored jacket during these cold, dreary winter months, but if you consider your sheepskin coat a long-term investment, it would probably be better to stick with classic colors like black, brown, cream or beige that won't end up looking dated down the road. For some people, it may make sense to purchase two jackets – one in a light color and one in a dark color – for different occasions. Some of our most popular colors for men's and women's shearling coats include Gold Misty, Sahara, Ranch and Ivory, although some people prefer different colors like Pink White or Grey.
Style
One of the top reasons to purchase a sheepskin jacket is that the classic style of the garment will transcend current fashion trends and last you several years. That being said, there are a number of different options for style when it comes to choosing a shearling coat, especially for women. Our Ladies Columbine jacket, for instance, boasts a waist-hugging style with feminine lines, a notched collar and attractive wool trim down the front and around the bottom. On the other side of the spectrum, our Ladies Classic sheepskin coat features a shawl collar, oversized pockets and a mid-thigh length that is a little more formal. Similar to our suggestion for color, women may want to consider purchasing two shearling jackets, depending on where they will be most often worn. For example, a shorter coat goes great with laid-back weekend outfits, like jeans and a sweater, while a thigh-length shearling jacket is a better choice for a dressy evening on the town.
Size
The appropriate size can be one of the most difficult things to determine when picking out a shearling jacket for yourself or another person. Fortunately, here at The Sheepherder, we use a simple and convenient fitting sheet for each customer to determine the proper size of his or her garment. When filling out your fitting sheet, which is submitted with each purchase, you'll be asked for information about your height, weight, dress or suit size, shoulder measurement, chest/bust, arm length, waist/belly measurement and hips, so that we can ensure your sheepskin coat will be a perfect fit. All of our shearling garments are custom-made to order, so you can look forward to receiving a sheepskin jacket that was made specifically for you!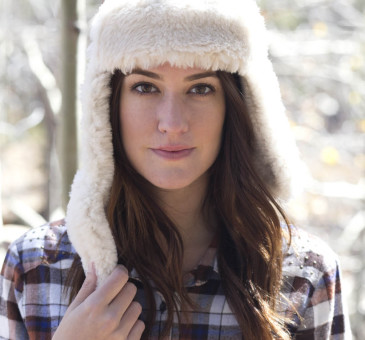 Five Stylish Sheepskin Accessories for Winter
It's easy to throw fashion sense to the wind when it's cold and gloomy outside, but just because there's a chill in the air doesn't mean you have to hibernate under the covers all winter long, nor do you have to sacrifice style to keep warm when you do decide to venture outside the house. The great thing about cold weather is that it gives you the opportunity to experiment with layers, colors and prints, turning just a few everyday pieces and some carefully selected accessories into days of warm, stylish outfits. So in the spirit of making a wintertime style statement, we have compiled a list of the top five sheepskin accessories that will make you look and feel great during the upcoming winter season.
1.               The Sheepskin Boot – A quality pair of sheepskin boots should be a part of everyone's winter wardrobe; one, because they will keep you exceptionally warm in even the coldest weather, and two, because they can help expand your clothing options. For example, if you're just dying to wear your favorite skirt and a pair of tights, but you woke up to a cold frost, pair the outfit with a high Minnetonka sheepskin boot and it won't matter how chilly it is outside. Or, if you're planning to stay around the house, try out a pair of luxurious shearling slippers and your toasty feet will thank you!
2.                  The Sheepskin Coat or Jacket – If you want to don a dressy outfit in winter and sheepskin boots aren't an option, consider trading out your flimsy trench coat for a long shearling coat or jacket that is just as stylish and will keep you even warmer. There are a variety of style options when it comes to sheepskin jackets, including the Ladies Classic Sheepskin Coat and the Ladies Cattleman Sheepskin Coat, both of which hit below the hips and are appropriate for a casual evening or a night out on the town.
3.                The Shearling Hat or Earband – When the weather outside is frightful, a beautiful, cozy sheepskin hat or earband is a delightful addition to any outfit. If you're out running errands or picking the kids up from school, our Ladies Sheepskin Aviator Hat is the perfect solution for a chilly winter day. The classic design of the shearling bomber hat is timeless, and extra details like the Velcro chin strap help keep the heat in and the cold out. For outings that require dressier attire, check out our Ladies Sheepskin Earband, a more subtle, fashionable accessory guaranteed to keep your ears toasty warm.
4.                 Sheepskin Mittens or Designer Gloves – Nothing keeps your hands warmer in winter than a pair of authentic sheepskin mittens, made with soft wool on the inside and durable suede on the outside that blocks the chilly wind. For a more trendy and practical option, try our designer sheepskin gloves, available in a variety of colors to match virtually any outfit. These simple but sleek driving gloves are made from authentic sheepskin, so they are guaranteed to be exceptionally warm, comfortable and stylish, whether you're going for a drive or talking a walk around town.
5.                 The Shearling Vest – Before the snow really starts to fall, you might be able to get away with just a sheepskin vest, which is custom-made to order and is guaranteed to be a perfect fit. The shearling vest is a versatile garment that can be worn year-round regardless of the weather, keeping you cool in the summer and warm in the winter. With shawl collars, slim feminine lines and genuine antler toggle closures, both our Ladies Silverheels and Ladies Wrangler Shearling Vests are stylish outerwear options for winter.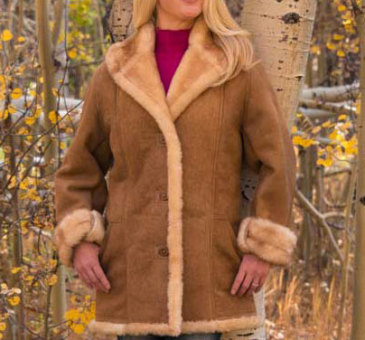 Get the Look for Less: Celebrity Sheepskin Jackets for Women
Ever see your favorite celebrities sporting beautiful sheepskin outerwear in magazines or online and wish you could own a similar shearling coat or pair of boots? Well, now you can, and at a price that won't max out your credit card. Check out the fashionable sheepskin garments favored by Keira Knightley, Kate Middleton and other style-conscious celebrities and then peruse our selection of shearling products at The Sheepherder to get the look for less.
One of Keira Knightley's favorite jackets to wear with a dressy outfit or casual top and pair of jeans is her tan sheepskin coat from Burberry's  2009 collection. A similar shearling jacket from the 2011 Burberry collection carries a price tag of close to $4,500, but you can get the same look for less with our Ladies Cattleman Sheepskin Coat at The Sheepherder. This beautiful shearling jacket is stylish and versatile, and  with the coat's shawl collar and 3" rolled cuffs, you'll stay warm all winter long!
A true queen of fashion, Kate Middleton looks great in everything from evening wear to a comfy pair of jeans and boots. In 2012, the Duchess of Cambridge was spotted walking her dog dressed in a short dark brown sheepskin jacket by LK Bennett, along with skinnny jeans, Le Chameau boots and a wool hat. Kate's shearling coat probably cost around $1,200, but you can get the look for less with our Ladies Columbine Sheepskin Coat at The Sheepherder.  The short, waist-hugging cut of the jacket is feminine, and the wool trim down the front and around the bottom are stylish and attractive.
Alexa Chung looks beautiful in this on-trend Emu sheepskin coat, which she has paired with a pretty beige dress for a finished,  fashionable look.  If you were to get your hands on a shearling coat identical to the British model's, it would set you back a cool $1,500.  Lucky for you, we have a similar women's sheepskin jacket at The Sheepherder, so you can get the look for less! Check out our Ladies Highcountry Sheepskin Coat, which features a hip-length design perfect for wearing over a cocktail dress, jeans or leggings alike. The coat's attractive wool trim and 3" roll cuffs are feminine, sophisticated and warm, for a garment that is both attractive and practical.