Archive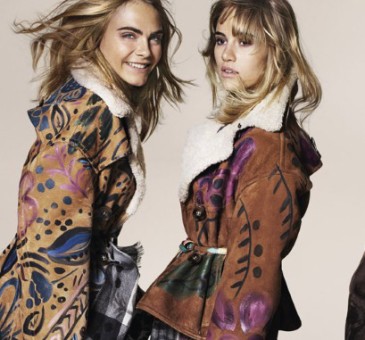 Cara Delevingne is the hottest fashion model at the moment, and so it was a big deal when Burberry announced the 21-year-old Brit as the face of its Autumn/Winter 2014 ad campaign. Cara joins the likes of Suki Waterhouse and Malaika Firth in representing the world-renowned British fashion brand, and in the company's latest ad campaign, the models look snug yet elegant in a variety of colorful and cozy sheepskin jackets. If you want to dress like Cara and stay up-to-date on the latest fashion trends, take a look at our collection of handmade shearling coats for women at The Sheepherder, now available in colors ranging from classic tan to fun tones like grey, black, brown and even pink!
Sheepskin coats have been around for decades, dating back to the 1940s when pilots wore shearling bomber jackets to stay warm in the unpressurized cabins of their B-17 long-range bomber planes at altitudes of 30,000 feet. In the years since, shearling jackets have become increasingly popular garments for both men and women, as much for the warmth they offer as for the style statement they make. Today, well-respected fashion houses like Burberry are embracing sheepskin as the fashion staple it is, and incorporating the durable and stylish material into their 2014 autumn and winter collections.
In recent photos of Burberry's Autumn/Winter 2014 ad campaign, Cara Delevingne and her fellow British models sport a range of outerwear pieces, including beautiful sheepskin jackets for women, while their male counterparts model some of the company's rugged shearling coats for men. In one photo, Suki Waterhouse is wearing a shorter sheepskin jacket much like our own Ladies Columbine Sheepskin Coat, which features waist-hugging feminine lines, wool-out trim, three-inch rolled cuffs and a beautiful notched collar, while Cara sports a longer shearling jacket that is similar to our Ladies Classic Sheepskin Coat or Ladies Cattleman Sheepskin Coat.
One of the main reasons sheepskin has remained so incredibly popular over the past 70-plus years, especially for fall- and winter-wear, is because the material offers a warmth and coziness that is unparalleled by any other garment. Unlike other materials (including synthetic sheepskin) genuine shearling features hollow fibers that naturally retain heat and wick away moisture from the body, keeping you cool in the summer and warm in the winter. If you're looking for the perfect coat for 2014 – one that will keep you comfortable and also make a fashion statement – check out our selection of custom sheepskin jackets at The Sheepherder today.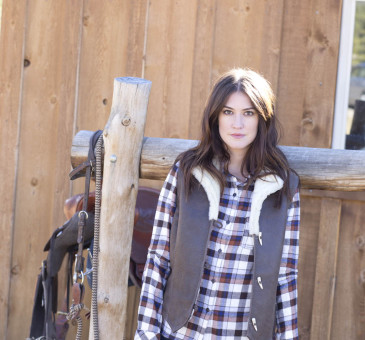 If you pay any attention to the fashion world, you've probably already noticed that one of this year's hottest trends is turning out to be fur or sheepskin vests for women. Paired with your favorite skinny jeans, a comfy sweater or tee, and ankle boots or heels, a sheepskin vest is the perfect addition to any outfit – casual or dressy – and is one of the most comfortable outerwear options as well. These lovely ladies we've listed below have donned a sheepskin vest more than once, and always manage to pull it off without a hitch. And while their favorite shearling vest may break the bank for you, here at The Sheepherder, you can get the look for less!
Sienna Miller is a model and fashion designer, so you know she means business when she steps out in a fabulous sheepskin vest. One of Sienna's favorite garments to pair with leggings or skinny jeans is a cropped leather sheepskin vest in brown, with a front zip and buckle closure. If you're dying to steal Sienna's style, check out our Ladies Blue Sky Deerskin Vest in brown or burnt cork. The fully-lined handcrafted vest with its simple, classic look offers a perfect fit and looks great with any outfit.
Pippa Middleton cemented her reputation as a fashion icon the day she stole the show at her older sister's wedding, so we've always got an eye on what the 30-year-old wears out and about. One particular garment of Pippa's that has caught our eye is the stunning rich brown sheepskin vest she once paired with skinny jeans and a red long sleeve shirt. To create a similar look for yourself, try our Ladies Wrangler Sheepskin Vest in ranch – a slim form-fitting vest with wool-out trim that adds a little feminine flair to your everyday wear.
Miley Cyrus may change her look more often than most people change their socks, but the fashion-forward singer knows when she's found a gem – like the tan sheepskin vest she often pairs with dark skinny jeans and a casual white tee. For a similar look, check out our Ladies Silverheels Sheepskin Vest in gold misty or sahara, which can easily be played down for daily errands or dressed up for a night on the town.
Custom Sheepskin Garments for Women
All of our sheepskin jackets and vests at The Sheepherder are custom made to order, which means your shearling garment will be handcrafted specifically for you, according to your measurements and color preferences. So, the next time you're considering trying something new in the area of fashion, polish off your look with one of our custom sheepskin vests for women and you'll be guaranteed to steal the show!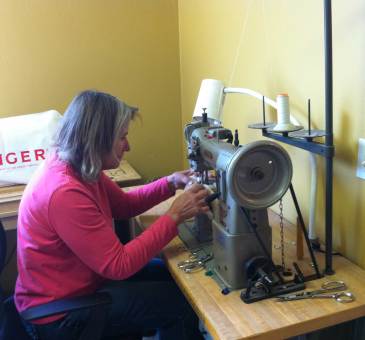 The Sheepherder and its owner Diane Blessing are recognized as a staple in Alma, Colorado, but the custom sheepskin shop didn't always call 112 North Main Street home. When The Sheepherder first opened, it was located in Breckenridge, Colorado, and Diane began working at the shop in 1978. When the business was sold in 1980, Diane decided to stay on and work for the new owners, using her carefully honed skills to create beautiful handmade sheepskin slippers, jackets and more. Less than ten years later, her decision paid off, and in 1989, with the help of a generous aunt and uncle, Diane bought the business she had invested so much of her time and energy in, building what is known today as one of the best sheepskin shops in Colorado.
Today, Diane creates custom-made sheepskin garments for a variety of customers around the world, from the United States to the UK, Germany and beyond, and her craftsmanship is second to none. In fact, Diane's Sheepskin Riding Jacket for Men has even made an appearance on Broadway, thanks to the keen eye of a costume designer involved in "Beautiful: The Carole King Musical," who ordered a custom sheepskin jacket each for the lead actor and his understudy. What makes The Sheepherder so special though, is that each and every shearling item – from the jackets to the vests, mittens and accessories – is handcrafted with the same attention to detail as if it would be appearing on Broadway in front of thousands of people.
Since moving from Breckenridge in 2001, the Sheepherder store has been located in downtown Alma, a scenic town nestled in the Rocky Mountains of Western Colorado, which you'll hit just before you head over the Hoosier Pass towards the Breckenridge Ski Area. If you stop by the shop, you can see Diane herself crafting the handmade shearling garments The Sheepherder is famous for, and you'll witness firsthand what close attention she pays to quality and detail when fulfilling custom orders for customers across the globe. If you don't have the the opportunity to visit the shop in person, check out The Sheepherder website, where you can find a wide selection of handcrafted sheepskin garments custom made to order.
It has been a whirlwind 25 years since Diane took over The Sheepherder in 1989, and the business remains incredibly successful, in large part because Diane still has the same passion for creating custom sheepskin garments as she did when she first began working at the shop more than 30 years ago. Help celebrate our 36 years in business by purchasing a handcrafted shearling jacket or a cozy pair of sheepskin slippers from The Sheepherder today!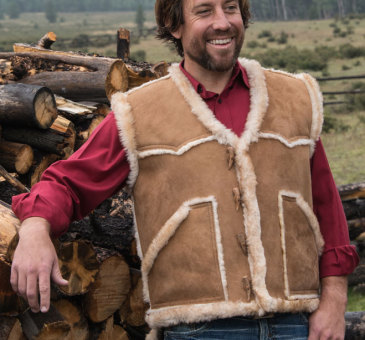 Now that we've survived the polar vortex, the arctic freeze and everything else this past winter had to throw at us, many people are looking forward to storing away their winter gear until next season, but don't box up your sheepskin slippers or vest just yet! All of our shearling boots and outerwear at The Sheepherder are handcrafted using genuine sheepskin, which features hollow fibers that help the material naturally wick away moisture from the body, keeping you warm in the winter and cool in the summer. Unlike all the synthetic sheepskin garments out there, our shearling slippers, coats and boots at The Sheepherder won't make you sweat in warmer weather, which means you can enjoy the comfort and style of sheepskin outerwear all year long, not just during winter.
Great Sheepskin Products for Summer
While some of our sheepskin jackets and accessories are more appropriate for winter weather, there are plenty of shearling garments to choose from that you can wear during summer too. The authentic Minnetonka sheepskin boots for sale on our website, for example, can be worn all year long, and so can the Minnetonka sheepskin slippers and moccasins we offer for both men and women. There's nothing better than stepping into a soft, cozy pair of shearling slippers first thing in the morning, even in the warm summer months, and with their easy slip-on, slip-off wear, our Minnetonka ankle-high shearling boots are perfect for running errands or enjoying a lunch out with friends, regardless of the weather. If sporting a full-on sheepskin coat during the summer seems like a little much, check out our beautiful custom-made sheepskin vests for men and women, which offer the utmost in year-round comfort and durability.
Caring for Your Shearling Garments
If you do decide to wear your sheepskin boots or jacket during the spring or summer, when things tend to get a little rainy and muddy, it's important that you use the right products to properly care for your garments. First, the outer suede portion of your sheepskin item should be sprayed with a rain and stain shield made specifically for suede or leather, which will help prevent soiling and protect the garment against water spotting. If you find yourself needing to touch up the wool portion of your shearling coat or boots, you can use a solution of Woolite and cold water, but be sure to avoid soaking through to the suede. Once the wool is nearly dry, you can brush it to fluff it back to its normal appearance. If your sheepskin garment becomes soiled enough to require the help of a professional, be sure to ask ahead of time if the dry cleaner is experienced with sheepskin and/or leather and suede products.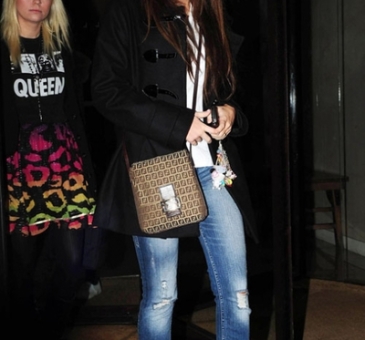 Pop star Miley Cyrus is known for undergoing one of the most drastic transformations the music industry has ever seen – successfully altering her image from girly Disney sweetheart to edgy punk rocker – but there is one thing about Miley's style that hasn't changed one bit: her love for sheepskin. Miley Cyrus has always been a fan of warm and cozy sheepskin boots, pairing the popular footwear with everything from skinny jeans to daisy dukes, and the singer was just spotted in New York earlier this month holding an attractive beige sheepskin jacket in her arms as she stopped to pose for photos with fans. Unlike other fashion trends that have come and gone over the years (cargo pants and Crocs, anyone?), shearling boots and jackets are here to stay, at least if Miley Cyrus has anything to say about it!
Not only is Miley Cyrus one of today's most successful pop stars, thanks to her million-plus screaming tween fans, but she is also the face of Marc Jacob's Spring 2014 ad campaign, proving that there's more to the singer's maturing fashion sense then mouse leotards and foam fingers. As Miley Cyrus' style continues to evolve from the boho-chic look she rocked pre-pixie-cut to the high fashion clothing she now seems to favor, it's telling that the stylish singer seems to consider sheepskin a staple versatile enough to make the transition with her. During her recent trip to New York, for example, Miley was sporting an all-black ensemble complete with skinny jeans, Doc Marten-style boots and a beige beanie on her head that matched the sheepskin jacket she carried in her arms.
One of our favorite things about sheepskin is that the material is versatile enough to complement any outfit – casual or classy. The same shearling jacket you pair with skinny jeans and a graphic tee during the day can easily make the transition to nighttime, worn with black leggings and a feminine blouse or even your favorite little black dress. Plus, all of our shearling garments at The Sheepherder are custom-made to order, which means when you order one of our sheepskin jackets for women, you know that it will be the perfect fit based on your measurements. There are plenty of fashion-savvy celebrities out there, including Miley Cyrus, Julia Roberts, Sarah Jessica Parker and Gwen Stefani, who have discovered the benefits of sheepskin, so check out our wide selection of custom shearling garments at The Sheepherder for your very own sheepskin jacket today!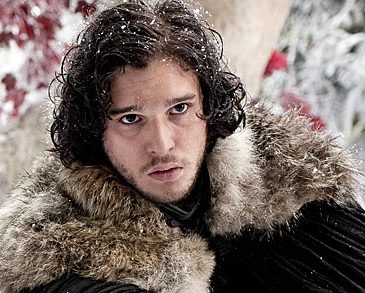 Season four of the beloved epic fantasy series "Game of Thrones" is set to air on April 6, and now you can dress like Jon Snow, Robb Stark, Ned Stark, Ygritte, or another favorite "GoT" character with genuine sheepskin jackets from The Sheepherder. Furs play a crucial role in the costumes worn by the "Game of Thrones" characters, especially those who reside in the North and north of the wall, where snows fall heavy and a frigid winter can last for years on end. As the Starks so famously say, "winter is coming," so check out our wide selection of shearling jackets and find a sheepskin coat just like your favorite "Game of Thrones" character.
Our first pick for a Game of Thrones-style sheepskin coat would be the Men's Cattleman Sheepskin Jacket, which features a generous shawl collar, flap pockets and 3" roll cuffs. The masculine style of this sheepskin coat – which you would order in Night's Watch black of course – will have you feeling like Jon Snow in no time, hopefully without the 700-foot wall though. A similar garment is our Men's Colorado Sheepskin Coat, which could pass for a modern version of the fur-lined cloak Robb and Bran sport when the Stark family finds the orphaned direwolf pups in the Wolfswood.
If you align yourself more with Ygritte, the tough-as-nails wildling who falls hard for Jon Snow even though he's considered the enemy, consider our Ladies Sheepskin Aviator Hat or Ladies Shearling Earband in colors like Gold Misty, Sahara or Ranch. Pair the soft, attractive bomber hat with our Ladies Cattleman Sheepskin Coat or Ladies Columbine Shearling Jacket, and they will keep you as warm as the hooded fur coat Ygritte wears while crossing the frozen tundra north of the wall. Complete the look with a pair of stylish sheepskin mittens and you'll wonder why your winter wear ever consisted of anything but luxurious shearling.
Everyone from die-hard fans to high-end designers are drawing fashion inspiration from the hit HBO television show, and fashion designer Helmut Lang even included several "Game of Thrones"-inspired pieces in their 2012 Fall Collection, combining hard and soft fabrics and a variety of textures to create minimalist designs with a modern medieval twist. No, we don't include any crow feathers or direwolf furs à la the Night's Watch and the Stark family sigil in our designs at The Sheepherder, but we do use genuine sheepskin to create all of our men's and women's shearling jackets. So, you are guaranteed to stay nice and toasty warm no matter how long winter lasts.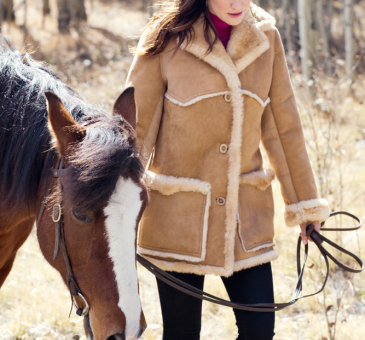 London Fashion Week has just completed its Autumn/Winter 2014 runway show and, as expected, sheepskin will play a major role in this year's fall and winter fashion trends. From Topshop to Burberry to Erdem, some of the most famous design houses featured luxurious sheepskin garments in their collections this year, paying particular attention to shearling jackets for women. Burberry really upped the ante with its hand-made, hand-painted sheepskin trench coats, which are now available for purchase on the label's website. Unfortunately, if you're just dying to have one of these custom sheepskin jackets straight off the runway, you can expect to shell out at least $10,000 for just one coat. Burberry's regular shearling jackets range in price from $2,795 to $3,000, so that's no minor purchase either.
Sheepskin-Inspired Outerwear
While Burberry incorporated sheepskin details into its signature trench coat for added warmth and texture this fall and winter, up-and-coming designer Erdem Moralioglu added a bit of edge to his aesthetic, showcasing an evening coat in white shearling with bold jewel embellishments. Other shearling-inspired designs featured during 2014 London Fashion Week included sheepskin flying jackets, coats with shearling collars and military-style sheepskin-lined outerwear.  According to Burberry's design chief Christopher Bailey, the label opted for cozy shearling and other warm, luxurious outerwear designs this year in an effort to convey romance and soft femininity, saying: "I wanted it to be very sophisticated, and with a slight nuance of sexiness."
Stylish, Versatile Sheepskin Jackets
Besides being sophisticated and attractive, one of the best things about sheepskin is that it's completely wearable, which simply isn't true about much of the clothing you see on fashion runways around the globe. Unlike some other popular trends adopted in the world's most famous fashion capitals, shearling is something you can wear on a daily basis without even the slightest bit of discomfort. Especially when your sheepskin garment is handmade specifically to fit you and only you. Some of our most popular designs at The Sheepherder are sheepskin jackets for women that are versatile enough to wear around town or out for the evening, including our Ladies Classic Sheepskin Coat and our Ladies Cattleman Sheepskin Coat.
Order Your Custom Shearling Garment Today
Plenty of people are saying that sheepskin is "back," judging by the designs featured in London Fashion Week, but the truth is, sheepskin never went away; it's been right here all along. Shearling jackets and slippers have always been coveted by people living in the colder parts of the world, because of the material's unparalleled warmth, but sheepskin is actually appropriate for warmer weather too, as the hollow fibers in the material help wick moisture away from the skin, keeping you cool in summer as well. So why not take a page from some of the fashion industry's most popular labels and choose a handmade item from our collection of custom shearling jackets today?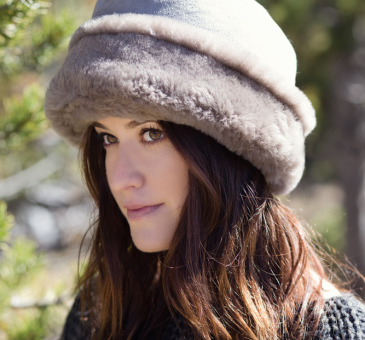 The opening ceremony at the Olympic Games has become one of the most highly-anticipated "fashion shows" in the athletic world, and the parade of nations during the 2014 Winter Olympics in Sochi, Russia certainly didn't disappoint. The athletes' ensembles were designed by BOSCO and reflected not only Russia's national pride, but the country's appreciation for traditional folklore as well. Sheepskin played a dominant role in the Russian athlete's uniforms, chosen as much for its recognizable style as its practical warmth in Russia's extreme cold. Genuine sheepskin has hollow fibers, which means the material naturally wicks away moisture from the body, keeping the wearer warm in even the coldest temperatures. And the temperatures in Sochi during the Olympics were cold indeed!
For their opening ceremony uniform, the Russian Olympic Team sported contemporary designs inspired by traditional Russian prints and motifs from the past, all rolled up into warm and comfortable wintertime gear. The female athletes wore toques – traditional European hats resembling knit caps – and long blue, white and red down coats trimmed in real fur, while the male athletes were garbed in double-breasted navy military coats trimmed in white sheepskin, and ushankas – the traditional sheepskin aviator hat Russia is famous for.
The Olympic athletes weren't the only ones in Sochi outfitted in sheepskin, though. Sheepskin hats in particular have been worn in Russia for centuries, and warm, cozy shearling remains the material of choice for Russian military and police forces today, as well as everyday citizens. Inspired by the style and warmth of this type of head wear, we have two Russian-style sheepskin hats available that are guaranteed to up your cool factor, regardless of the weather. Our sheepskin diplomat hat and shearling bomber hat are both custom-made to order using high-quality sheepskin, and are available in a variety of stylish colors, including brown, black, ivory and tan.
There's a reason everyone from Russian athletes to military and police forces choose ushankas, or luxurious sheepskin hats, over other types of head wear in the chilly winter weather. The thick, dense wool of sheepskin bomber hats not only protect the crown of your head from the elements, but also feature shearling flaps that keep your ears and chin toasty warm too. And sheepskin diplomat hats, also popular in Russia, are a cool take on the winter hat with a chic European twist. All in all, sheepskin aviator hats and diplomat hats offer warmth and protection from the weather that is far superior to other types of head wear, and we loved seeing them featured during the 2014 Sochi Olympics!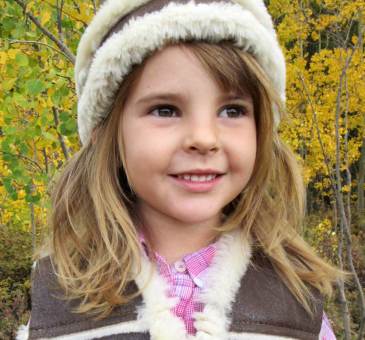 Every once in a while we like to remind returning customers and other consumers that all of our sheepskin products at The Sheepherder are made right here in the United States, from beginning to end. From the authentic sheepskin hides used to make jackets, slippers and mittens, to the unique buttons crafted from antlers shed naturally by deer and elk each year, we are proud to say that each and every product we offer on our website and in our store is 100% "Made in the USA." Why is this so important, you ask? It's simple.
Sheepskin Garments Made in the United States
When you order one of our shearling jackets, you know for a fact that your product will be hand-crafted by Diane Blessing, using the highest-quality sheepskin from domestic sheep raised right here in the Rocky Mountain states. No kidding! The shearling used in our garments actually comes from sheep that are raised commercially for their meat, and their hides are a valuable by-product tanned and processed…where? You got it, right here in the United States. This means that your sheepskin jacket will not be made in China, and it will certainly not be made with a wool lining sewn or glued to the suede. On the contrary, it will be carefully constructed using one piece of continuous natural hide for the utmost in comfort and quality. Another benefit of purchasing sheepskin products made in the USA is that you'll be supporting a local business, which is never a bad thing!
Minnetonka Moccasins and Slippers
In addition to offering our own products for sale, The Sheepherder is also an authorized Minnetonka retailer, and you can find a complete selection of Minnetonka boots, moccasins and slippers on our website. Minnetonka is based out of Minneapolis, Minnesota, and although all products created by the company are manufactured in the Dominican Republic they use leather and sheepskin produced in the USA. Check out our selection of Minnetonka footwear, and you'll see that there's no need to sacrifice quality and comfort for a pair of Minnetonka moccasins. Like Minnetonka, we believe that authenticity and quality craftsmanship are the most important characteristics of sheepskin slippers and other garments.
Authentic vs. Synthetic Sheepskin Products
We'll admit, it's probably faster and cheaper to get your hands on a pair of artificial "sheepskin" slippers, but when you buy synthetic, you never know where the product came from, the quality of its construction, or how long it will last. On the other hand, when you invest in a genuine sheepskin product from our shop, you know that it was made right here in the United States by Diane Blessing herself. Diane has been creating and designing custom shearling garments at her shop in Alma, Colorado for more than 20 years, and her extensive experience working with sheepskin ensures that your shearling product will be more than just comfortable or durable or stylish. It will be all these things and more!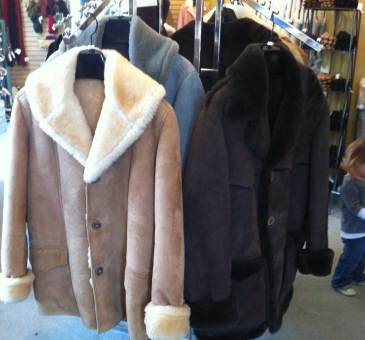 It is becoming more and more common for consumers to today rely on online reviews and testimonials when purchasing a new product or service, and many people trust the opinion of other customers as much as they would a recommendation from a friend or family member. For that reason, we are truly grateful for the shining reviews first-time and returning customers share with us on a regular basis, and we also see the value in sharing these testimonials with potential customers searching for genuine sheepskin jackets, slippers, hats, mittens and more. When it comes to the quality of our authentic, handmade sheepskin products and the strong emphasis we place on customer service, we think that our testimonials speak for themselves. So, here are a few of our most recent online reviews:
Thank you for the beautiful coat! We received it in time and the actor was very excited. Gorgeous!
-Crew of "Beautiful: The Carole King Musical" on Broadway (10/24/2013)
I received my jacket today and I wanted to write to thank you for an absolutely stunning garment. The coat exceeds my expectations entirely….it is truly beautiful! Also thank you so much for your customer service during the short wait for my jacket. I really don't know how you find the time to produce these unique coats and run the rest of the business…there does not seem to be enough hours in the day for that! Also the fit is absolutely spot on. Thank you so much for everything. I could not be any happier with the jacket…it's marvelous!
-Tim W., London UK (1/23/2014)
I received my hat yesterday, and it is a perfect fit. Thank  you so much for your help in this matter. This hat will be great to have up here in Northern Minnesota, as our winter temperature this year has predominately been in the -20's to -40's. I am sure that you will be receiving more requests for your hats, once my local friends and ice fishermen see this very well designed warm hat. Thanks again.
-Michael B., Pengilly, Minnesota (1/24/2014)
For more information about genuine sheepskin jackets and other products from The Sheepherder, check out our website, where you can find a variety of comfortable and stylish shearling garments, home goods and accessories made from the highest-quality sheepskin right here in the United States. All of our shearling products are also custom-made to order, which means you can look forward to a great fit every time!