Archive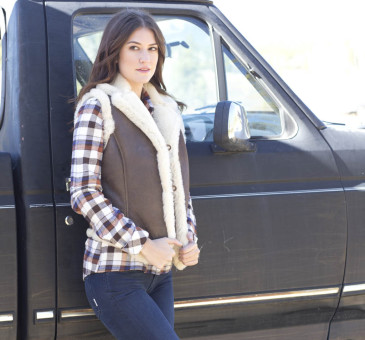 Some people love the look of sheepskin, but opt for a knock-off version or imitation sheepskin because it's cheaper. That's all well and good, but it's important to understand that there is a big difference between genuine sheepskin and imitation sheepskin, especially when it comes to the quality and durability of the garment you're purchasing. Here at The Sheepherder, all of our shearling products are made by hand using only the highest-quality sheepskin, which guarantees that our customers receive a beautiful shearling garment that, with the right care, they can enjoy for years to come. The following are the top five reasons you should choose authentic sheepskin over synthetic.
Quality – There is a difference between designer jeans and jeans you buy at Walmart, just like there is a difference between authentic sheepskin and imitation sheepskin. Sure, you can find shearling products for less at a third-party retailer or big box store, but in this case, it's likely that the price reflects the quality of the product. Those cheaper sheepskin slippers you found online were probably made using synthetic shearling, or perhaps they didn't meet the quality control standards applied to each and every one of our sheepskin products, and are thus being sold at a lower price. Either way, the quality just isn't there.
Made in the USA – All of our sheepskin coats, slippers and home goods are handmade right here in the United States, which means you know exactly what you are getting when you place an order with The Sheepherder. Our shop is located in the historic town of Alma, Colorado, and is locally owned and operated by Diane Blessing, who has more than 30 years of experience creating custom sheepskin garments. Each and every item we have for sale, both in the shop and online, is handcrafted by Diane herself, using sheepskins from the finest tanneries in the United States.
Function – Sure a pair of synthetic sheepskin slippers may look cute, but without the benefits of a genuine shearling construction, that's about all they'll do. Authentic sheepskin is a natural material with hollow fibers that allow your skin to breathe and that wick away moisture from the body, which means genuine shearling slippers will keep your feet toasty warm during those cold winter months and nice and cool during the hot summer months, for easy year-round wear.
Handmade to Order – One of the most important benefits of ordering a handcrafted sheepskin garment from The Sheepherder is that all of our products are custom made to order. That means your beautiful shearling coat or deerskin vest will be created based on your specific measurements for a guaranteed great fit. Also, because our shearling garments are handcrafted by a professional from authentic sheepskin hides, they are some of the most beautiful and durable shearling products available.
5. Customer Service – We've said it before, and we'll say it again. Customer service is our top priority, and we love keeping our customers happy. All of our sheepskin products are guaranteed for a full year for workmanship and materials, and they are further guaranteed for fit, since each order is accompanied by a custom fitting sheet detailing the proper measurements for each individual customer.  Order your handcrafted sheepskin garment today and your satisfaction is guaranteed!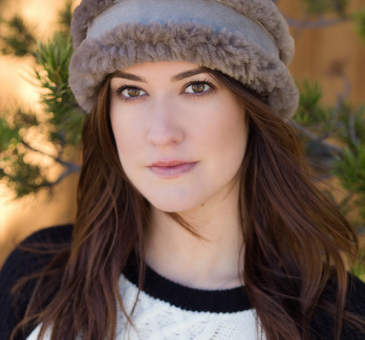 Mother's Day is just a few weeks away, and right about now is the time that all good sons and daughters start looking for that perfect gift to show their mother, step-mother or mother-in-law just how much they care. This year, instead of opting for the typical bouquet of flowers that will be wilted within a week, consider giving Mom a gift that will really get her excited, and one that she can enjoy for years to come. With dozens of luxury sheepskin items handmade to order on our website, it shouldn't be hard to find the perfect sheepskin gift for that special lady in your life. The following are our top five picks for sheepskin Mother's Day gifts this year:
Ladies Sheepskin Earband – Not everyone likes to wear a hat in cool weather, and for those hoping to avoid ruining a good hair day this spring, a chic and cozy sheepskin earband is the perfect gift. Our shearling earbands feature a wool-out trim that really kicks the style up a notch, and a soft elastic back makes for a secure and comfortable fit. Check out our ladies sheepskin earbands in antique white, black, gold misty, grey, ivory, pink, ranch and sahara, for an attractive and warm accessory to match any outfit!
Genuine Shearling Gloves – During the winter and on chilly evenings, there's nothing worse than getting in the car and grabbing hold of a freezing cold steering wheel. For moms who always seem to be on the go, another great sheepskin Mother's Day gift is our sleek and attractive shearling driving glove, made from a 100% genuine sheepskin hide and guaranteed to keep Mom's hands warm and comfortable as can be.
Ladies Wrangler Sheepskin Vest – Depending on how much you want to spend on your gift, our Ladies Wrangler sheepskin vest could be a great choice for Mother's Day. With a slim, form-fitting silhouette, the cozy shearling vest is the perfect option for any outfit, dressy or casual. The authentic sheepskin vest also features attractive wool-out trim and loops with antler toggles for closure.
Sheepskin Slippers for Women ­– Nothing beats getting out of the bed in the morning and stepping into a pair of lush slippers handmade from the finest sheepskin available in the United States. This Mother's Day, consider gifting Mom a pair of handcrafted shearling scuff slippers featuring a durable cowhide sole and natural insulated wool that will keep her feet warm in the winter and cool in the summer!
Sheepskin Home Goods – If Mom already has enough clothing and footwear to last a lifetime, she might prefer a Mother's Day gift that she can put to use in other ways, like a handcrafted sheepskin steering wheel cover or protective iPhone case. Both items are affordable, durable, and available in a variety of colors to suit her style. Another great sheepskin Mother's Day gift is our handmade shearling pillow, made entirely of sheepskin, inside and out, with soft, luxurious wool on one side, and durable suede or leather on the other.
When it comes to creating custom sheepskin slippers, outerwear and accessories, our two main concerns at The Sheepherder are craftsmanship and customer service. We take every possible step to make sure you get the shearling product you've been dreaming of, which is why we make everything by hand according to your measurements, for sheepskin garments that are truly unique. Our quality customer service and close attention to detail sets us apart from other sheepskin retailers, but don't just take our word for it; our testimonials speak for themselves. The following are some recent reviews satisfied Sheepherder customers have been kind enough to share via email and on our website:
Hi Diane – Received the coat on Tuesday, it was securely packed. It fits perfectly and looks superb. My wife is extremely pleased, she has been waiting most of her life for something as nice as this. It is really nice quality and the fur is really thick. Also little things like the buttons and the way they are securely fixed that makes it so nice. It has arrived just at the right time in this cold weather! I was a little shocked to have to pay another £200 Customs Duty! But it was well worth the effort and wait. With many thanks. -Richard and Leah Harden, St. Ives, United Kingdom (January 2015)
Hi Diane – My new coat came yesterday and it's great.  The fit and finish is perfect; thanks so much for making it for me.  See you next year at the NFR. Thank you.
-Rob Rich, Thayne, Wyoming (January 2015)
Hi Diane, the jacket has arrived and is wonderful. Thank you very much! Greetings from Jörg from Berlin Germany.
– Jörg, Berlin, Germany (April 2014)
I am so pleased with the booties I ordered for my little boy. Diane made a special effort to make them bigger when the original size turned out to be too small for him. He loves to wear them. It is great quality deerskin and very well made. I know inside or outside they will be durable for quite some time. Thanks for the wonderful experience with Sheepherder!
-Georgie Honl (September 2013)
Order Your Genuine Sheepskin Garment Today!
We know that reading client reviews is an important part of the process for potential customers shopping online, and we want you to know that doing everything we can to ensure customer satisfaction is an important part of ours. We use only the highest-quality materials for our handmade sheepskin slippers, jackets and accessories, and the craftsmanship of our products is second to none. Plus, because every shearling product we make at The Sheepherder is handcrafted according to your own specifications, you can rest assured that your custom sheepskin item will be the perfect fit!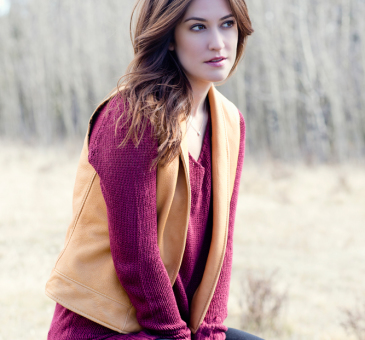 It may seem now like there is no end to winter in sight, but before you know it, flowers will be blooming and spring will be upon us, so don't wait too much longer before adding some key spring items to your winter wardrobe. If you're going for versatility and style, try one of our handmade sheepskin vests for men and women. The perfect piece to transition from winter to spring, a shearling vest offers the comfortable warmth of genuine sheepskin without the bulky outline of a full-on winter coat. And the natural versatility and flair of a genuine sheepskin vest means you can transition it from daytime wear to date night out without a second thought.
Genuine Sheepskin Vests for Women
Nothing beats the toasty warmth of genuine sheepskin, and our handmade shearling vests are made to naturally retain your body heat, while offering the sleek, form-fitting silhouette of a vest over a winter coat. Both our shearling and deerskin vests for women are comfortable and stylish, and you can continue to wear either item into summer and fall, even as the weather warms up, for protection against those cool evenings. Pair our Ladies Wrangler Sheepskin Vest, Ladies Silverheels Shearling Vest, or Ladies Blue Sky Deerskin Vest with a cute plaid button-down shirt and jeans for a casual trip into town, or glam it up with a sweater or dress for a night out with the girls.
Men's Custom Shearling Vests
If there's one item we make at The Sheepherder that's just as popular for men as it is for women, it's our handmade sheepskin vest. A handsome and practical outerwear option, we have plenty of shearling vests for men to choose from. There's the Men's Gambler Sheepskin Vest with its classic, clean lines and natural antler buttons, and then there's the Men's Rancher Shearling Vest, the perfect choice for the outdoorsy type, with attractive wool-out seams and large hand-warmer pockets. The best part is, our men's sheepskin vests look just as good with a button-down shirt and a pair of jeans as they do with a dressier outfit, so you just can't go wrong with this choice.
Children's Cowhide and Sheepskin Vests
All of our sheepskin vests at The Sheepherder are custom made to order, which guarantees a perfect fit based on your specific measurements. This goes for the little guys too, who want nothing more than to look just like Mom or Dad, which means you are tasked with finding miniature-sized versions of your own sheepskin vests. Well, look no further. We offer a beautiful Sheepskin Buckaroo Vest for Kids and a Children's Lakota Cowhide Vest, both of which are great outerwear options for kids to wear year-round, since genuine sheepskin will naturally keep them warm in the winter and cool in the summer. Both kids vests come in a variety of colors too, so you can easily choose one that matches your little guy or girl's personality and style!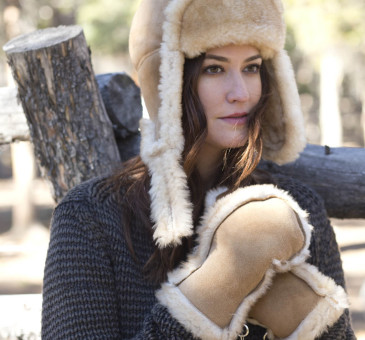 Temperatures in some parts of the country have dropped below zero this week, and with more snow and ice on the way, it doesn't look like there's a warm spell coming any time soon. Fortunately for you, we have a wide selection of cozy handcrafted slippers, mittens and hats made from genuine sheepskin, a natural material that can help you retain your body heat and keep warm even in the coldest winter weather. The following are some of our most popular sheepskin accessories, all available in custom sizes for men, women and children:
Sheepskin Slippers – There's nothing quite like stepping out of bed on a chilly winter morning and into a pair of genuine sheepskin slippers custom-made by hand for a perfect fit. We have a large selection of shearling slippers for men, women and children, including our ladies scuff slippers and men's traditional slippers, and all of our slippers are handcrafted using genuine sheepskin, for a luxuriously soft slipper that will keep you toasty warm, no matter what this winter decides to throw at you.
Shearling Mittens – Our genuine sheepskin mittens are the perfect wintertime accessory – your body heat naturally warms up the wool on the inside, while the smooth outer suede protects your hands from those bone-chilling winter winds. Our custom sheepskin mittens feature wool-out seams, unisex sizing, and a D-ring and clip so they can be attached to your winter coat. We also have adorable sheepskin mittens for children and babies, so the whole family can stay cozy and warm this winter!
Sheepskin Driving Gloves – Not exactly the mitten type? Check out our sleek and attractive shearling driving gloves, made from soft, supple sheepskin that will keep your hands nice and warm, whether you're driving to or from work or enjoying a night out on the town. The natural wool on the inside of our handcrafted driving gloves is soft, dense and luxuriously warm, and the stylish suede outer naturally helps ward off even the coldest winter chill.
Shearling and Alpaca Headwear – They say you lose a significant amount of body heat through your head, right? Next time you step outside this winter, be prepared with one of our beautiful and warm alpaca or sheepskin hats. With a wide range of styles to choose from, including our sheepskin aviator hat, shearling diplomat hat, sheepskin earband and ladies alpaca hat, you don't have to sacrifice style just to stay cozy and warm. Consider pairing your alpaca hat with a gorgeous matching alpaca scarf and pair of mittens for a fashionable and comfortable winter look.
Sheepskin Coat or Jacket – No matter what you have on your feet, hands and head, you'll never be as warm as when you slip on a genuine sheepskin coat handcrafted to fit your individual measurements. Our shearling jackets are custom-made from genuine sheepskin and feature warm, silky wool on the inside and durable, attractive suede on the outside, for an all-over stylish look. Being a natural material, when it is processed correctly, sheepskin will naturally wick away moisture from the body, keeping you extremely warm in the winter and cool in the summer, too!
With January coming to a close and spring just barely within sight, some of our favorite celebrities are braving the winter chill and stepping out in warm and cozy sheepskin outerwear, like stylish shearling jackets and hats. Take Keira Knightley for example. The newly-pregnant actress stepped out in London with her musician husband a couple of weeks ago, wrapping her adorable baby bump in a chic tan sheepskin coat with front pockets and an oversized shawl collar, just like our Ladies Cattleman Sheepskin Coat. The British beauty paired her shearling jacket with skinny jeans, combat boots, black rimmed glasses, and her hair in natural waves, for an effortlessly dressed-down yet chic look.
Keira Knightley isn't the only one turning to sheepskin to combat the cold winter weather. Just last week, Skinnygirl entrepreneur and The Real Housewives of New York star Bethenny Frankel was a vision of comfort and warmth while taking her daughter to school in New York, donning a black sheepskin-lined coat with a huge shawl collar and a Russian-style fur hat similar to our Shearling Diplomat Hat for women. We also have at The Sheepherder a warm and stylish Sheepskin Aviator Hat for women, a Ladies Shearling Earband perfect for those good hair days, and a line of beautiful and incredibly soft Alpaca hats, scarves and mittens for women.
Mad Men star January Jones apparently also turns to sheepskin to keep herself and her family warm when the winter weather strikes. The actress and her three-year-old son Xander were spotted at Los Angeles International Airport earlier this month, and both were sporting a pair of warm and cozy genuine sheepskin boots. While January donned a pair of tan shearling boots to go with her dark blue skinny jeans and colorful fur-lined cardigan, Xander wore a pair of cute grey sheepskin boots with his black speckled pants and black sweater with grey stars.
Sheepskin isn't just for women and kids though. Last month, One Direction heartthrob Harry Styles wrapped up against the chilly New York weather with a camel-colored sheepskin coat, black skinny jeans, a Calvin Klein sweater and tan boots. The singer was in New York with the rest of his bandmates ahead of their Saturday Night Live appearance, and while Harry Styles is known for his sometimes questionable sense of style, his decision to stave off the winter chill in an attractive shearling jacket demonstrates his good taste in winter wear. For a look like Harry Styles, check out our Men's Classic Sheepskin Coat, a traditional shearling jacket with oversized pockets and a leather-trimmed collar and cuffs.
As if you needed another reason to break out that cozy sheepskin blanket, a recent study presented at the European Respiratory Society International Congress indicates that babies who sleep on animal furs, like sheepskins, during their first three months have a lower risk of suffering from asthma and allergies at age 10. You know what this means, right?? There is actually scientific evidence out there indicating that shearling hides can help keep your family healthy. So, the next time you go to swaddle your infant, put your baby down for a nap or lay down for a quick doze yourself, consider using a cozy sheepskin patchwork quilt instead of your usual blanket.
Sheepskin Can Help Regulate Temperature
The practice of using animal fur as bedding in babies' cribs has long been popular in Germany, where new parents often use the wooly hides to create a soft, cozy sleeping environment for their little ones. Sheepskins in particular are the animal fur of choice in this case, because they are usually pesticide-free and the skin's hollow fibers can naturally regulate the baby's temperature, keeping him or her warm in the winter and cool in the summer. The same applies to our collection of cozy sheepskin slippers, vests and boots at The Sheepherder, which the whole family can wear year-round in warm weather and cold.
Lower Risk of Asthma & Allergies With Shearling
There may be another benefit to adding a sheepskin throw or blanket to your baby's crib though, according this new study, which found that kids who slept on shearling and other types of animal furs as babies were less likely to suffer from asthma, wheezing, hay fever and other allergies later in childhood, by age 10. And while some warn that soft sleeping surfaces may be unsafe for babies, the researchers involved in this new study of 2,441 German children found plenty of benefits associated with exposing babies to animal furs during their first three months, with sheepskin being the most popular type of hides.
Sheepskin and the Hygiene Hypothesis
The idea that exposure to animal furs like shearling hides can result in healthier kids dates back to 1989, when David Strachan, an epidemiologist in Britain discovered that babies born into households with several siblings, and those who attended day care, were less likely than other kids to suffer from asthma and allergies as older children. Over the past 25 years, numerous studies have supported Strachan's hypothesis, known as the hygiene hypothesis, which suggests that babies exposed to small quantities of bacteria and germs at a young age have stronger immune systems when they get older.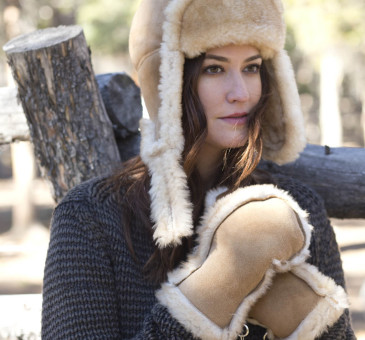 Christmas is just days away, and while you've probably already finished most of your holiday shopping by now, there might be one or two people on your list that you've been unable to find the perfect gift for. Lucky for you, genuine sheepskin is one of those things that pretty much everyone can get down with, and whether they are the type to go crazy over a sheepskin throw, a pair of sheepskin slippers, or some cozy shearling mittens, we've got the perfect last-minute gift idea. And even if their sheepskin item doesn't get to them until after Christmas, you'll have given them a beautiful gift made to last for years to come!
Warm and Cozy Sheepskin Slippers and Boots
Imagine having a pair of custom sheepskin slippers or boots sitting next to your bed, so you can slip them on in the morning and pad around the house on those cold winter mornings. Now imagine how much your friend or loved one will cherish this gift of warmth and comfort that they can use day after day, regardless of the season. Because remember, our shearling slippers are handmade from 100% genuine sheepskin, which means they will keep your feet warm in the winter and cool in the summer, unlike synthetic sheepskin slippers (thumbs up for year-round wear!).
Patchwork Sheepskin Blanket or Quilt
A favorite pastime for many during the holiday season is cozying up on the couch in front of the fire and watching some much-loved holiday movies with their loved ones. Now throw a handcrafted sheepskin blanket into the mix and this scenario just got a whole lot cozier! Our handmade shearling quilts are crafted from genuine sheepskin cut into varying sizes for that authentic patchwork look, with the natural tones of the wool showing on one side and the sheepskin's durable suede and wool-out seams showing on the other. This is the perfect gift for the regular couch-snuggler or as a beautiful wintertime quilt for the bedroom.
Soft and Supple Shearling Mittens and Gloves
Nobody likes having cold hands during these chilly winter months, but there are so few mittens and gloves out there that offer both elegance and warmth without sacrificing durability. Enter our genuine sheepskin mittens and gloves, which are crafted by hand with close attention to detail for a beautiful shearling accessory that is made to last, and that will keep your hands toasty warm all winter long. These shearling gloves and mittens are perfectly designed so that your body warmth heats up the natural wool on the inside, while the durable outer suede blocks the chilly weather and the wool-out seams lend an elegant and stylish appearance.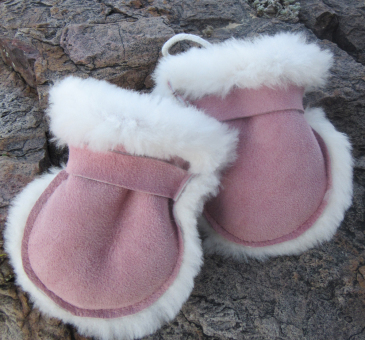 The countdown to Christmas 2014 has officially begun, and we have a feeling there are probably lots of people out there who are still scrambling to think of affordable, unique gift ideas for co-workers, friends and family members. The good news is, there's still plenty of time to order a genuine sheepskin stocking stuffer to round out your Christmas shopping list, and you don't even have to leave the comfort of your own home to do it! The following are our top five picks for sheepskin stocking stuffers this Christmas, which also happen to be great gift ideas for a grab-bag or Secret Santa gift exchange with co-workers or friends. Happy shopping!
Gift Ideas for Handcrafted Shearling Accessories
Sheepskin Eyeglass or iPhone Case – Made from a soft and durable hide, our shearling eyeglass case doubles as a protective cover for your iPhone or smartphone, making it easier than ever to find in your purse or car. The soft sheepskin on the inside will help prevent your screen or lenses from getting scratched, and the natural hide on the outside will help this shearling accessory last for years to come.
 
Shearling Steering Wheel Cover – This shearling car accessory may be a little big to actually fit inside a stocking, but at just $21, our genuine sheepskin steering wheel cover is the perfect Christmas gift for drivers of all ages. Designed with durability in mind, the steering wheel cover will protect your hands during the cold winter months and put luxury right at your fingertips.
 
Children's Sheepskin Slippers – Imagine your little one snuggling up in a pair of handcrafted sheepskin slippers on Christmas morning, and you won't be able to resist ordering a pair of cozy children's shearling slippers this year. Custom-made using genuine sheepskin, which keeps feet warm in the winter and cool in the summer, these kids slippers are a Christmas stocking stuffer that can actually be worn year-round!
 
Sheepskin Mittens for Babies – There's nothing cuter than a tiny pair of shearling mittens, and at just $23, our genuine sheepskin mittens for babies are the perfect option for a little one's stocking stuffer. The adorable mittens feature warm sheepskin on the inside, durable hide on the outside, and an added cord that can be strung through the child's coat so they never get lost!
 
Genuine Shearling Gloves – Some men are notoriously hard to shop for when Christmas comes around, but whether you're looking for the perfect stocking stuffer for your husband, father, brother or son, our handcrafted sheepskin gloves are guaranteed to be a crowd-pleaser. Made using genuine sheepskin hides, these sleek, attractive shearling gloves for men go great with any outerwear, and make driving during the cold winter months a snap.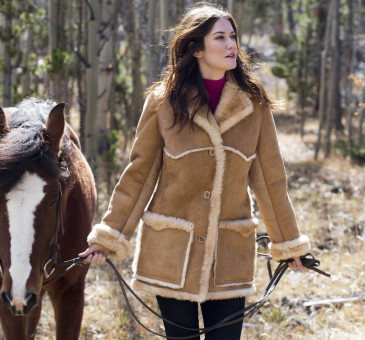 Welcome to Our Brand-New Sheepherder Website for Fine Sheepskin Apparel!
For those of you who have ordered a custom sheepskin coat, vest or pair of slippers from us in the past, you'll notice that our online shop has undergone a bit of a facelift. For those of you who are visiting our Sheepherder website for the first time, we hope you enjoy perusing our vast collection of handmade sheepskin garments, footwear and accessories for the entire family. With the holidays just around the corner, we here at The Sheepherder are working hard to make it easier than ever for our customers to browse, search and purchase fine shearling apparel from our online shop, and we hope our brand-new website gets us one step closer to becoming your go-to shop for handcrafted sheepskin slippers and outerwear.
How Does It Work?
Thanks to new easy-to-use navigation, professional photographs, and a simple, clean layout, The Sheepherder website is better than ever, and it's also easier to use, whether you're a computer whiz or just a beginner looking to get a head start on your holiday shopping. With just the click of a button, you can browse our wide selection of handcrafted men's sheepskin coats, or check out our adorable collection of children's deerskin or sheepskin slippers. Shop by category, collection, material or brand, and once you've found the perfect shearling coat, deerskin vest or sheepskin slippers for that special someone in your life, all you have to do is choose the perfect color, submit the proper measurements, and then wait for your handcrafted one-of-a-kind sheepskin item to arrive on your doorstep.
Why Choose Sheepskin?
Sheepskin is one of those materials that has been around forever in the fashion industry, and it's not likely to go out of style any time soon, so now is a great time to invest in your own custom sheepskin coat from The Sheepherder. Not only are our shearling jackets and accessories attractive and warm, but they are also incredibly durable and will last a lifetime, as long as you follow our recommendations for properly caring for and cleaning your sheepskin garment. All of our fine shearling apparel is also made by hand, which means when you order a pair of genuine sheepskin slippers or a stylish elkskin vest, it will be handcrafted according to your exact measurements. As we say here at The Sheepherder, our sheepskin garments are made by hand and worn to perfection. So, enjoy our brand-new Sheepherder website and happy shopping!