Archive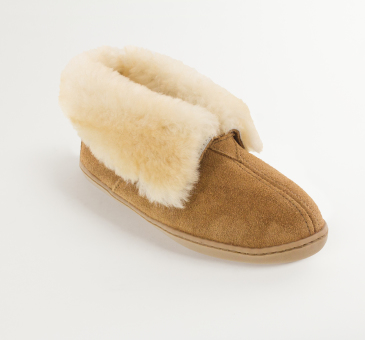 Authentic Sheepskin Gift Ideas for Mother's Day
If you're looking for the perfect gift to show Mom how much you love her, a custom sheepskin item is definitely the way to go. Handcrafted using the highest-quality skins from domestic sheep raised commercially for their meat in the Rocky Mountain states, many of our shearling garments and accessories are custom made to order, which means your Mother's Day gift will fit her perfectly, based on her own unique measurements and style preferences. The following are this year's top picks for sheepskin Mother's Day gifts from The Sheepherder.
Ladies Sheepskin Scuff Slippers
Nothing says love like a luxurious pair of authentic shearling slippers made from the finest sheepskin available. The scuff style of the sheepskin slippers makes them easy to slip on or off, and the wear-resistant cowhide sole means they will last a lifetime with the right care!
Minnetonka Shearling Ankle Boots
For a little added warmth and comfort, check out our Minnetonka-brand sheepskin ankle boots, which feature a luxurious shearling flap that folds up around the ankle, and a slip-resistant hard rubber role for indoor/outdoor wear any time of year.
Unique Sheepskin Eyeglass/iPhone Case
If Mom is constantly misplacing or scratching her eyeglasses, the perfect Mother's Day gift could be a shearling eyeglass case made with durable suede on the outside and soft shearling on the inside. This unique gift also doubles as a protective case for her iPhone or smartphone, and makes both items easy to find inside her purse.
Handmade Sheepskin Pillow
For a special Mother's Day gift for the home, consider our one-of-a-kind shearling pillows, made entirely of genuine sheepskin, from the inside out. Filled with soft wool batting for a nice cozy construction, the pillows feature a unique color-block sheepskin pattern on one side and a durable suede or leather on the other.
Genuine Shearling Driving Gloves
Even with the warmer weather spring typically brings, a nice pair of authentic shearling gloves can still come in handy for drives into town on those brisk evenings, or for moms who live in places that get cool or downright cold weather year-round. Made with a soft and supple sheepskin interior and a sturdy suede outer, they make a great Mother's Day gift any mom would enjoy.
Order Your Sheepskin Mother's Day Gifts Today
Because many of our sheepskin garments and accessories are handmade to order, it's a good idea to get a jump on your Mother's Day shopping and place your order as soon as possible. Whether she is more apt to appreciate a pair of genuine sheepskin slippers, a protective sheepskin eyeglass case, or a handmade shearling pillow for her home, The Sheepherder has plenty of unique and stylish Mother's Day gift ideas Mom is sure to love!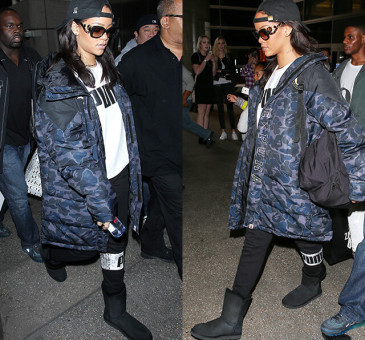 Sheepskin Boots: From Fashion Fad to Forever
Considering their name comes from an abbreviation for "ugly," it's pretty remarkable that Ugg-style sheepskin boots have been around for so long, evolving from their humble beginnings as the crude shearling boots Australian surfers wore to keep warm, to global fame as the preferred fashion footwear for everyone from Rihanna and Kendall Jenner to Tom Brady and Ben Affleck. Whether you, personally, are a fan of the sheepskin boot or not, there's no denying that the cozy footwear has staying power and will likely remain a fashion favorite for years to come.
Sheepskin Boots Go with Any Outfit
For supermodel and Ugg's first "global women's ambassador," Rosie Huntington-Whiteley, who has owned a pair of the sheepskin boots since she was 16, Ugg boots are all about personal style and ease of wear. "There are no rules really. I mean, I feel that you can wear the same outfit that you would wear with a different pair of shoes but with Uggs. I think it works really well. So I'll be wearing mine with my skinny jeans and T-shirts, and a blazer or a cool bomber jacket."
Huntington-Whiteley raises a good point here about substituting shearling boots for just about any other type of shoe, which is likely the main draw for the warm and cozy boots. It seems that Ugg-style sheepskin boots are one of the only types of footwear to transcend fashion trends year after year, while also effortlessly going with just about any outfit, whether you're sporting a pair of leggings and a sweater, a mini skirt and bomber jacket, or skinny jeans and a T-shirt.
Anyone Can Wear Shearling Boots
Derided by many as the fashion fad that refuses to die, sheepskin-lined boots have somehow avoided going the way of the clog, Crocs, Birkenstock sandals and other regrettable fashion fads, and remain the favored footwear for mothers running errands in town, teenagers enjoying a Saturday shopping spree, and celebrities donning their off-duty uniform and jet-setting around the world for their next big appearance. From the fashion-forward A-lister to the regular Joe, the Ugg-style sheepskin boot is the common denominator.
Get Your Own Authentic Sheepskin Boots Today!
So what's the secret behind the shearling boot's unstoppable success? According to The Guardian, it's the footwear's ability to effortlessly straddle the line between "public glamour and private style," telegraphing a message of "'I'm worth it' but also 'this is me, off-duty.'" The one factor that keeps many style-savvy individuals from purchasing a pair of sheepskin boots, however, is price. Fortunately for you, you can get a pair of genuine shearling boots from The Sheepherder for a fraction of the price. Check out our selection of Minnetonka-brand pug-style and fringe sheepskin boots, and get in on the fashion "trend" that's here to stay!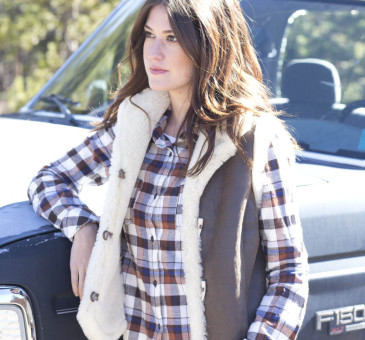 Transition Your Sheepskin Vests and Boots from Winter to Spring
The official first day of spring was March 20, and while some parts of the East Coast actually saw snow that day, the weather has been getting progressively warmer as we get ready to head into April. And with this promising glimpse of a mild spring, there's no doubt some of you have already begun switching out your closets, trading your winter coats and boots for floral blouses, jean shorts and summery espadrilles. One garment you don't have to pack away for the season though is your sheepskin, which can play double duty in your wardrobe and easily transition from winter to spring.
When you purchase a genuine sheepskin garment – as opposed to faux or imitation sheepskin – you're getting an item that's made from the natural hide of a sheep, which has a silky wool on one side and durable suede on the other. Unlike synthetic shearling, authentic sheepskin features hollow fibers that, when processed correctly, allow your skin to breathe and naturally wick away moisture from the body, keeping you warm in the winter and cool in the summer. That means you can wear your favorite sheepskin vest all year round, whether the temperatures are in the 30s or the 60s.
One of our most popular sheepskin garments for spring is our Ladies Wrangler Sheepskin Vest – the perfect addition to any casual outfit, and paired best with your favorite jeans and comfy flannel shirt or lightweight sweater. Our shearling vests for women are attractive and form-fitting, and feature toggle buttons made from genuine antlers shed annually by deer and elk. As you're organizing your closet this spring and deciding what to pack away until next season, you'll definitely want to hang on to your stylish shearling vest for some of those cooler spring nights.
Another sheepskin staple that transitions seamlessly from winter to spring is your favorite pair of shearling boots – yes, the ones that have kept your feet nice and toasty warm all winter long. It's true that nothing beats authentic sheepskin when it comes to staying warm and protected from the elements, but your shearling boots can just as easily keep your feet nice and cool this spring and summer, not to mention comfortable. The Sheepherder is an official retailer of Minnetonka-brand products, and we have several different types of shearling boots for sale in our shop, including traditional pug-style sheepskin boots and fashionable fringe boots as well.
We've clocked in a few chilly days the past couple of weeks, but there's no doubt that an early spring is in the cards for us, and no matter what April turns out like in terms of weather, you won't regret having that sheepskin around. So be sure to check out our wide selection of sheepskin jackets, slippers, vests and boots at The Sheepherder shop or on our website, and get a jump on your spring wardrobe today!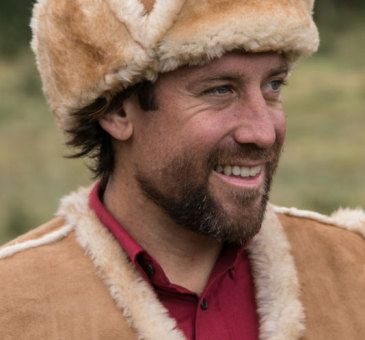 Top 5 Best Sheepskin Valentine's Day Gifts for Men
We all know that men are nearly impossible to shop for on Valentine's Day, but lucky for you, we've got a few ideas up our sleeve for the perfect Valentine's Day gift for men, and they'll all have the main man in your life bowing down to your shopping prowess. When it comes to purchasing a romantic Valentine's Day gift for men, you can't go wrong with sheepskin, a natural and luxurious material that is also incredibly durable and attractive, no matter how you wear it. The following are our top five picks for the best sheepskin Valentine's Day gifts for men.
Handmade Sheepskin Slippers – Nothing beats stepping out of bed and into a pair of toasty warm sheepskin slippers, featuring a wear-resistant cowhide sole for added comfort and durability. Our men's shearling slippers are made from 100% genuine sheepskin, with a breathable wool interior that makes year-round use a must.
Shearling Aviator Hat – Is your beau always complaining about how cold his ears get in the winter? There is nothing warmer than our stylish sheepskin bomber hat for men, complete with ear flaps that can be folded up or down, protecting both his ears and chin from the winter chill.
Sheepskin Steering Wheel Cover – We can attest to the fact that warming up the car on a winter morning is no fun, especially when the steering wheel is freezing cold. Surprise your husband or boyfriend this Valentine's Day with a shearling steering wheel cover to keep him nice and warm on his commute to and from work!
Men's Sleek Shearling Gloves – Driving gloves made from authentic sheepskin make a great Valentine's Day gift for men, especially for guys who spend a lot of time in their cars during the winter, or who enjoy the occasional evening stroll around town. These beauties are made from soft and supple shearling, with a durable suede exterior that blocks even the coldest winter wind.
Genuine Sheepskin Vest for Men – If your shopping motto tends to be "go big or go home," why not splurge on a custom sheepskin vest for your Valentine this year? We have a variety of authentic shearling vests available on our website, all of which are made to order with 100% genuine sheepskin, based on your beau's personal specifications for fit, color and style.
Give Your Valentine the Gift of Genuine Sheepskin
Sheepskin has been around for decades and the natural, durable material has a masculine look that any man would love, which makes a custom shearling garment the perfect Valentine's Day gift for even the most hard-to-shop-for man. So, this year, rather than falling back on the same old box of chocolates and movie ticket gift, give your Valentine a sheepskin garment that he will love and that will last for years to come. Talk about the gift that keeps on giving!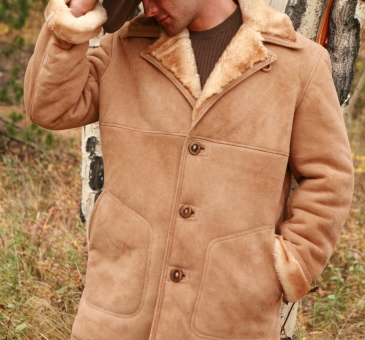 Behind the Scenes: A Custom Sheepskin Garment from Start to Finish
Sheepskin is one of the hottest trends this winter, and with the sheer number of people sporting shearling these days – be it real or faux – it may begin to seem like sheepskin garments are a dime a dozen. But what you probably don't know is how much work and attention to detail actually goes into those authentic sheepskin slippers that you step into each morning, or that custom shearling coat that keeps you warm even on the most frigid winter days. At The Sheepherder, all of our sheepskin garments are handmade to order by a real person in an actual shop in Alma, Colorado, not a big-box retailer, and to appreciate the quality of the finished product, it helps to know the process.
Step 1: The skins we use for our sheepskin garments at The Sheepherder come from domestic sheep raised commercially for their meat in the western part of the United States, mostly in the Rocky Mountain region. The sheep, elk and deer that we use for our products are not an endangered species, and the hides are simply a valuable by-product of the animals.
Step 2: Before they come to us, the skins are sent to a tannery in the United States to be processed, an intricate system that involves 100 or so steps and takes a total of 21 days. The result is the soft, supple sheepskin that we use in our products, which naturally wicks away moisture from the body and keeps you cool even in the warmest weather.
Step 3: Once they are processed, the hides are ready to become one-of-a-kind sheepskin garments, which is where Diane Blessing comes in. Diane has been creating custom sheepskin apparel for more than 30 years, and her attention to detail is impeccable. When you place an order on The Sheepherder website or in the shop, your custom sheepskin garment is handmade by Diane herself, based on your specific measurements and style preferences.
Step 4: Unlike synthetic or imitation sheepskin, the genuine shearling we use at The Sheepherder is one continuous hide, which means the wool interior is a part of the skin itself, not a separate lining sewn or glued onto the hide. The softest and supplest skins we save for the sleeves and collars of our jackets, to ensure the highest level of comfort and flexibility.
Step 5: Once the hide is prepared by Diane and ready to become a jacket, a hat or a pair of slippers, the sheepskin garment is sewn together with tough nylon thread, and all of the seams are double-stitched for durability, so, with the right care, your shearling item will last for years to come.
Step 6: Finally, the buttons we use in our sheepskin coats and other garments are handmade from antlers that are naturally shed by deer and elk each year, which means that each set of buttons is truly one-of-a-kind and unique to your item.
Order Your Own Custom Sheepskin Garment Today
The next time you see a genuine sheepskin jacket, think about all the steps that go into making such an impressive product from start to finish – authentic hide, natural antler buttons and all – and you won't be able to resist getting one for yourself. Place your order on The Sheepherder website today, and within weeks, you'll have a custom shearling garment to call your own!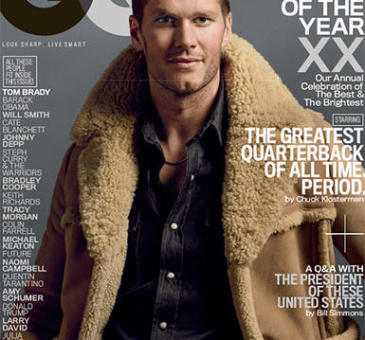 Brave the Freezing Temps During NFL Playoffs with Custom Sheepskin Gear!
Tom Brady covered the December 2015 issue of GQ magazine, and the football icon was dashing as ever in his luxurious sheepskin jacket, complete with a huge shawl collar and oversized pockets – perfect for those mammoth football hands of his. GQ's Tom Brady issue was published just before the first round of the NFL playoffs, which started on January 9, and will lead up to Superbowl 50, airing on February 7, and GQ probably didn't realize at the time how fitting it was to outfit Tom Brady in sheepskin for the cover shoot. Let's just say the Seahawks and Vikings players probably would have killed for a sheepskin jacket during their playoff game on January 10, which set records for the below-zero temperatures players and fans were forced to endure.
According to reports, the Seahawks-Vikings playoff game in Minneapolis on January 10, was the coldest game in Vikings history, and the third-coldest game in the entire history of the NFL, with temperatures dropping to -6 degrees at the stadium, and a -25-degree wind chill making matters much, much worse. It was so cold, in fact, that beer was freezing in mid-air and photographers were using sideline heaters to warm up their camera batteries. SO cold, that the Vikings' famous gjallahorn, which the team uses before each game to announce the players' arrival on the field, actually shattered. In an effort to combat the freezing temperatures, the Seahawks and Vikings players were outfitted with cold-weather gear specifically designed for athletes performing in frigid conditions, but the fans weren't so lucky.
The next round of playoffs on January 16 and 17 will see battles between the Chiefs and the Patriots in Boston, the Packers and the Cardinals in Phoenix, the Seahawks and the Panthers in Charlotte, and the Steelers and the Broncos in Denver. Not all of the NFL playoff games will be as bone-chillingly cold as the Seahawks-Vikings game of course, but those played in colder locales are sure to be chilly, and most fans don't have access to that special cold-weather gear the athletes get. That's where sheepskin comes in! Designed with a durable suede exterior that blocks those bitter winds, and a natural wool interior that retains your body heat and keeps you warm even in the coldest temperatures, our sheepskin coats and gloves are the perfect complement to your game-day gear.
Known by many as the greatest quarterback of all time, Tom Brady has also earned a reputation as a fashion icon, and the fact that he covered GQ in such a beautiful sheepskin coat will likely have fans (male and female alike) running to their computers to order their own, whether they plan to attend an NFL playoff game or not. The Sheepherder has wide selection of fine sheepskin apparel for sale, including handmade shearling gloves, cozy sheepskin slippers, genuine sheepskin jackets for men, women and children, and more. Get your own pair of custom shearling gloves or a handcrafted sheepskin coat today, and you'll be warm as ever during the NFL playoff games!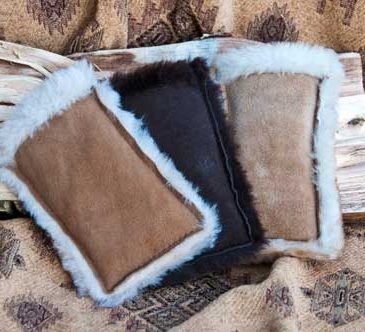 Top 5 Best Sheepskin Stocking Stuffers for Christmas
It's hard enough finding the perfect Christmas gift for friends and family members, and it can be even harder to find a small, inexpensive gift to wrap as a stocking stuffer for the husband, wife or kids. Lucky for you, we have quite a few affordable shearling accessories made from authentic sheepskin that will make great stocking stuffers this Christmas. Order your sheepskin stocking stuffers today to ensure delivery in time for the holidays!
Shearling iPhone/Eyeglass Case
A sheepskin iPhone case is the perfect stocking stuffer for a teen who can't take her eyes off her smartphone, and with a soft shearling inside, you can rest assured that the expensive device will be protected from damage. The outside of our handmade shearling iPhone cases is a durable suede that will last for years and makes it easier than ever to find in her purse or car. Plus, in a pinch, the iPhone case can pull double duty as a sheepskin eyeglass case!
Sheepskin Steering Wheel Cover
There's nothing worse than getting into a freezing car in the winter and having to grab onto an ice-cold steering wheel. That's where our handmade sheepskin steering wheel covers come in. Made from 100% shearling, our steering wheel covers are attractive, comfortable and luxuriously warm, and they make the perfect stocking stuffer for anyone in the family.
Sheepskin Seat Belt Cover
Have two family members who share a car? Gift one a sheepskin steering wheel cover and the other an authentic shearling seat belt cover, so they can both ride in style. Our custom seat belt covers are made using the same luxurious material as sheepskin car seat covers, and measure 8" to 10" long, for comfortable protection across your neck and chest. They also feature a convenient Velcro closure for easy on and off.
Kids Shearling Mittens
Score some brownie points this Christmas when you stuff your child's stocking with a pair of genuine sheepskin mittens, made in a variety of colors, including pink, grey, black and tan, to match his or her personal style. Our handcrafted shearling mittens are made using authentic sheepskin, with a durable suede outside and warm wool inside, and feature a D-ring clip to easily attach the mittens to your child's winter coat.
Ladies Sheepskin Earband
Not everyone likes to wear hats in the winter, and our handmade sheepskin earband for women is a warm and stylish accessory that will go great with any outfit, while keeping her exceptionally warm, even in the coldest weather. The genuine shearling earband is warm and comfortable, featuring a soft elastic back for a perfect fit, and its affordable price makes it the perfect stocking stuffer for the lady in your life!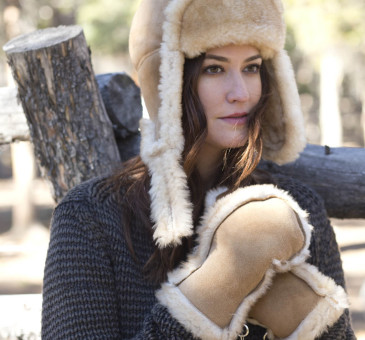 Boost Your Winter-Weather Look With These Five Sheepskin Accessories
Some people would argue that it's easier to be fashionable in warmer weather, when the temperature doesn't dictate as much what you can get away with wearing, but who's to say that your winter wardrobe can't be just as stylish as your spring, summer or fall attire, if not more so? The fall and winter seasons are all about layering looks and creating unique and stylish outfits with warm, chic outerwear and sophisticated accessories. This winter, you can upgrade your cold-weather look and enliven your stalwart pieces, while staying super warm and cozy, with these genuine sheepskin accessories that are both comfortable and on-trend.
Unisex Shearling Aviator Hat – There's nothing warmer than a genuine sheepskin hat, and our classic shearling bomber hat for men and women is no exception. The handmade shearling aviator hat comes in a variety of colors to match your own personal style, and the Velcro detail on the shearling strap gives you the option of folding the ear flaps up or down, for extra protection against the elements.
Sheepskin Mittens for Men and Women – Mittens aren't just for kids these days. A pair of genuine sheepskin mittens will keep your hands nice and toasty, even in the coldest weather, thanks to your own body heat warming up the sheepskin inner and the outer suede blocking those bone-chilling winds. Our custom shearling mittens for women and men feature attractive wool-out seams and a D-ring detail so you can clip them to your outerwear.
Ladies Sheepskin Earband – If you're not one to don a hat even in the coldest weather, try our authentic shearling earband on for size. The custom sheepskin earband features a soft elastic back for a snug and comfortable fit, and can fit right in your pocket when you're not wearing it. Our ladies earband is handmade using genuine sheepskin, and boasts a warm and attractive natural hide with cozy wool-out edges.
Shearling Diplomat Hat for Men – Drawing inspiration from the most frigid Russian winters, our men's sheepskin diplomat hat is a classic look for any gentleman's cold-weather wardrobe. The custom shearling hat for men features a thick, genuine sheepskin brim for added warmth and style, as well as a natural hide that beats pretty much any other wintertime material in terms of luxury and durability.
Sheepskin Driving Gloves – Nothing says like warmth and style like a pair of well-fitting driving gloves, and these sheepskin beauties are the perfect accessory for any winter-weather outfit. Our authentic sheepskin gloves feature a natural hide outer and soft wool inner that will protect your hands from the coldest weather this winter can throw at you!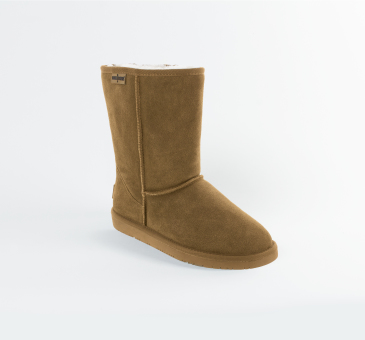 As we head into the winter season – sure to be a cold one if last winter was any indication – you've probably already pulled out your favorite sheepskin boots from storage, only to find that they are a little grimy…er, well-worn. Lucky for you, genuine sheepskin will last a lifetime if you care for it properly, and the same is true for our Minnetonka shearling boots, which feature a soft suede upper and a sheepskin and wool blend lining. Sheepskin is a natural, durable material that can easily withstand the elements, which is why shearling boots are so popular for winter wear. Care for them the right way, and you can enjoy the same pair of sheepskin boots for years to come!
For those of you who own a pair of authentic sheepskin boots, you know that they are so incredibly warm and comfortable, you'd be hard pressed to trade them in for anything else during the winter, especially when the temperatures drop and it feels like the chill is reaching right through to your bones. Unfortunately, that also means that your sheepskin boots see a lot of wear during the winter, when the mix of snow, dirt, gravel and salt leaves a layer of grime on your shoes that seems impenetrable. Not so!
With the right sheepskin care and cleaning tips, you can transform your well-worn shearling boots from soiled and grubby to clean and pristine, and make them look great and last as long as you need them to. We recommend two products when cleaning or caring for sheepskin, and protecting the natural material from future damage – a rain and stain shield made for suede or leather for the outside and a mild detergent to clean the wool on the inside. If you've noticed that your sheepskin boots have become dirty, soiled or water-spotted, a suede conditioner or cleaner should do the trick.
To clean your sheepskin boots, hand blot the area with a rag, mild detergent (or your everyday hair shampoo) and cold water, being careful not to soak through to the suede. Then carefully rinse and hand blot the excess moisture using a clean, dry towel, and let the boots air dry. Brush the wool when it is nearly dry to fluff it back up. If your sheepskin boots are exceptionally soiled, your best bet might be to take them to a dry cleaner that specializes in leather and/or furs. Also, if your shearling boots ever become significantly wet, it's best to let them dry slowly over time, without placing them in direct heat, which can damage the sheepskin.
One of the most important things to remember about sheepskin, is that you should try to clean the spot or stain as soon as it occurs, rather than letting it set over time. So, at the end of this winter, when you get ready to pack away your shearling boots in favor of flip-flops, remember to treat any grime or stains right away, so when you pull them back out next winter, your shearling boots are good as new!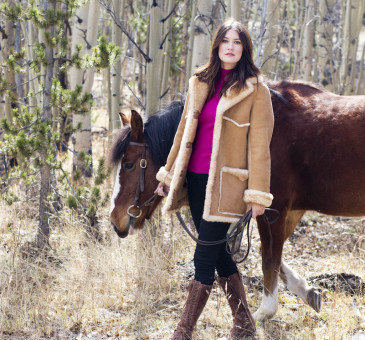 Forget puffy coats and bomber jackets; when it gets really cold, all you really need is good old-fashioned sheepskin. Not only is genuine sheepskin a heavy hitter in the warmth department, it is also on track to be one of the most popular trends for winter 2015-2016, both on the runway and off. From the statement shearling capes featured in Burberry Prorsum's Fall 2015 Ready-to-Wear collection, to the classic sheepskin jacket that can be found in nearly every fashion-forward celebrity's fall/winter wardrobe, you can't go wrong with an attractive shearling coat that checks all the boxes for warmth, comfort, durability and style this fall and winter.
Handcrafted Shearling Coats for Men and Women
We can all agree that sheepskin is one of the warmest materials out there, which makes it the obvious choice for your go-to winter coat. The only bad news about sheepskin is, the natural material can put a serious dent in your wallet if you're not careful; we're talking in the thousands of dollars. Lucky for you though, The Sheepherder offers a wide selection of shearling coats for men and women that offer the perfect style for your budget. The following are our top picks for the best sheepskin jackets for fall and winter 2015-2016:
Ladies Rancher Sheepskin Coat – This is one of our favorite sheepskin coats for women. The attractive wool-out seams and the Western styling in the front and back yokes make this jacket a great option for your fall and winter wardrobe. And with three-inch rolled cuffs, a notched collar and patch pockets, you won't find a more beautiful shearling winter coat at this price point.
Men's Cattleman Sheepskin Coat – When it comes to the best shearling coat for the guys, our Men's Cattleman Sheepskin Jacket is our top pick. This authentic sheepskin coat features a wide shawl collar and three-inch rolled cuffs for extra warmth, as well as genuine antler buttons for an attractive and masculine look.
Columbine Shearling Coat for Women – If you're looking for a shorter sheepskin coat with a feminine silhouette, try our warm and elegant Ladies Columbine Sheepskin Coat. The jacket features attractive princess seams on the front and back, with wool-out trim down the front of the coat and around the bottom, as well as a cozy notched collar and three-inch rolled cuffs that will keep you warm even in the chilliest weather.
Classic Sheepskin Jacket for Men – The name of this men's shearling coat says it all. For a traditional, masculine look around the ranch or out on the town, check out our Men's Classic Sheepskin Coat, featuring oversized pockets and a leather-trimmed collar and cuffs. This is one of our most popular sheepskin jackets, and is perfect for any outfit – dressy or casual.
Ladies Classic Shearling Coat – For a more traditional look on the ladies' end, our Classic Sheepskin Jacket for Women is a great winter coat for any occasion, made with a shawl collar, three-inch rolled cuffs, and oversized pockets that are guaranteed to keep your hands toasty warm all winter long.