Archive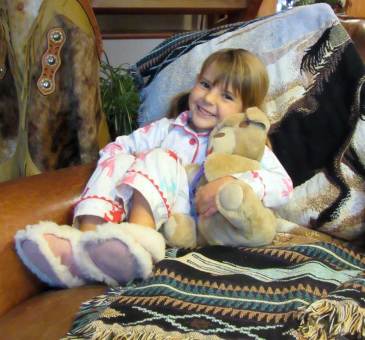 Sheepskin Stuffed Animals and Toys for Kids
Our sheepskin garments are certainly loved by adults, but there's no reason young children can't enjoy the comfort and durability of soft, plush sheepskin too! Sheepskin is one of the softest and most luxurious materials out there, which makes it a fine choice for children's stuffed animals. We take pride in the quality of our shearling products at The Sheepherder, and we are fully devoted to creating sheepskin items for the entire family to enjoy. That's why, in addition to shearling jackets, vests, slippers and accessories, we also offer handcrafted sheepskin animals that make perfect gifts for your little ones.
Soft and Cuddly Sheepskin Teddy Bears
Our small sheepskin teddy bear is soft and snuggly, made from luxurious shearling wool and stuffed with wool shavings to make it the perfect cuddle buddy for children and even adults. The sheepskin teddy bear comes in a variety of tones, which you can hand pick to match your child's favorite color, and is outfitted with a leather nose, eyes and tongue. To care for this little sheepskin friend, don't wash or soak through the suede; simply touch up the wool with a small amount of liquid soap and water, and he (or she) is good to go!
Luxurious Sheepskin Bunny Rabbits
If your son or daughter is over the teddy bear phase, an adorable sheepskin bunny could be the perfect fit. Our cuddly little shearling rabbits are delightfully soft, and, like the teddy bears, are stuffed with sheepskin shavings to create a perfectly huggable friend for your child. Choose from a variety of colors, including ivory, sahara, gold misty, ranch, grey, basic black and pink, or mix and match tones to create a personalized sheepskin bunny for a baby shower, Christmas or birthday gift. Caring for your sheepskin bunny is easy; simply touch up the wool with water and liquid soap, being careful not to soak through the suede, and the stuffed animal will
Sheepskin Stuffed Animals for Children and Adults
Just like our shearling garments, our sheepskin stuffed animals at The Sheepherder are constructed with comfort and durability in mind, and are made to last. If you're looking for the perfect gift for your child, niece, nephew, or family friend, our sheepskin teddy bears and bunnies are sure to fit the bill. These luxurious sheepskin stuffed animals are, by design, safe for children, complete with leather accents instead of glass or plastic eyes and noses that can hurt or pose a choking hazard for small children. Our sheepskin teddy bears and rabbits are looking for a good home, and are so cute and loveable, you may even want to keep one for yourself!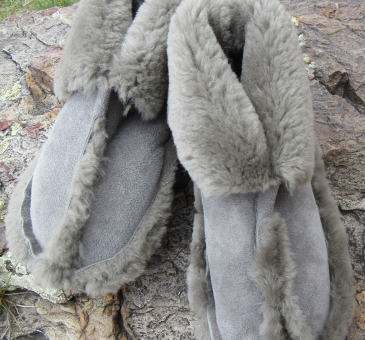 20% OFF All Sheepskin Slippers*
Order online this holiday season and skip the in-store Black Friday madness! Get 20% off all Sheepherder sheepskin slippers – the perfect gift this Christmas! Choose from our selection of full foot and scuff slippers for men, women and children.
Enter promo code BLACK12 to claim your savings at checkout!
Shop all sheepskin footwear now!
*Valid 11/22/12 – 11/25/12, on Sheepherder brand slippers only. Discount applied at checkout. This discount is only valid for Sheepherder brand slippers. If the discount is applied to any other item you may be charged an additional 20% after checkout.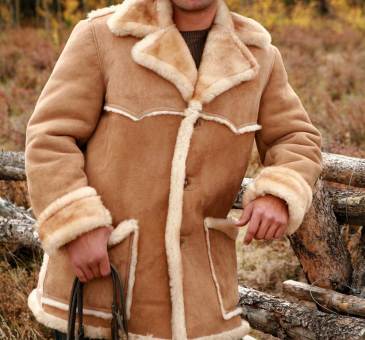 We take pride in the fact that our sheepskin garments at The Sheepherder are constructed using only high-quality shearling from the finest tanneries in the United States. When it comes down to it, there is nothing quite like the silky wool and smooth suede found only in genuine sheepskin hides, and when you order a shearling product from our Colorado shop, you can rest assured that authentic sheepskin is exactly what you're going to get. Here at The Sheepherder, we leave the guesswork out of shearling garments, handcrafting high-quality sheepskin jackets, vests, slippers and accessories for every single one of our customers, satisfaction guaranteed. Despite their major differences though, it may not always be easy to differentiate between high-quality and low-quality sheepskin, which is why we have compiled for you the major pros and cons of genuine sheepskin and faux shearling garments below.
Authentic Shearling Coats and Slippers
Shearling, which consists of the skin from a yearling sheep or lamb that has only been shorn once, is a hide that is tanned with the soft wool still attached. Before we can create custom sheepskin garments with the material, the shearling must be processed, which takes a full 21 days. The resulting product is a soft, supple sheepskin, unlike the dry and scratchy sheepskin often found in imitation products. One of the most favorable features of genuine sheepskin is that, when the hide is processed correctly, it will naturally wick away moisture and remain cool even in warm weather. This is because real sheepskin has hollow hair shafts, which allows air to flow in and around the hairs, preventing sweating and keeping you comfortable year-round. In addition, when properly cared for, authentic shearling garments will last a very long time, unlike imitation products that may begin to show wear and tear early on.
Imitation Sheepskin Products
Regardless of how genuine they may look or feel, imitation or synthetic sheepskin coats, vests or slippers just aren't the same quality you'll find in an authentic sheepskin product. But how can you tell the difference between the two? Unlike genuine shearling, the wool you see in a faux sheepskin garment is a separate lining that is glued, mended or sewn to the suede. Imitation shearling garments are also usually made from polyester or acrylic – materials that are far less breathable than sheepskin and may keep you warm, but will also trap moisture and make you sweat. Although faux sheepskin products are typically cheaper than the real thing, the long-term usability and durability of the jacket, vest or slippers just won't stand up to the authentic handcrafted garments we create at The Sheepherder. In the end, despite the fact that imitation sheepskin may resemble a genuine shearling product, the end product is far from authentic.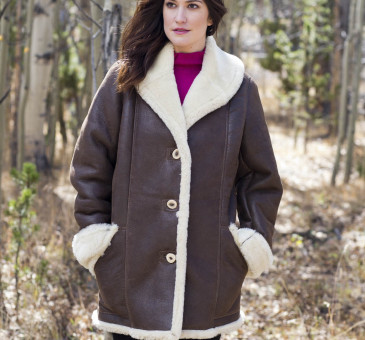 How to Fit a Custom Sheepskin Coat or Vest
The main quality that sets Sheepherder shearling jackets and vests apart from other sheepskin garments is that all of our items are custom-made to order, created by hand in our Colorado shop to match your specific requests for fit, style and color. The result is a beautiful, stylish sheepskin coat or vest handcrafted to your individual specifications, and guaranteed to look and fit great. In order to achieve this sleek, tailored look though, it's important that your sheepskin garment is properly sized, which is why we ask that all of our customers submit a fitting sheet along with their order for a custom shearling jacket or vest. Our Sheepherder sheepskin products are made with careful attention to quality and detail, and the result is a comfortable and durable genuine sheepskin coat or vest.
Taking Accurate Measurements for Shearling Outerwear
In order to guarantee the best fit for your shearling vest or jacket, it is important to obtain an accurate measurement of several different parts of your body. The following are the different measurements we need to create a comfortably-fitting and properly-sized custom sheepskin coat or vest:
For sheepskin outerwear, height, weight and suit or dress size are three critical measurements, helping us to create a custom item that isn't too tight, too loose, too long or too short.
Another number we need is the width of your shoulders, taken by measuring around your entire body – front and back – at the fullest part of the shoulders, with your arms relaxed at your sides.
Next is the chest or bust, which can be calculated by measuring around your chest with the tape measure under the armpits and over the shoulder blades.
To accurately calculate the waist, measure around your stomach at your natural waistline, or around the fullest part of your belly, allowing for some movement and breathing room.
For the hips, take a measurement around your entire body at the fullest part of the butt while standing comfortably with your feet slightly apart.
Finally, to calculate the proper length of your sleeves (for a coat only), measure from the tip of your shoulder to the crease of the thumb and forefinger, with your arm hanging at your side.
One of the most important things to remember when taking measurements for sheepskin outerwear is to remain relaxed, breathe normally and don't suck in!
Quality Shearling Garments from Authentic Hides
Here at The Sheepherder, we pride ourselves on working with only the highest quality sheepskin materials, using authentic hides that are a valuable by-product of sheep commercially raised in the Rocky Mountain states. Because sheepskin is a natural hide, your shearling jacket or vest will mold to your body over time, but it will not stretch or shrink like other fabrics or imitation sheepskin garments may. Sheepskin products may feel stiff the first time you put them on, which is normal, but after a few wears your shearling vest or coat will become noticeably softer and more supple. Sheepskin vests and jackets are comfortable and stylish, and are sure to last for years to come. For more information about how to fit a custom shearling garment, visit our fitting room and let us get started on your custom sheepskin coat or vest today!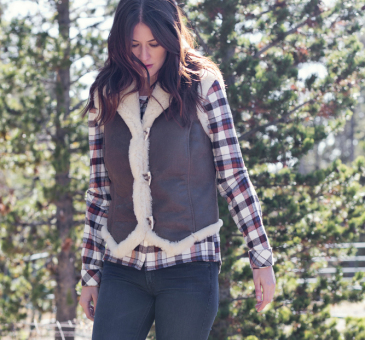 Here at The Sheepherder, our sheepskin garments are 100% genuine products, meaning they are made in the USA using the hides of sheep commercially raised in the Rocky Mountain states and are not synthetic in any way, shape or form. To process and tan the high-quality shearling we use in our coats, slippers and other sheepskin garments, the hides are put through a very precise 21-day process, which leaves us with a soft, warm and comfortable material that naturally wicks away moisture from the body. Because our shearling garments are constructed using natural hides, there may be small variations in different dye lots, but the overall color will be consistent throughout the garment. Keep in mind, we offer a variety of attractive colors for our sheepskin jackets, vests, slippers and other products, so you can choose the color that suits you best!
Customize Your Sheepskin Product
Sheepherder shearling garments are made using one continuous piece of natural hide, meaning the wool is not glued or sewn to the leather, as it might be in an imitation sheepskin coat or jacket. The natural color of sheep's wool is a mixture of gray and white, but the wool used in a shearling garment is typically bleached white or can be dyed grey, black, brown or even pink to complement the color of the outside leather portion of the product. At the same time, the hide is tanned and may also be dyed to match the color of the inside wool for a cohesive and aesthetically pleasing sheepskin garment. At The Sheepherder, we offer a variety of stylish colors for our shearling garments so that our customers can truly customize the look of their sheepskin product, as well as its size, fit and style.
Sheepskin Garment Colors at The Sheepherder
If you are interested in a men's, ladies' or children's sheepskin garment, we offer these products in the following colors: Ivory, Sahara, Gold Misty, Ranch, Grey, Basic Black and Pink. Again, regardless of the color of the sheepskin product you choose, both the wool and leather will be dyed so they match. We also offer top-quality ladies' deerskin vests and men's elkskin vests, both of which come in Palomino, Gold, Saddle, Mahogany, Chocolate and Basic Black. Sheepskin slippers have always been a favorite among men, women and children, and shearling jackets and coats have recently come back in style for all age groups. One of the great things about shearling garments is that they are appropriate for both dressy and casual wear, and, at The Sheepherder, you can choose whichever color you think will work best for your style!

The holidays are just around the corner, and our warm and comfy sheepskin products at The Sheepherder make a great gift for the whole family for fall and winter. Even better, because our shearling outerwear is made from genuine sheepskin, which has natural hollow fibers, our slippers, vests and jackets wick away moisture and will even keep you cool in the hot summer months. The following are our top picks for sheepskin gifts this holiday season – all custom-made by Diane Blessing in her shop in Alma, Colorado, and all guaranteed to fit and feel great. So, visit The Sheepherder to give the gift of sheepskin garments this holiday season, and wrap your family in comfort and style that will last year-round.
Cozy Sheepskin Slippers for Children
Our luxurious shearling slippers offer the utmost in comfort and durability, and are the perfect gift for your little one, regardless of his or her age. The Sheepherder's shearling slippers are custom-made in the USA, and we use only the highest-quality materials in our products, so they are sure to last longer than the typical pair of kids shoes you find in retail stores. Our sheepskin footwear for kids is second to none, and we offer shearling slippers for men and women too, so keep your whole family's feet warm in The Sheepherder sheepskin slippers this winter!
Stylish Ladies' Shearling Vests
Our best-selling sheepskin vest for women is the Ladies Wrangler Sheepskin Vest – a versatile and comfortable shearling vest suitable for either dressy or casual wear. The Sheepherder ladies' sheepskin vest is designed to be slim-fitting, and features stylish wool-out trim and antler toggles with loops for easy closure. Our shearling vests for women are tanned and constructed right here in the USA, and even the buttons are natural, handmade from the antlers shed naturally by deer and elk. Another sheepskin vest option for women is the Ladies' Silverheels Sheepskin Vest, which features a sleek design and elegant, hand-stamped sterling silver buttons.
Sheepskin Jackets and Coats for Men
The shearling jacket preferred by most men is our Men's Classic Sheepskin Coat, a warm and comfortable jacket that boasts a traditional design perfect for dressing up or for casual wear. This custom-made sheepskin coat for men features a leather-trimmed collar and oversized pockets, which give the jacket a classic but stylish look. Other great shearling coat gift ideas for your boyfriend, husband, father or son include our Cattleman jacket, the Colorado  sheepskin coat, our Long Classic jacket, the Rancher jacket, and our Men's Riding sheepskin coat. Shearling jackets for men have regained their popularity, so don't miss out on the opportunity to give the gift of sheepskin this winte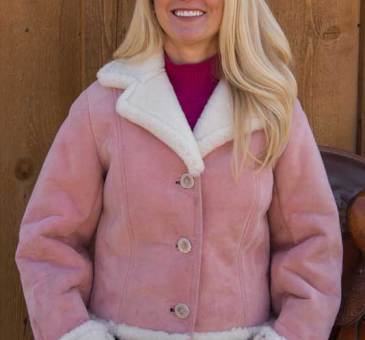 Sheepskin Garments For Fall
No matter how hard you try to fight it, the kids are back in school, the leaves are starting to fall off the trees, and summer has come to an end. What better way to transition into your fall wardrobe than to treat yourself to a cozy and luxurious sheepskin garment, custom-made especially for you? At The Sheepherder, we take pride in all of our shearling outerwear and sheepskin slippers and footwear, and even our accessories – like headwear and toys – are carefully constructed with premium materials and close attention to detail. We offer a variety of quality Sheepherder sheepskin products for men, women and children, all of which are hand-crafted by Diane Blessing herself, in her shop in Alma, Colorado.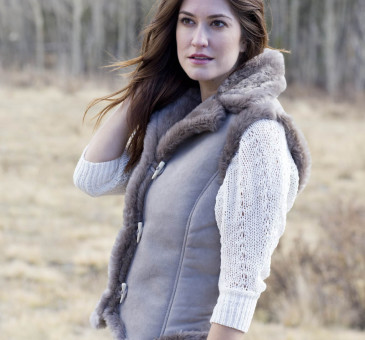 Sheepskin for Fall
The sticky summer heat has finally given way to crisp autumn weather, and we are getting plenty of requests for sheepskin coats and shearling slippers from customers looking for ways to stay warm this fall and winter.  October is just around the corner, and whether  you live in the mountains or at the beach, a comfortable shearling vest or a patchwork sheepskin blanket could offer the ultimate warmth for those chilly mornings and cool evenings that are sure to come.  If you're researching the best sheepskin products for fall, look no further.  At The Sheepherder, our sheepskin coats, vests, slippers, and shearling accessories are all handmade in the USA , and we use only the highest-quality materials in our products,  so you know you are getting the very best!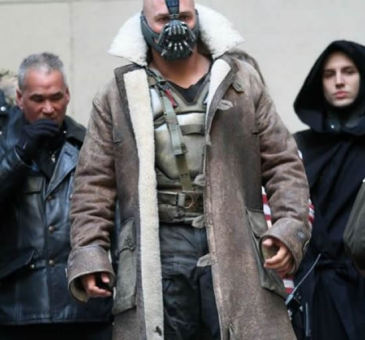 With the popularity of the Dark Knight Rises, sheepskin jackets have gotten a unexpectedly new cool.  Although I must admit I haven't seen the movie yet, a phone call from a potential client the other day got me interested.  He was asking if we could custom make him a jacket like the sheepskin coat the main character in the Batman movie wears.  Well, I thought, why not?  We searched some images of Bane, the lead character, to check out what his sheepskin outerwear looked like.
If you haven't seen the movie, here's a pretty good picture of the villian, Bane:
Now that we have the image, the next question is: can we make you a sheepskin coat like the Batman movie?  Well, we've decided we can come pretty close.  The coat that Bane wears in the Dark Knight Rises is not too far off from our Men's Classic Coat in a 3/4 length.  We could make it full length if you wanted (there are always extra charges if we add on length).  We can match the collar, the sleeves and the general look and feel. The pockets on Bane's sheepskin coat are a little difficult and we might not be able to match those exactly, but we can put on a pocket that will compliment the jacket in general. The loops on this mens sheepskin coat buttons can be copied as well.
The one curiosity on this Batman movie coat is that it looks like this coat is made from one long piece of shearling, rather than having a yoke – or separate piece for the shoulders.  I don't know that we could get one full piece of shearling long enough to make the coat seamless, but we can surely do a yoke that is not too noticable.
The client that called about the Batman shearling coat asked if we could do wool seams and lining for a little different look.  We can always customize your sheepskin coat with small details like that, if you would like.  Same goes for the color – despite the worn and dirty look of the anarchist in the picture, if I had to guess I would say the coat is a grey on white color. We do have grey on grey or tan on white, but we don't have that exact color combo.  However, we have tons of other sheepskin colors that would look great with this look.
It's always nice when an item that is as underestimated like sheepskin gets an unexpected boost from a big Hollywood movie!  Well, we'll see if sheepskin jackets become the next big rage – they've always been a solid classic. Don't forget, the The Sheepherder also makes top quality shearling vests for women, children and men, as well as ladies sheepskin coats and great cozy sheepskin slippers for the whole family.  And it's all made by hand in the USA!
Now, the scary Hannibal Lector mask… we'll leave that up to you.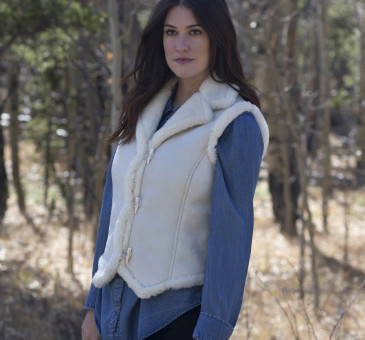 Shearling Vests
Whether you live in the mountains or in the "flatlands" as we call them here in the mountains, a shearling vest is always a a good choice.  A Wrangler shearling vest for women or a Mountaineer shearling vest for men will see you through those chilly mornings and evenings no matter where you live, summer or winter.  They give you comfort and style all in one package.  Sheepskin vests keep the core insulated, while allowing greater freedom of movement.
Each sheepskin vest is custom made by Diane at her shop high in the Rocky Mountain town of Alma, Colorado.  If you are traveling in the area for a summer trip, plan on a stop there to view her full line of shearling coats, vests and accessories for men, women and children at The Sheepherder store.  Take the time and get personally measured for your custom shearling to assure the perfect fit.  Diane is always at the store to help with your decisions on any type of shearling product.
As always "Made in the USA"