Archive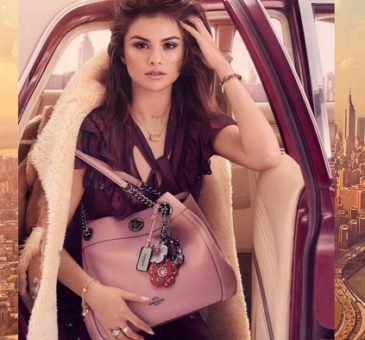 Selena Gomez Stuns in Sheepskin for Coach's Fall 2017 Campaign
Selena Gomez landed the role of brand ambassador for Coach in December, and just last week, the fashion house released the images for its fall 2017 campaign, featuring the "Bad Liar" singer swagged in sheepskin. In the photos, shot by photographer Steven Meisel, Gomez lounges in the back seat of a 1976 Plymouth Fury, draped in various Coach handbags and luxe sheepskin jackets, and if the images don't make you yearn for fall shearling coat weather, we don't know what will.
Sheepskin – A Fall Favorite
This latest collection for Coach features ready-to-wear clothing, leather goods and accessories for fall and winter, and in a press release, Coach explained that the shoot was meant to evoke the brand's classic Americana vibes. In one photo of Selena Gomez sporting a flowing purple dress and clutching a pink handbag, the singer has a classic sheepskin jacket draped over her shoulders, a luxurious garment that looks just like our Ladies High Country or Ladies Rancher genuine sheepskin coats.
Prepping Your Wardrobe for Fall
It may seem far too early to be thinking about your fall wardrobe, but now is the time that brands like Coach launch their fall and winter lines, and it's also the perfect opportunity to ensure that your fall attire is on point and on trend, without breaking the bank. All of our shearling jackets at The Sheepherder are made from 100% genuine sheepskin, and are meant to last for years with the right care, making them not only a stylish purchase, but a smart investment as well.
Shearling garments have been around for what seems like forever, outliving plenty of temporary trends, and there's a simple reason for their staying power in the fashion world. Genuine sheepskin is a durable, stylish material that surpasses most other textiles in warmth and comfort, which makes it an obvious choice for winter wear. And with a variety of styles, cuts and colors to choose from, the timeless winter classic is something that can easily transition to fall, spring and even summer.
Get Your Own Custom Sheepskin Jacket
Due to its hollow fibers, sheepskin wool has a natural breathing quality that wicks away moisture from the body, keeping you warm in cold weather and cool in warm weather, and this means you can wear your shearling coat all year long, regardless of the temperature. If you're looking for something to complement your sheepskin jacket, The Sheepherder also carries fine shearling slippers, vests, Ugg-style shearling boots, and sheepskin hats and accessories, so you can stock your closet with well-made garments that are guaranteed to stay in style for the foreseeable future.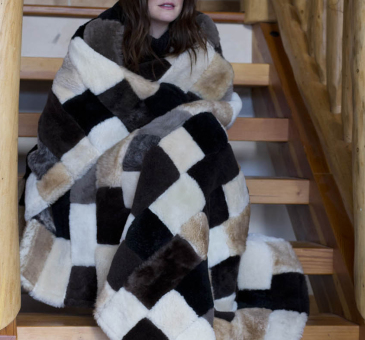 Get on Board with 2017's Scandinavian-Chic Trend
This year's most popular home decorating style is all about clean lines and soft textures, with simple, pared-back décor reigning supreme, and comfort and quality a top priority, and our handcrafted sheepskin home goods at The Sheepherder are the perfect accessory to match your Scandinavian-chic sanctuary. Sheepskin is a natural material that has a soft, silky wool on one side and a durable suede on the other, making it a great option for any room of the house, especially when paired with other more solid natural textures, like wood or stone.
Why the Scandinavian Style is Popular
More and more people are transforming their busy, cluttered homes into simple yet sophisticated spaces, inspired by the growing Scandinavian trend in home décor. The Scandinavian look is, above all, clean and fuss-free, with simple shapes and neutral, earthy colors that easily tie in with your other décor, whether your home is predominantly urban, rural, country, or a mix of several styles. You can master the Scandi-chic look in your own home décor by pairing a variety of textures, like wood, stone and marble, to create interest, and by softening the clean, straight lines of a typical home's architecture with warm and cozy pieces. One of the easiest ways to achieve this look is by layering soft, natural materials, like cotton and sheepskin, to create a warm and inviting space in your home where friends and family will love to gather.
From genuine shearling pillows to sheepskin patchwork quilts, we have a variety of gorgeous home goods for any décor style, all of which are handcrafted at the Sheepherder shop in Alma, Colorado, where Diane Blessing has been creating custom sheepskin apparel for more than 30 years. Not only are our shearling home goods cozy and stylish, they are made from 100% genuine sheepskin, the skins of domestic sheep raised commercially for their meat in the Western United States. The hides are a valuable byproduct, and all of the hides we use in our shearling products are tanned and processed right here in the U.S. The result is a beautiful, unique sheepskin piece that will last for years to come.
Get Your Own Sheepskin Home Goods Today
Whether you want to transform your entire home into a serene Scandinavian retreat, or simply infuse certain rooms with the Scandi-chic style that has become so popular in 2017, check out our website at www.CustomSheepskinJackets.com for our collection of authentic sheepskin home goods. Choose your own pattern and color scheme for a one-of-a-kind piece that will make the perfect accent for any room in your home.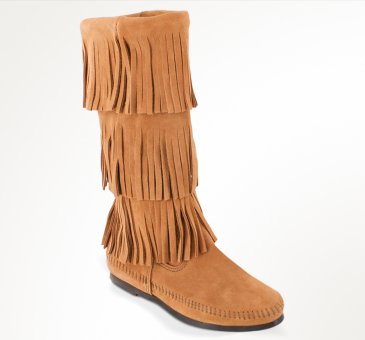 Treat Mom on Mother's Day with a Custom Sheepskin Garment
Mother's Day is the perfect opportunity to show Mom how much she means to you, and an authentic sheepskin garment custom-made especially for her is a gift she'll certainly never forget. All of our ladies' shearling apparel, home goods and accessories at The Sheepherder are made from 100% genuine sheepskin, and we have some great gift options available for Mom, including cozy sheepskin slippers, stylish shearling vests, and other handcrafted garments and accessories she'll love. The following are our top picks for sheepskin gifts for Mother's Day.
Slip-on Sheepskin Slippers – Looking for the perfect gift for a busy mom who is always on her feet? Our handmade slip-on sheepskin slippers feature a plush shearling interior that will wrap her feet in warmth and comfort day in and day out, and a durable suede exterior that will stand up to daily use. Plus, with a wear-resistant cowhide sole, these slippers are sure to last for years to come.
Minnetonka Three-Layer Fringe Boots – Make Mom the most stylish mother on the block with a pair of our best-selling Minnetonka Three-Layer Fringe Boots, the perfect addition to any outfit. Made from a soft, supple suede, and featuring a slip-resistant rubber sole, these boots can be worn comfortably year-round. And with a variety of colors to choose from, they are a unique Mother's Day gift any mom would love.
Silverheels Sheepskin Vest – On those cool spring or summer nights, a genuine shearling vest is a great way to stay warm and still look fashionable. Our Silverheels Sheepskin Vest is feminine and form-fitting, with clean, finished seams and authentic antler toggle buttons for a snug closure. Mom can pair her vest with a flannel shirt and her favorite jeans for a casual trip into town, or with a cute dress and boots for a date night out!
Shearling Patchwork Quilt – For moms who love to cozy up on the couch to read a book or watch a movie after dinner, our handcrafted sheepskin patchwork quilt plays double duty as a warm throw blanket and a beautiful showpiece that elevates any space in the home. Made from patches of genuine shearling in varying colors and sizes, this sheepskin blanket makes for a wonderful Mother's Day gift Mom will want to use every night.
Sheepskin Eyeglass or iPhone Case – If you're looking for a small and simple Mother's Day gift, nothing beats our dual eyeglass/iPhone case, handmade with a durable suede on the outside and a soft shearling on the inside, which will protect her phone or glasses from scratches, and make them easy to find in her purse or car.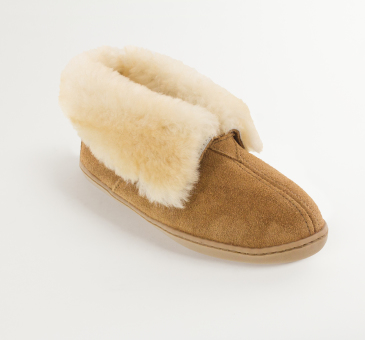 Sheepskin Boots and Other Items You Should Never Throw in the Dryer
With the convenience of clothing that is dry within minutes, it may be tempting to throw anything that's wet in the dryer, either after a wash cycle or on a particularly rainy day, so you don't have to wait for the items to air dry. However, there are certain clothing and household items that you should never tumble dry, including swimsuits, bras, bath mats, tights and other delicate garments, and among the items on this list are your favorite sheepskin boots and slippers. As much as it seems like a time-saver to throw wet boots in the dryer, so you can wear them that same day, it's one of the absolute worst things you can do for a natural material like shearling.
Making Your Sheepskin Boots Last
If you're like us, and sheepskin is your footwear of choice during the winter and spring, when snow and rain are sometimes more prevalent than sun, it's important to know how to properly care for your sheepskin boots and slippers, so you can ensure that they remain in great shape, no matter how often you wear them. Authentic sheepskin is a durable, natural material that can withstand the elements, which is why shearling boots and slippers are such popular footwear options for winter. However, without proper care and cleaning, natural sheepskin can become overly soiled and may even shrink or become dry and damaged.
How to Properly Care for Your Shearling Boots
In order to prevent your sheepskin slippers and boots from becoming heavily soiled, it's a good idea to, as soon as you get them, spray them with a non-silicone water repellant specially formulated for suede or sheepskin. This will protect the shearling against water spotting, and will prevent soiling. If your shearling footwear becomes soiled, you should try to clean the spot or stain right away, using a mild detergent like everyday hair shampoo. Hand-blot the spot with a rag and cool water without soaking through the material, and gently remove excess moisture with a towel.
Once clean, let the shearling air dry in a warm spot, out of direct sunlight, and away from the intense heat of a fireplace or heat register. The same goes for sheepskin that gets significantly wet, such as in a rainstorm. You should always let sheepskin dry slowly, without placing it in direct heat, and you should never put your sheepskin boots in the dryer, as this may cause the shearling to shrink or the natural oils from the leather to evaporate, resulting in dry, damaged leather. Once your sheepskin boots are nearly dry, simply brush the wool to fluff it back up, good as new.
Getting Your Sheepskin Dry-Cleaned
If your shearling slippers, boots, or any other genuine sheepskin garments become heavily soiled, your best bet is to have them professionally dry-cleaned by someone who specializes in cleaning leather, suede and/or furs. With the proper care and cleaning, you can ensure that your sheepskin garment stays looking beautiful for years to come. Check out our selection of shearling boots and other garments today at CustomSheepskinJackets.com.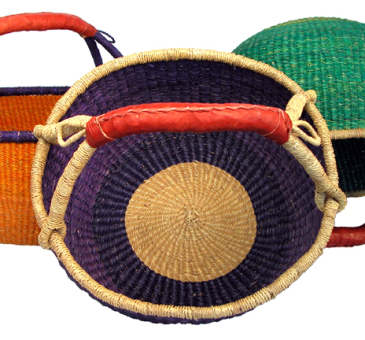 5 Ways You Can Make Your Dream Home Office a Reality
With the ever-changing nature of the workforce and a growing interest in entrepreneurship, more and more people are choosing (or creating) flexible, nontraditional careers that allow them to work from home at least part of the time, which means it's time to say goodbye to that drab spare room you call a workspace and hello to your dream home office. There are plenty of steps you can take to create a serene and stylish at-home workspace that encourages concentration, creativity and productivity. Below, we've compiled for you a list of the top five ways you can bring your dream home office to life.
According to research from Global Workplace Analytics, 50% of the workforce in the United States holds a job that allows at least partial telework (work at home), and approximately 20-25% of the workforce teleworks with some frequency. The Global Workplace Analytics research also shows that implementing nontraditional work environments where employees have at least partially flexible hours and can work from home two to three days per week "allows for a balance of concentrative work (at home) and collaborative work (at the office)."
Whether you primarily work from home, or often find yourself bringing your work home with you at the end of the day, having a comfortable and stylish workspace at home is key. "Everyone wants to put their desk in front of something that inspires them," says Kari Whitman, interior designer and owner of Kari Whitman Interiors, who has created home offices for Jessica Alba, Michael Keaton, Antonia Banderas, and other A-list celebrities. "Make your space about who you are, what you want to be, and where you want to go. They say, 'happy wife, happy life,' but I believe, 'happy work space, more production.'"
So, how do you create this dream office? Start with these five tips:
Designate a workspace. Some people prefer to work wherever creativity strikes, but having a designated workspace helps many work-at-homers get into work mode without unnecessary distractions.
Find the right chair. A proper desk chair is key to a productive work day, but it can be difficult to find a chair that is both chic and good for your posture. Try dressing up a vintage chair with a soft sheepskin blanket or throw for instant comfort and coziness.
Make it comfortable, but not too comfortable. You want to feel like you can spend the work day there without having to see a chiropractor, but you don't want to be so comfortable you're falling asleep at your desk. Try putting a sheepskin rug underfoot that you can curl your toes into for a little bit of luxury in your workspace.
Bring your workspace to life. Research from the International Journal of Workplace Health Management shows that the presence of a dog in the workplace reduces stress. If you're not a pet person, liven up your workspace with some low-maintenance potted plants on the windowsill.
Control clutter creatively. Since you're working at home and not at the office, you may be more prone to spreading your things out over your desk or the floor, which can create a cluttered, inefficient workspace. Try using pretty bowls, colorful catchalls or these handcrafted, free trade Ghana market baskets to control your clutter without sacrificing one bit of style.
Gigi Hadid Keeping it Cool in a Cozy Sheepskin Coat
Gigi Hadid is one of the top names in fashion these days, and the 21-year-old Victoria's Secret model proved that she's mastered the effortlessly cool look while out and about in New York City this past weekend, rocking a pair of blue and white pinstriped pants, a plain white T-shirt, and a cozy sheepskin-lined denim jacket. Leave it to Gigi Hadid to prove that winter wear can be just as stylish as spring and summer fashions, no matter how cold it gets. After all, who needs a big puffy coat when you can stay just as warm, if not more so, in a custom shearling coat?
Gigi Hadid presumably has a pretty extensive wardrobe, and therefore has quite a few sheepskin jackets to her name, and the model has, on numerous occasions this winter, topped off an attractive, fashion-forward outfit with a cozy shearling coat. In addition to the sheepskin-lined denim coat she donned over the weekend, she has also stepped out recently in a long black shearling jacket, which she paired with black leather leggings, a black top and black pointed-toe boots, and a short black, bomber-style sheepskin coat, which she used to finish off another stylish all-black outfit.
Sheepskin has been around for what seems like forever, but the naturally warm and cozy material was made popular again this winter, thanks to top fashion houses like Burberry, Tory Burch and Altuzarra, all of which featured sheepskin garments on their Fall/Winter 2016-2017 runways. The absolute definition of boho-chic, sheepskin is the perfect addition to any outfit, whether you're running errands all day, or out on the town at night. And while it's proven to be a great option for winter, genuine sheepskin can be worn just as comfortably in the spring, summer and fall. It has hollow fibers that naturally wick away moisture from the body, which means it won't make you sweat like synthetic sheepskin will.
In addition to Gigi Hadid, there are plenty of other fashion-forward celebrities, like Jennifer Lawrence, Kendall Jenner and Karlie Kloss, who have gotten onboard with sheepskin outerwear this season. If you're looking to up your fashion game this winter, you can get your hands on a genuine shearling coat from The Sheepherder for a fraction of the price fashion houses like Burberry and Tory Burch charge. Check out our collection of fine sheepskin jackets and authentic shearling accessories now at CustomSheepskinJackets.com.
Positive Reviews from Happy Sheepherder Customers
One of the cornerstones of The Sheepherder's business concept is customer satisfaction, and the painstaking attention to detail owner Diane Blessing puts into each and every sheepskin product she creates by hand keeps customers coming back for more. The quality, price, and craftsmanship of Sheepherder products just can't be beat, and it doesn't hurt that when you call The Sheepherder, you'll most likely be speaking to Diane herself, not a machine or answering service. As a result, Sheepherder customers have nothing but positive things to say about their custom shearling products, and past shoppers have called the Sheepherder shopping experience "wonderful," and the fit and craftsmanship of their handmade Sheepherder garments "exceptional" and "a work of art in every way." The following are some recent testimonials satisfied Sheepherder customers have been kind enough to write on our website:
Just received the diplomat hat and mittens. Very pleasantly satisfied with everything about them. The fit is perfect, and they look amazing. Looking forward to colder weather so I can use them, they are warm now, so keeping me warm this winter should be no problem. Thanks!!
Crawford – December 2, 2016
I received my Colorado jacket as timely as Diane had indicated! I was immediately impressed by the fit, and finish. Custom made to the specifications ordered. Initially I was unsure if I could measure my dimensions accurately but if you follow the directions for measuring Diane will do the rest. Bottom line excellent quality and priced well below other coats in the same category. Flawless seams etc.. I plan on ordering a vest next. I highly recommend the product. On a side note if you call them Diane will answer the phone not an answering service or computer. What a nice surprise!
Thaddeus Mercer – November 24, 2016
This is absolutely one of the warmest and visually appealing quilts you could ever own. My wife and I just love it. Just looking at it gives you a very cuddly feeling! No one can see it and not touch it! The sheepherder let us order a custom size, kept us posted on the progress, and delivered the quilt earlier than promised. Excellent customer service and an exceptional product at a very fair price. A must have!!!
Glenn Warner – August 29, 2016
Order Your Own Genuine Sheepskin Garment Today
Unlike chains and big-box retailers, The Sheepherder is an actual person in a shop in downtown Alma, Colorado, making your custom sheepskin garments by hand, and any shearling item you order from The Sheepherder is made from 100% genuine sheepskin, not the imitation or synthetic sheepskin that other stores use. When you order a shearling coat from The Sheepherder, or another authentic sheepskin garment, owner Diane Blessing uses your specific measurements and preferences for cut, color and style to handcraft a one-of-a-kind garment that you'll treasure for years to come. Visit the Sheepherder website at CustomSheepskinJackets.com now to order your own custom sheepskin jacket, slippers, boots or accessories today.
Last-Minute Gift Ideas for Everyone on Your Shopping List
You've probably got the majority of your holiday shopping done by now, but if you need a last-minute idea for a great stocking stuffer or small gift, check out our selection of genuine sheepskin accessories, home goods, car supplies and other handcrafted shearling items from The Sheepherder. No matter who's left on your shopping list, you'll find plenty of great sheepskin gifts on our website that your friends and family members are sure to love. Search our website for unique Christmas gifts this holiday season, or place a custom order for a handcrafted sheepskin garment you'll cherish for years to come. The following are our top picks for simple, last-minute holiday gifts for everyone on your shopping list:
Shearling iPhone/Eyeglass Case
You can't go wrong with a luxurious, durable shearling smartphone case as a stocking stuffer, grab-bag gift, or last-minute add-on gift. The case is made from 100% genuine sheepskin that softly cradles any iPhone or smartphone, protecting it from scratches and other damage in a purse or bookbag. And the best part is, it plays double duty as an eyeglass or sunglass case!
Sheepskin Steering Wheel or Seat Belt Cover
Not only do steering wheels get freezing cold in the winter, but they also tend to be scorching hot in the summer. You can solve both problems with a sheepskin steering wheel cover, which will keep your hands warm and cozy, no matter what type of weather you're driving in. Complete the set with a matching authentic shearling seat belt cover.
Soft and Cuddly Sheepskin Bunny
Little kids loved stuffed animals that they can snuggle up to at night, and our sheepskin bunnies are about as soft and loveable as you can get, stuffed with shearling shavings for an unmatched cuddle factor. If you have a little one left on your shopping list, order one of our adorable shearling bunnies, made by hand with child-safe materials and no plastic parts. Choose from a variety of colors for a truly one-of-a-kind shearling gift.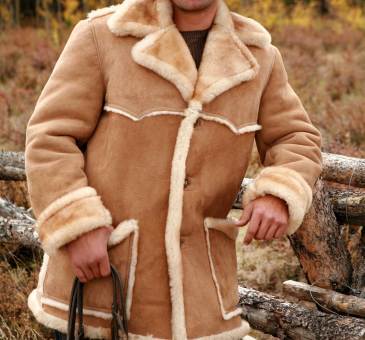 Five Weeks 'Till Christmas – Shop Sheepskin Now!
There are only five Fridays (five!) until Christmas, so if you haven't started your holiday shopping yet, now is the time to start checking items off your gift list. With a wide variety of fine sheepskin apparel and accessories for men, women and children, plus unique shearling toys and cozy sheepskin home goods, we have something for everyone this holiday season, which is a good thing, considering many of you probably have *everyone* to shop for still. We know what it's like to sit down with a long list of people to shop for and feel overwhelmed by a sudden lack of inspiration, so we've compiled for you a handy list of some of our favorite sheepskin Christmas gifts!
Sheepskin Christmas Gifts for Men
For that notoriously-hard-to-shop-for guy on your list, we have a variety of masculine sheepskin items to choose from, including rugged and durable men's sheepskin jackets, handcrafted from genuine sheepskin and guaranteed to last years longer than his regular old winter coat. If a custom shearling jacket is over your budget, our men's sheepskin slippers are just as cozy, and, even better, are extremely affordable. Still not satisfied? How about a beautiful, handmade sheepskin aviator hat or a pair of incredibly warm and sleek shearling gloves he can wear all winter long?
Ladies Shearling Gift Ideas
Where do we even begin? We have quite a few stylish sheepskin garments and accessories for women, including handcrafted shearling jackets, if you're looking for something that will really impress her, or, if you had a smaller gift in mind, luxurious, genuine sheepskin slippers that she can slip her feet into morning after morning. We also have beautiful shearling vests for women, sheepskin earbands to keep her ears warm on those chilly winter days, and impossibly comfortable and cozy ladies sheepskin mittens.
Handmade Sheepskin Items for Children
Finding a unique Christmas gift for a child may seem like an impossible challenge these days, but toddler to teenager, we have some great garments and accessories that are sure to please this holiday season. Love dressing your little guy up just like his daddy? Check out our sheepskin aviator hats for kids, or our children's sheepskin vests that he can get use out of all year long. Our shearling slippers are also a great gift idea for children, and young kids absolutely love our handmade sheepskin stuffed animals. If the child on your shopping list is older, why not surprise him with a sheepskin iPhone case for his new smartphone, or a shearling steering wheel cover for that new (used) car of his?
Get Your Sheepskin Shopping On!
The great thing about sheepskin is that it works for men, women and children of all ages, and there's also something extra special about giving a gift that has been handcrafted by an actual person in an actual store, rather than standing in an ridiculously long line at the mall to preorder whatever hot new toy is all the rage this year. We've compiled a list for you here of some of our favorite sheepskin gift ideas for this Christmas season, but we have so much more to offer on our website. Head on over to CustomSheepskinJackets.com now, to check out our full selection of genuine shearling garments and accessories for the whole family!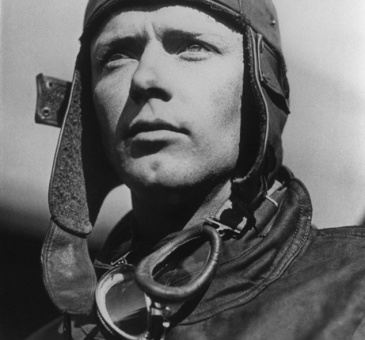 Get Your Own Sheepskin Aviator Hat Like Charles Lindbergh's
On November 16, the sheepskin hat aviation pioneer Charles Lindbergh lost while flying loop-the-loops over Paris after becoming the first person to fly solo across the Atlantic Ocean will be auctioned in the French capital, and the piece is expected to fetch upwards of 80,000 euros ($88,000). The cherished flying hat, a soft brown helmet-style piece with durable leather on the outside and warm sheepskin on the inside, was worn by Lindbergh during his record-setting New York to Paris flight in May 1927, which cemented the 25-year-old pilot's status as "The Lone Eagle."
According to reports, Charles Lindbergh lost his leather and sheepskin aviator hat twice in the span of just one week, the first time being when he was welcomed by a giant crowd at Paris-Le Bourget airport in 1927, after he completed the first solo non-stop transatlantic flight in his monoplane, the Spirit of St. Louis. A mechanic turned the hat over to the U.S. embassy that evening, but Lindbergh lost it again just seven days later, when he was given permission to perform aerobatic feats over Paris in a borrowed French fighter plane. The sheepskin aviator hat was found in a vegetable patch the following morning, and has remained in the possession of the same family ever since.
It wasn't until 1969, just five years before his death in 1974, that the sheepskin and leather aviator hat reappeared and was identified as Charles Lindbergh's, thanks to a famous French television show, and the hat will now be auctioned off at the Hotel Drouot auction house in Paris on November 16. Unless you have $80,000 or so burning a hole in your pocket, you probably won't get your hands on Charles Lindbergh's actual flying hat, but you can get your own genuine sheepskin aviator-style hat from The Sheepherder, a one-stop-shop for fine shearling garments in downtown Alma, Colorado.
Similar to the design of Lindbergh's historic flying hat and the aviator hats made famous by pilots of long ago, our shearling bomber hat for men and women features a stylish suede on the outside that will protect you from the cold weather and wind, and authentic sheepskin on the inside, that will keep your ears warm no matter how chilly it gets. Our handcrafted aviator hat also includes a cozy sheepskin chin strap with Velcro, so you can fold the earflaps up or down, for a versatile winter-weather look. Find our genuine shearling aviator hats and other handmade sheepskin garments and accessories now at CustomSheepskinJackets.com.